Well, here I am posting about Halloween… a week after Thanksgiving! Yeah, that's just the way things are going around here these days. The holidays are upon us and it seems the days are growing shorter while our to-do lists are growing exponentially longer… busy, busy, busy! And since I am realistically not going to get around to writing a separate post about Thanksgiving, it is worth noting that ours was great! Isla ate her weight in turkey and our family favorite, peas and pickles. She is too cute! Anyhow, back to Halloween…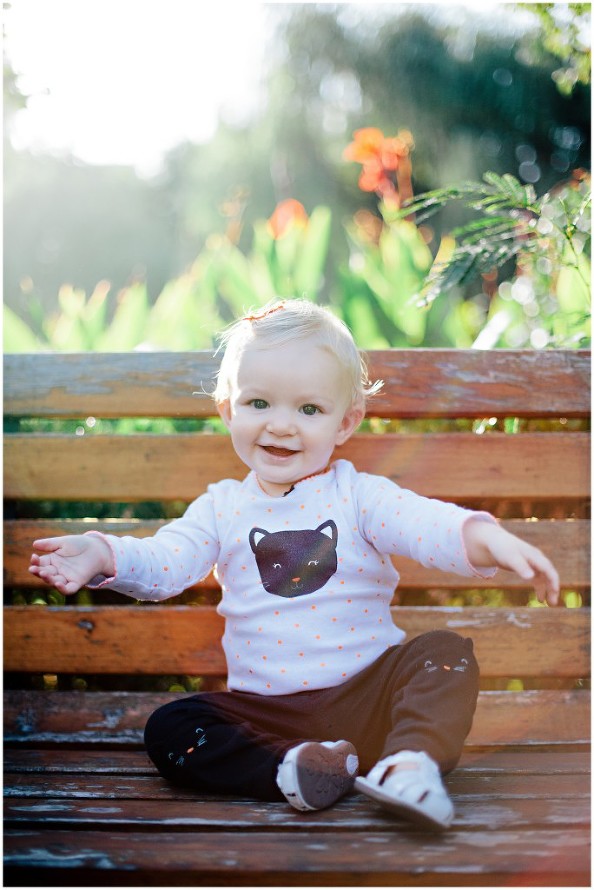 So, I'll just go ahead and throw this out there, I am a holiday junkie. Decorations, tasty treats, festive music, themed clothing… I truly cannot get enough. As soon as October 1st rolls around (okay, okay, mid-September), I kick off the holiday season and start celebrating. I've been collecting cute Halloween outfits and accessories for Isla for the last year, and I'll be darned if she wasn't wearing something Halloween or fall-related every single day in October. I had SO much fun dressing her up, and she seemed totally tickled to be wearing such cute clothes too- especially if there happened to be kitty somewhere on her outfit. I did my best to try and take photos of all her cute little Halloween clothes when I could, but Baby Girl and the weather both took some turns at being uncooperative, so my documentation was limited. I still managed to capture our little pumpkin in much of her festive fall collection…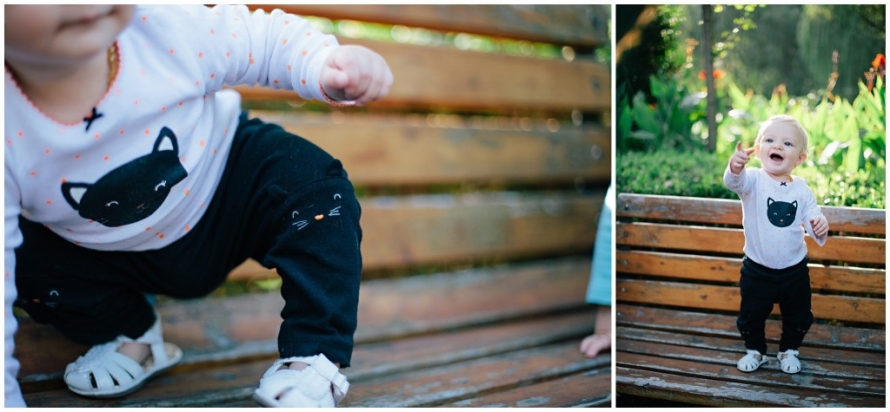 Kitty outfit (Isla was obsessed with the kitty faces on her knees!)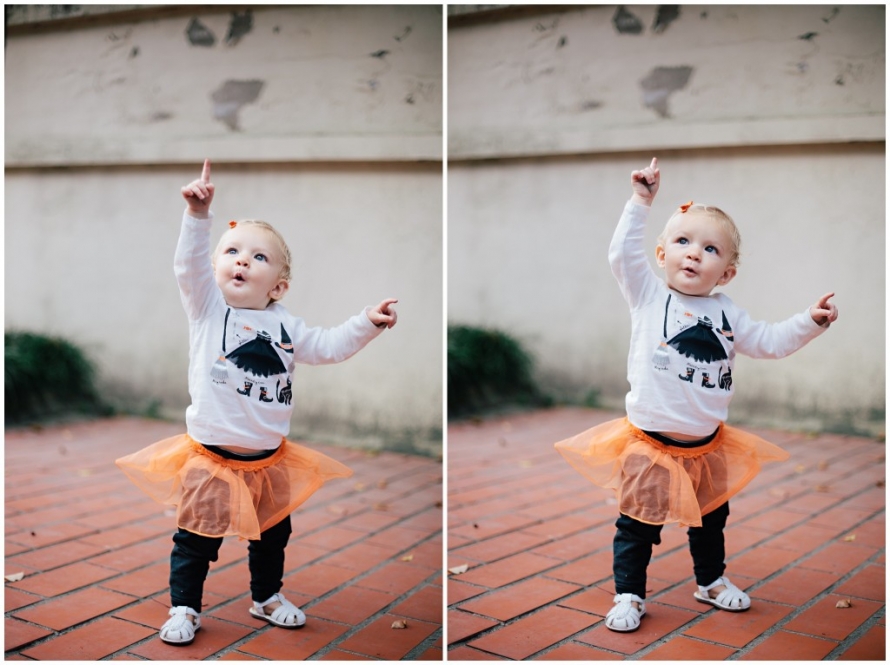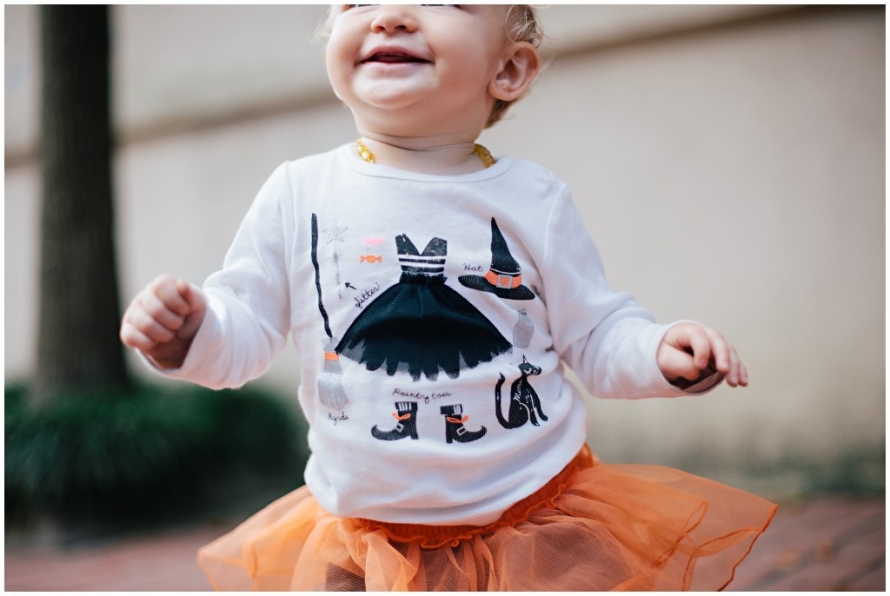 I love this darling shirt!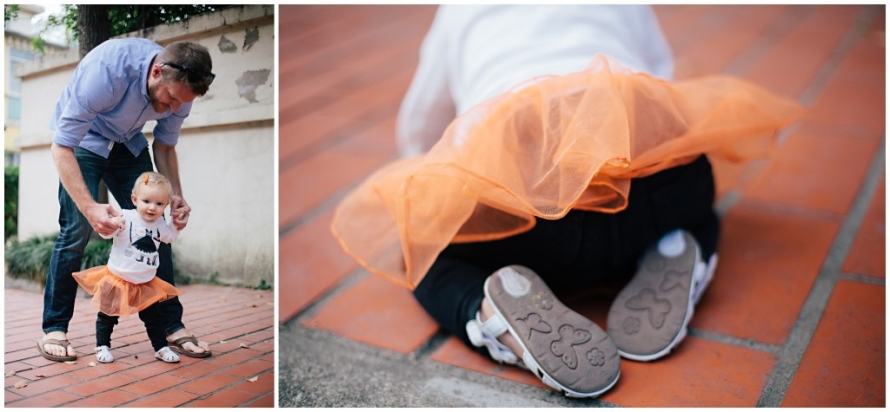 Isn't this candy corn onesie the cutest?! Truth be told, I can't stand to eat them, but I sure love them as decoration!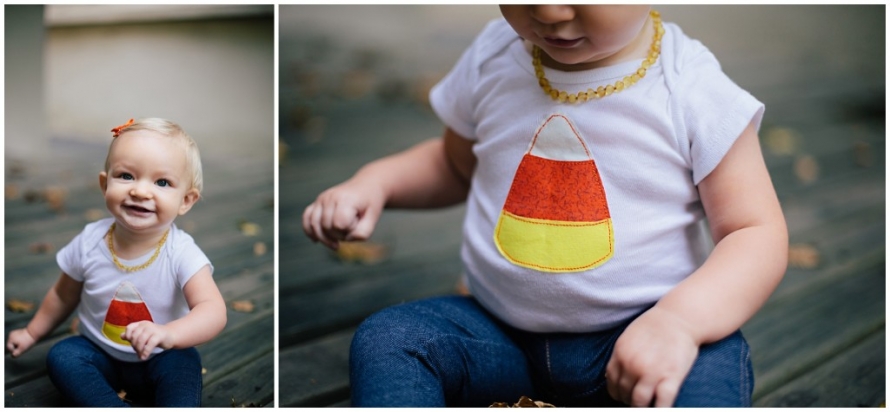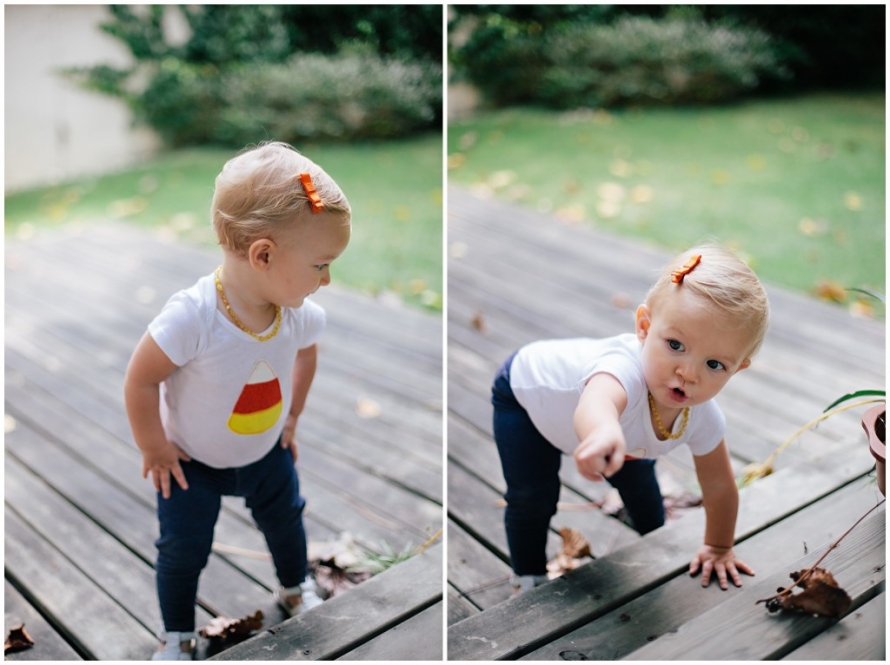 We have a gazillion of these sweet hair clips. They are perfect for fine, delicate baby hair.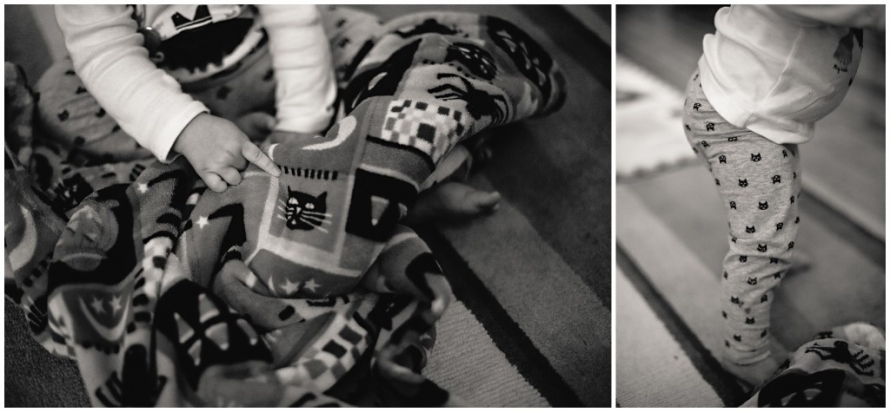 This girl is obsessed with cats! Kitty pants
Outfit and bow headband (we bought a bunch of bow clips from this vendor as well and they are awesome!)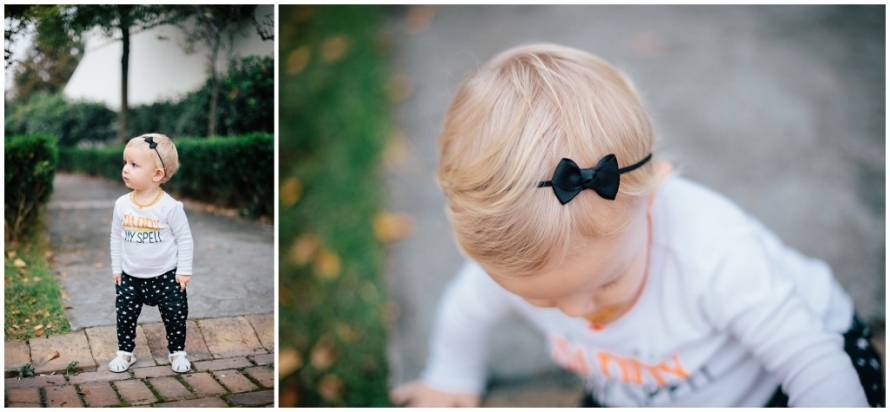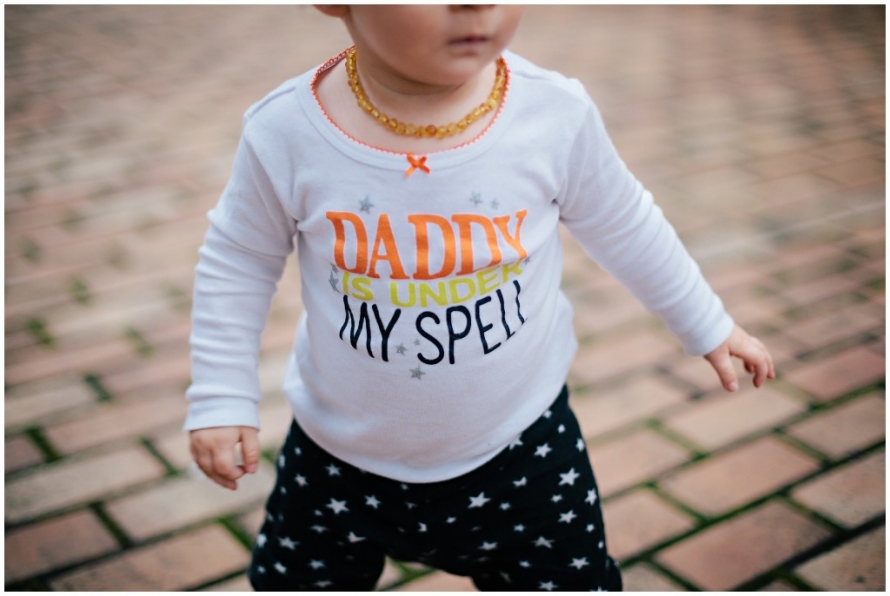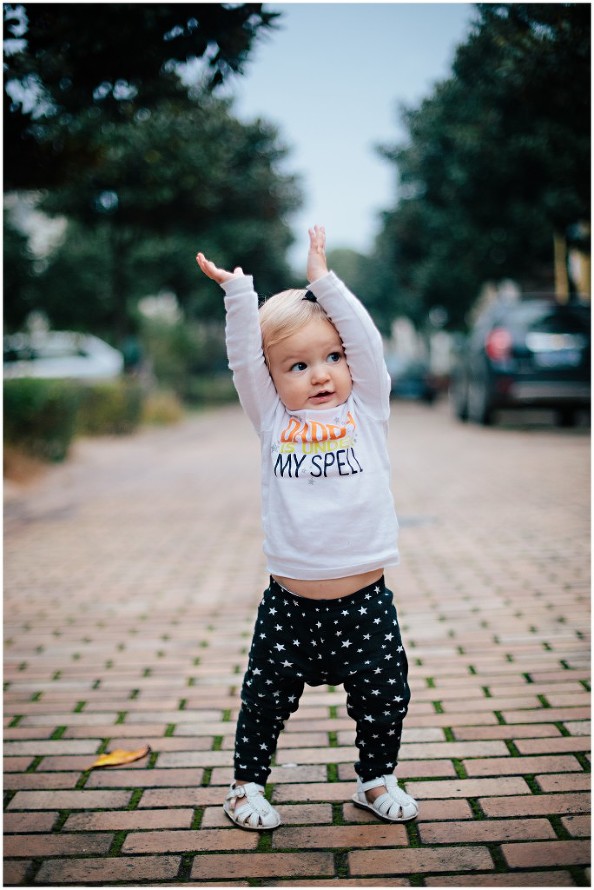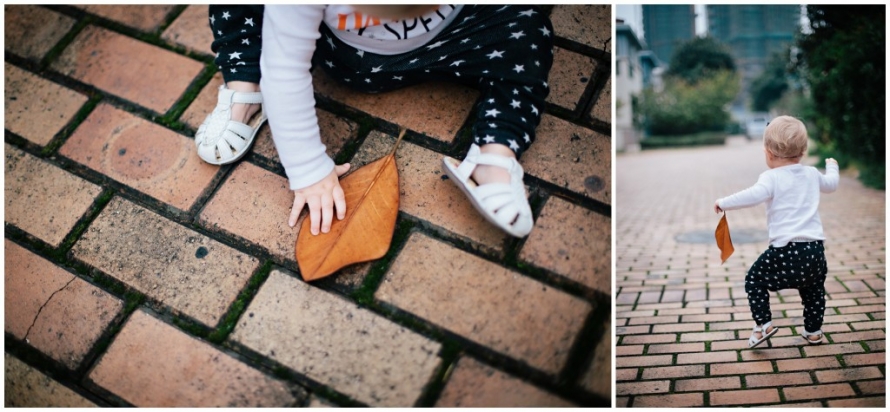 Isla's Grauntie (great auntie) bought this fun jack-o-lantern outfit for her.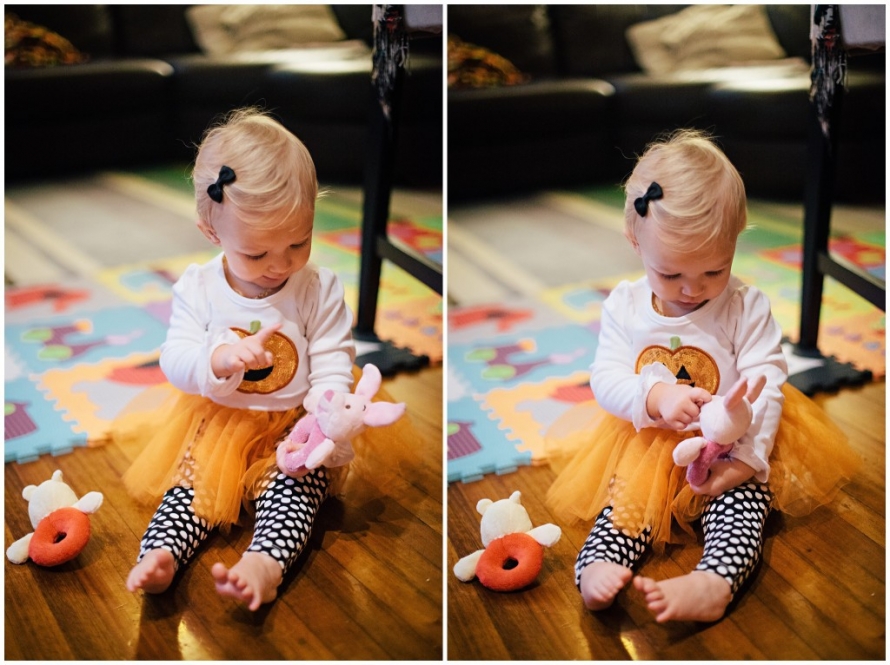 Telling Piglet what's what.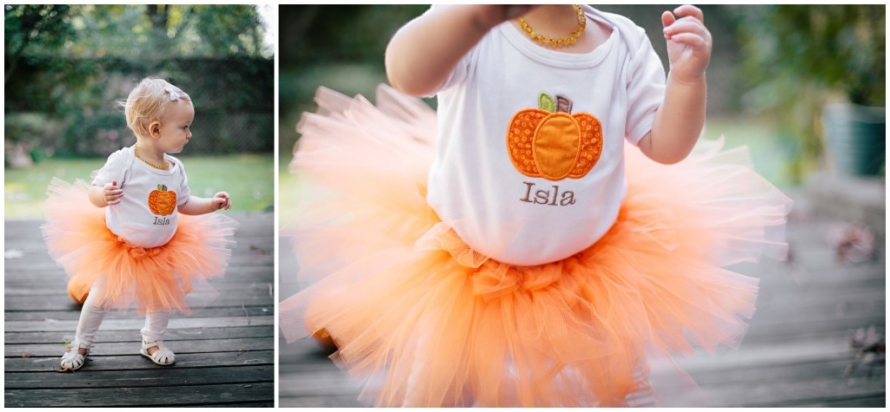 I couldn't pass up the opportunity to re-post a few of Isla's birthday outfit pictures! Her custom pumpkin onesie and tutu were both insanely cute!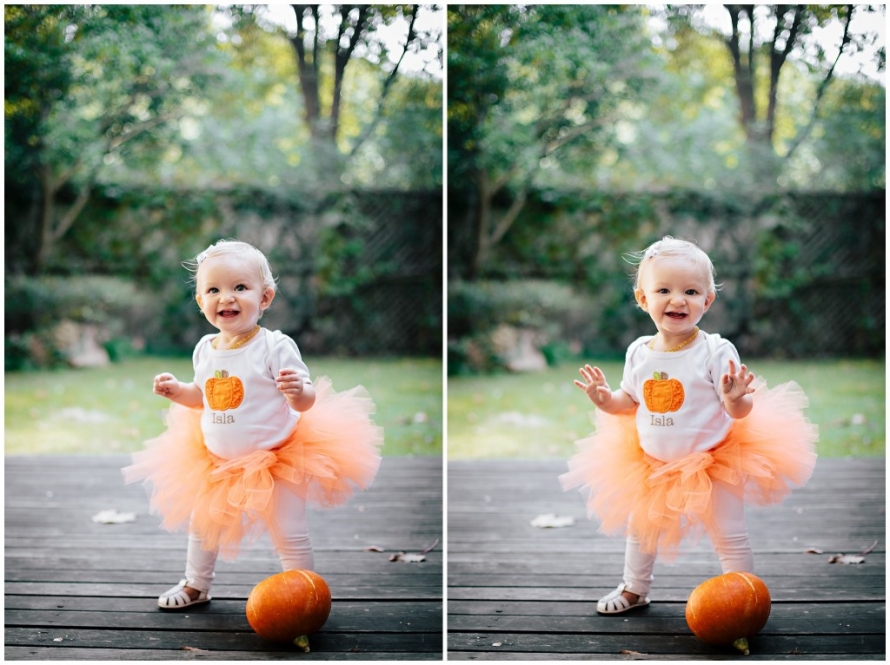 I thought long and hard about Isla's Halloween costume. Last year she was only 2 weeks old and she spent Halloween cozied up in her pumpkin jammies and knit pumpkin hat. It was darling, but this year Isla needed her first real Halloween costume. I was determined to think up something that was quirky and unique. During our walks around the neighborhood I often found my mind drifting to thoughts of costumes, and Isaac patiently listened to me as I rattled off gazillions of ideas. Looking back, I'm not sure why it took me so long to decide upon Isla's costume. It was sitting right there in front of me, on my dinner plate, several times a week. Of course! We'd wrap her in a crunchy shell, along with some lettuce and shredded cheese, and make her a taco!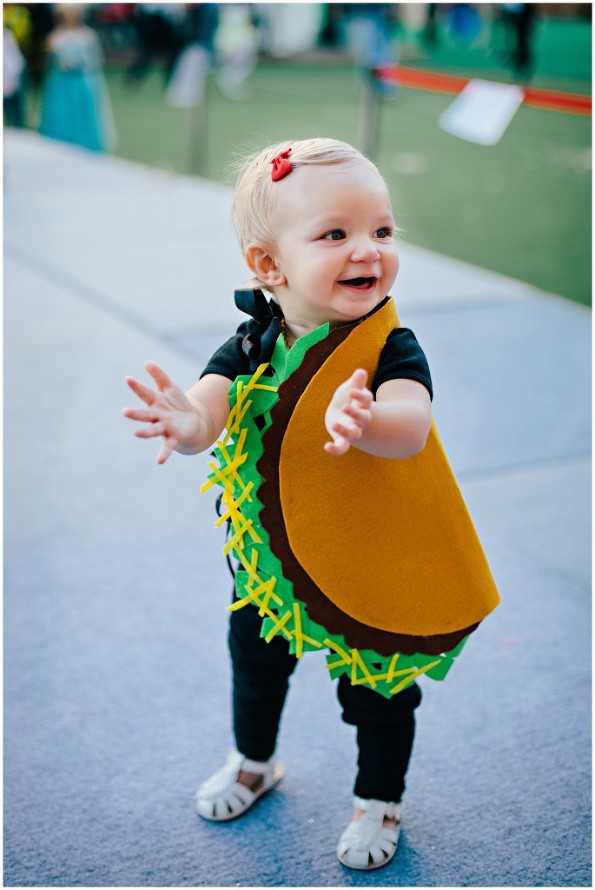 Once the costume decision was made I picked up some large pieces of felt and my trusty glue gun and got to work! I created my own pattern via trial and error out of butcher paper. To keep the taco on, I hot glued a few pieces of black ribbon to the inner edges of each side of the taco (one set just above the shoulder and one set about mid-torso). and then secured them around Isla in loose bows. It took a little convincing to keep Isla from pulling her taco costume off at first. Lucky for us, this girl is a ham and loves to be cheered for and clapped at, so it didn't take long for her to realize she got lots of attention when she kept the taco costume on.
Our school hosts a wonderful Halloween Carnival each year, and I couldn't wait for Isla to attend. Unfortunately, she awoke on the morning of the carnival with a fever and terrible runny nose. Pretty rotten timing to experience her first cold! She seemed to improve a bit during the day, so I gave her some Tylenol and brought her to the carnival for about an hour. She was such a little trooper, and had so much fun watching all the excitement and dancing to the music.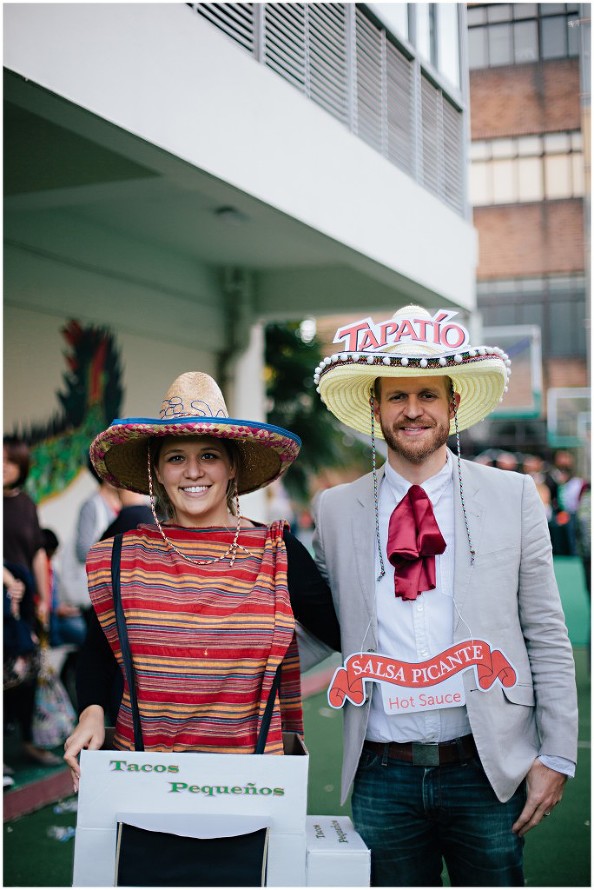 To keep with the theme, I dressed up as a taco truck, and Isaac was El Tapatio hot sauce. Hooray for homemade costumes!
Isla was totally fascinated with our pumpkins. She'd squat next to them and pat them affectionately.  She tried her hardest to pick them up and carry them around the house. Every time a pumpkin was within sight, she'd point and say, "ga ga" (pumpkin in Chinese is "nangua"). Given her interest, we decided to open a pumpkin up on Halloween to let her experience the slimy joy of exploring its stringy, gooey insides…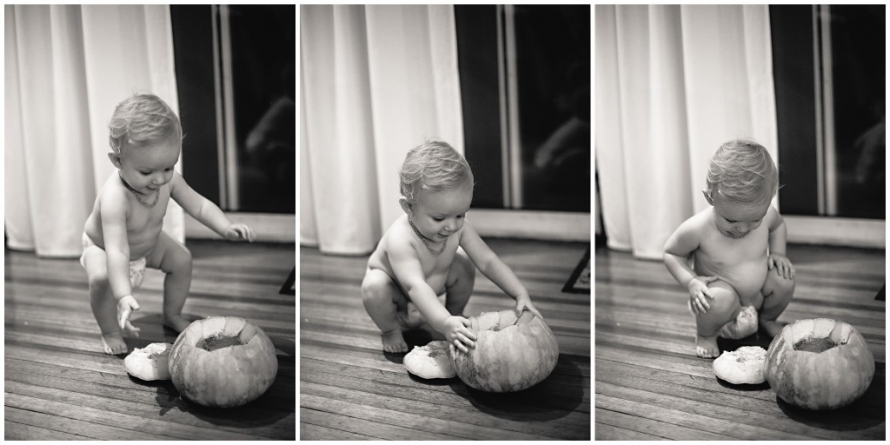 But Baby Girl would have none of it! Check out that face…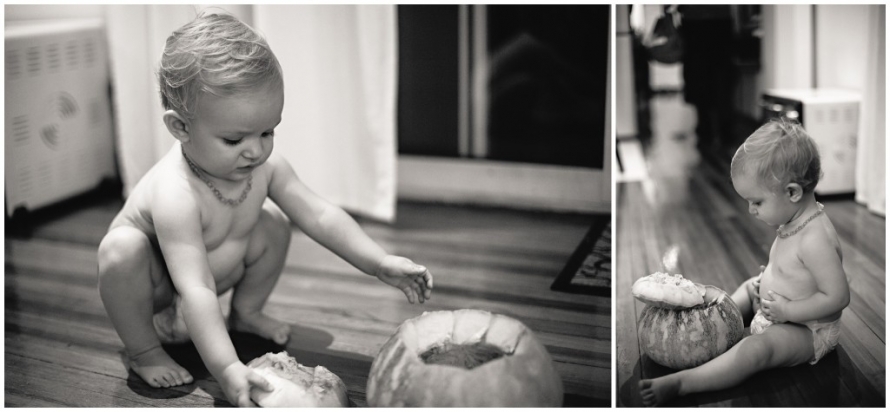 She decided playing percussion on the top of the oven was far more enjoyable!
I think Isla will be a holiday lover just like I am. Seriously. Here she is on November 1st…

She insisted that her pumpkin sit up on her high chair tray during her breakfast. That's my girl! I can't wait to help her fall madly in love with Christmas!