After numerous trips around the world where we found ourselves weighed down by countless bags and struggling to pull our overstuffed luggage from place to place, we finally decided we needed to get smarter about how and what we packed. Last year we spent 5 weeks traveling through SE Asia and were determined we would only bring one suitcase for the three of us. Amazingly, it worked! We had everything we needed and traveling with less luggage was SO much easier! We decided to really test our packing skills this year and see if we could pack for 10 weeks of adventures in just one suitcase. Get ready, 'cause we're about to share ALL ABOUT our packing process!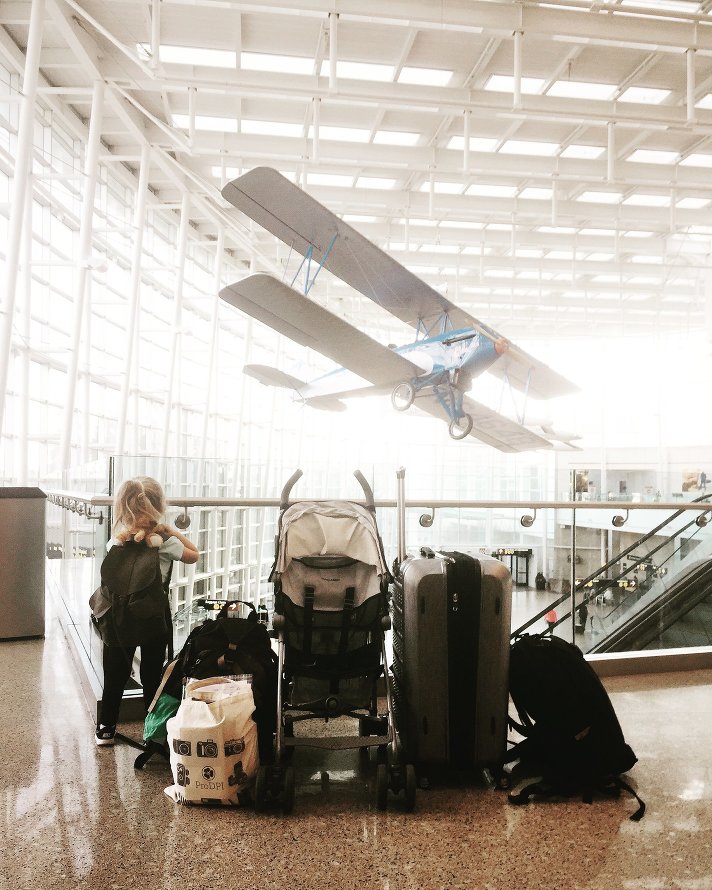 While we do in fact travel with just one suitcase, we also each carry a day pack and I bring one purse (although this trip I opted for a simple canvas bag, rather than a traditional purse, as it can be folded up and packed away easily if necessary). We also bring this amazing stroller. It is durable, SO easy to maneuver, tall enough you don't have to bend down to reach the handles (so nice for our backs!), collapses just like a compact umbrella stroller, and it comes with an easy to carry shoulder strap. We love our Maclaren stroller!
Inside our ONE suitcase we packed:
clothes
toiletries
Isla's awesome travel bed (Yes, the bed folds up and fits INSIDE the suitcase! However, it is also compact enough to fit inside the overhead storage of an airplane, should you wish to carry it separately.) Sadly, our girl is growing so much that this will be the last big adventure she'll be able to use her Lotus bed.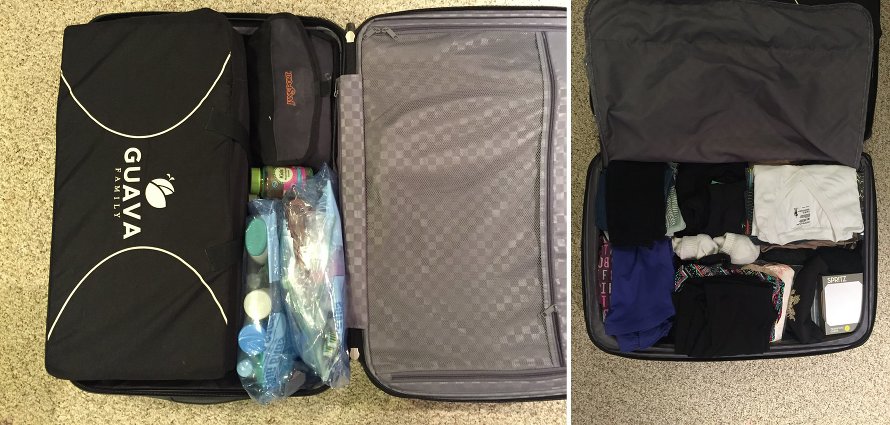 Over the next 10 weeks we are traveling to countries that are quite warm, so the clothes we need are not very large or bulky. This is great luck for us, as tank tops and shorts take up way less space than ski pants and boots.
Clothing Packing Tips:
Be highly selective and purposeful with the outfits you bring We try and bring just a few versatile tops and bottoms along with us. We make sure that the tops match with more than just one of the bottoms so we can switch things up a bit. Sure, the same 3-4 outfits can seem kind of boring by week nine, but the redundancy is totally worth it for the space you save.
Dark clothing is best We tend to bring a lot of dark colored tops (especially black) because they don't look dirty as quickly and can easily be dressed up for a more formal setting.
Don't skimp on the underwear No one likes to reuse underwear. Ewww. Underwear are small and lightweight, so when traveling for a long stretch of time, bring enough for at least a week!
Bring more outfits for the children than for the adults Children get dirty faster and more often. Period. Plus, their clothes are smaller and take up less space, so it's easy to bring an extra few outfits for them.
Sturdy, comfortable, multi-purpose shoes Try to pack no more than 2 pairs per person. We each brought a pair of close-toed athletic shoes and a pair of sandals/water shoes. Wear the heaviest pair of shoes when you travel to save on weight in your luggage.
Bring layers Few things are worse than being caught in some unexpected cold weather or a facility with the air conditioning on full-blast wearing only a tank top and shorts. Bring one pair of pants, one light sweatshirt and one rain jacket each. The sweatshirt can also act as an extra pillow if you're in a pinch 😉
Fold everything neatly When your clothes are folded tightly they stack more easily and take up less space
We have found the scale rises dramatically when you add toiletries to your luggage, so it really helps to be purposeful when selecting and packing.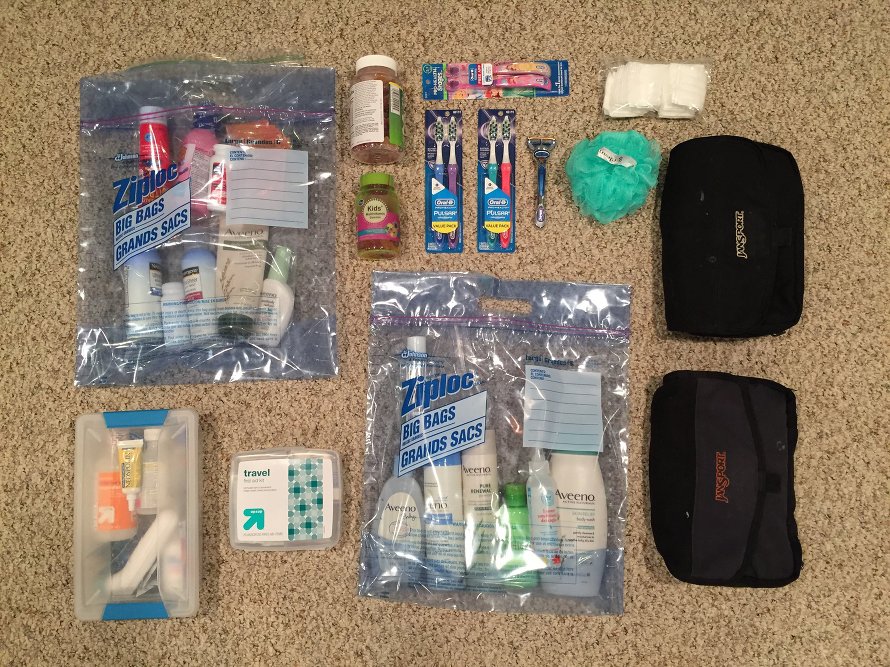 Toiletry Packing Tips:
Share toiletries whenever possible Instead of each person bringing a bottle of shampoo or tube of toothpaste, just pack one for the entire family to use.
Buy brand new toiletries for your trip Start with a full supply of each of your products so you have enough to share. Bringing half empty bottles takes up space and they may run out mid-trip, which leaves you scrambling to find replacements.
Condense when necessary Transfer products you don't need much of into smaller containers. We don't use as much conditioner as shampoo, so we bought a small travel bottle and put our conditioner in that to save space and weight. Another way we saved on space was by putting several different types of pills into one Tylenol bottle (only do this if it is OBVIOUS which pill is which).
Research which products you can buy during your travels We pack less of the items we know we can easily find during our travels, such as Q-tips, tissues, etc.
Remove excess packaging from toiletries to save on space and weight This makes a huge difference!
Sort toiletries into like groups and pack them in plastic bags This keeps all similar items together and protects the other items in your bag from spills. We have found the Ziplock L Storage Bags to be super durable for carrying our heavier toiletries, like shampoo and body wash. We pack similar items in each bag for ease of access and use. For example, one bag has all of the items we use in the shower: shampoo, conditioner, shave gel, razor, loofah, Isla's shampoo/body wash combo. Another bag has all skin care related products: lotion, bug spray, sun block, and aloe vera. We also condensed most of our medicine into a flat Tupperware container.
We use day packs to store our camera gear, tech gear, travel documents, entertainment for long plane rides, and snacks. This way we keep the items that are most important with us at all times.
Inside the first day pack (which happens to be a camera bag) is all our camera gear.

Inside the second day pack (a backpack) we packed:
our computers
books
coloring books
pencil pouch containing colored pencils and markers
blank note pad
pens
sunglasses
empty water bottles
ear phones
extra tech cords/power chargers
antibacterial wipes (great for wiping down grimy tray tables on airplanes!)
tissues
a card game for Isla
our travel documents (passports, flight confirmations, rental car confirmation, etc. all in a plastic folder with snap closure)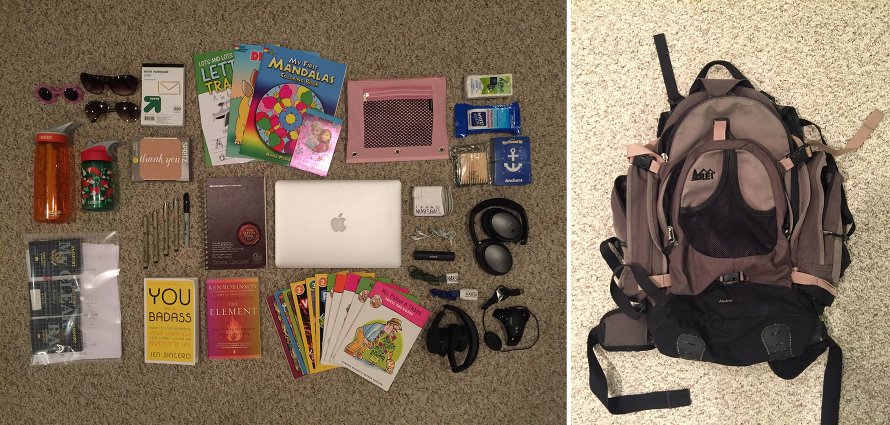 Inside Isla's little day pack (not pictured) were similar items to the above day pack:
an extra change of clothes for Isla
tissues
wipes
a few of her books
a few snacks
her plush kitten, and travel companion, Strawberry =)
Day Pack Packing Tips:
Paperback books take up less space and weight (alternatively, you can just pack a kindle, but we really enjoy the tactile experience of reading, so we just opt for lighter weight books)
Bring new and old kids books (we brought a few of Isla's favorite paperback books and bought a few new ones to let her have throughout the trip. More on this in a future post.)
Use plastic, snap-closure folders to keep important documents together and safe
Pack items you don't need as often at the bottom of the bag
Leave a little extra space in case you pick up food or items along the way (It's also good to have a little space if your main suitcase is overweight and you have to shuffle items over to your day pack)
While we work hard to make sure we pack everything into our suitcase strategically, we will totally admit that sometimes we have to sit on it while zipping it up to make everything fit =).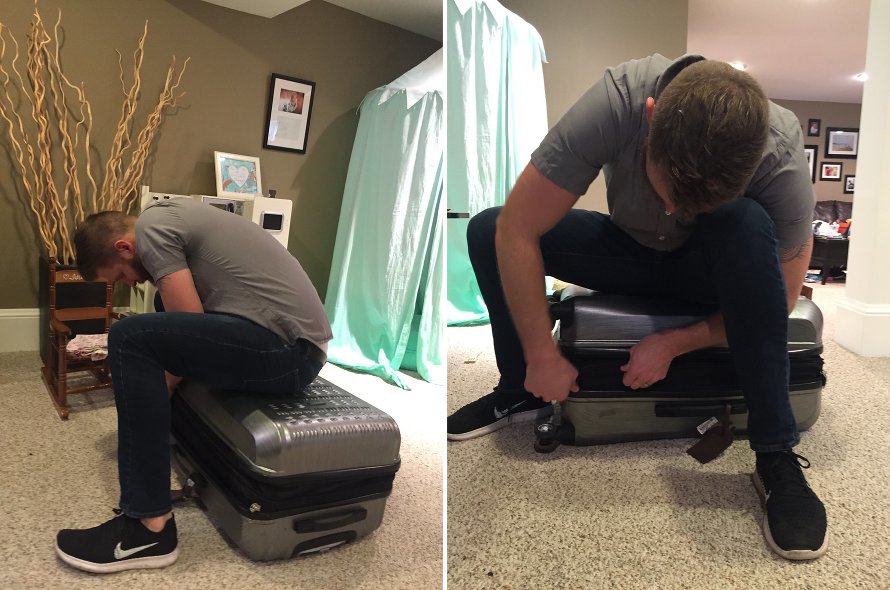 I think that's about it! PHEW! If you made it all the way to the end, thank you and well done =). We hope these tips were helpful, and that you might be able to use a few on your next adventure, whether it be a weekend away or voyage around the world! Any questions for us about our packing? Feel free to leave them in the comments.

Isla and Strawberry getting all checked in at the airport. Adventure, here we come!
Save
Save
Save
Save
Save
Save
Save