When planning our trip route, we found ourselves with about 5 free days between our first Dubai leg and the SE Asia portion of our adventure, so we set to pondering about where we should go. It did not take us long to settle on Sri Lanka. It was a convenient stopover, geographically speaking, and has been on our radar for years.
I must confess I had grand plans of getting out to see and do a bunch in the hopes of sharing all sorts of helpful family travel details, but by the time we arrived in Sri Lanka, morning sickness was taking a serious toll on me AND within 24 hours I had managed to pick up strep throat. Pure misery! Sadly, most of my Sri Lanka experience was spent in bed, feeling totally icky and watching Freaks and Geeks for the gazillionth time (a little silver lining, I suppose). Needless to say, I did not end up making note of any details and can only recall a few tidbits.
Given our very busy 10-week plan, our relatively short time in Sri Lanka, and how long it takes to get anywhere in the country, we opted to stay in one place for our entire visit and just relax. We rented a room at a WONDERFUL guesthouse just outside of Mirissa Beach, called Bougain Villa Sea View. We had originally booked one of the ground floor rooms, but a sea view room became available the afternoon we arrived, so we opted for the upgrade. Let me tell you, it was SO worth it too! There are two sea view rooms on the second floor of the villa and they share an expansive ocean-facing balcony with tables and lounge chairs. The room was larger and brighter than the ground floor room, and when you opened the window the most wonderful breeze passed through- a huge plus in such a hot and humid climate. The beds were comfortable, the water was hot, the bug nets were new, and the a/c worked like a charm. Good thing too, given how much time I spent in the room!
Our host, Nalaka (Nala) was so warm and generous. I truly cannot say enough great things about him! He was very thoughtful and looked for ways to make our stay as enjoyable as possible. Thinking that Isla may want to play with some children, he took us to meet his darling nieces and nephews who lived just down the road. When I became sick Nala showed such genuine concern. He checked in with Isaac often to see how he could help, arranged for our transport to a private hospital in a nearby town, and made me spaghetti with butter for dinner each night, as it was just about the only thing I could stomach. Nala's kindness was definitely one of the highlights of our stay in Sri Lanka!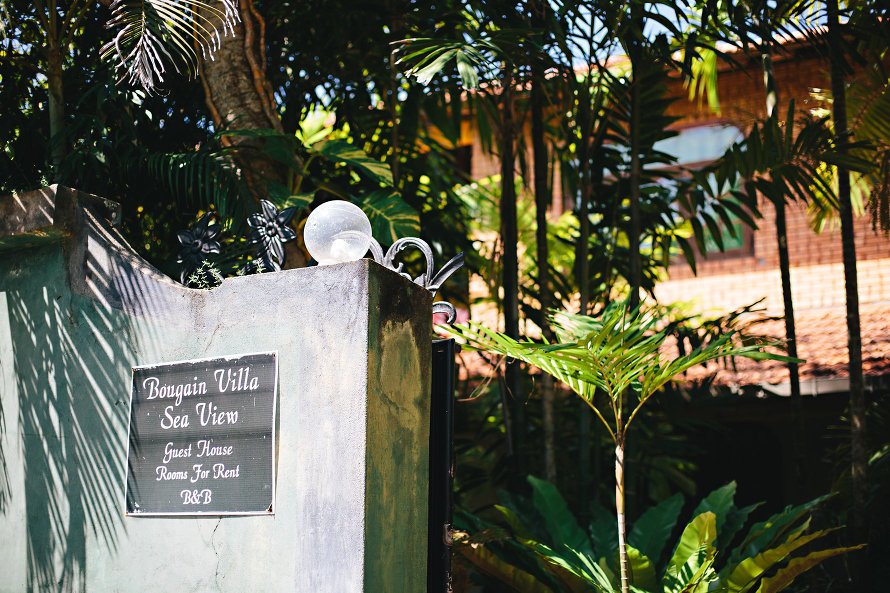 The guesthouse was just one house away from a sweet little stretch of beach. A coral reef (with 2 resident sea turtles!) stretched out along the coastline and was easily reachable from the shore.
When you entered onto the beach the waves straight in front of us were a tad rough for Isla, so we turned left and walked a short distance where we discovered the most wonderful tide pools! There was a long natural rock barrier and the water that spilled over into the pools never reached higher than Isla's mid-section, so it was the perfect place to relax and play.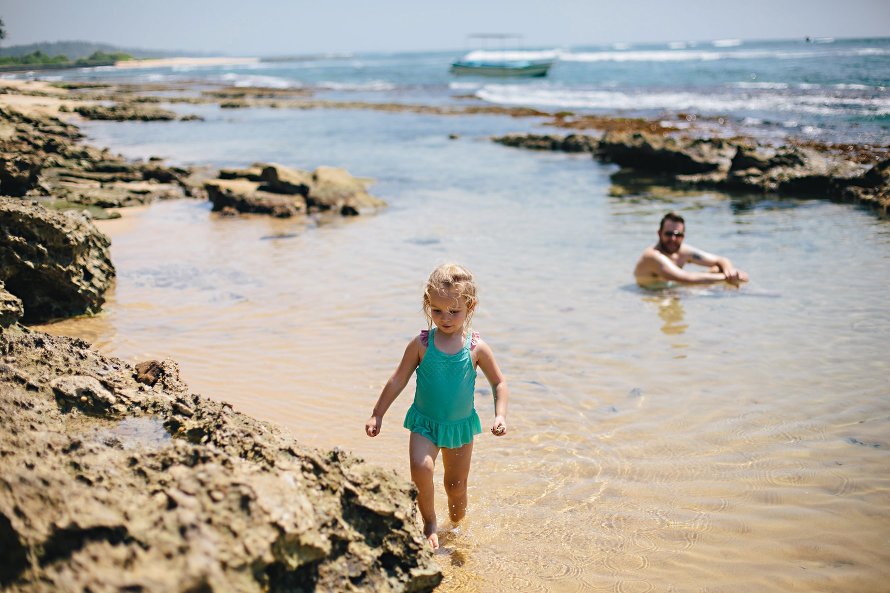 Isla used much of her time in the tide pools to perfect her mermaid poses. Naturally.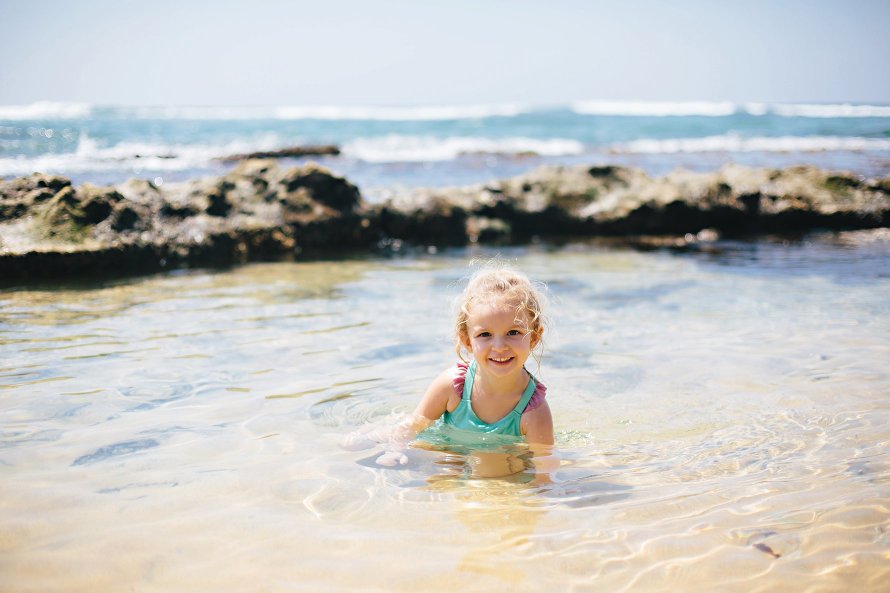 The first day we spent out at the tide pool was a Sunday, and so all of the local kids were out of school. A group of them came to swim and were absolutely captivated by Isla. They spent a solid hour giggling with her, sharing their cheese puffs, and as soon as they saw her collecting coral pieces, began rushing to collect and gift any treasure they could to her.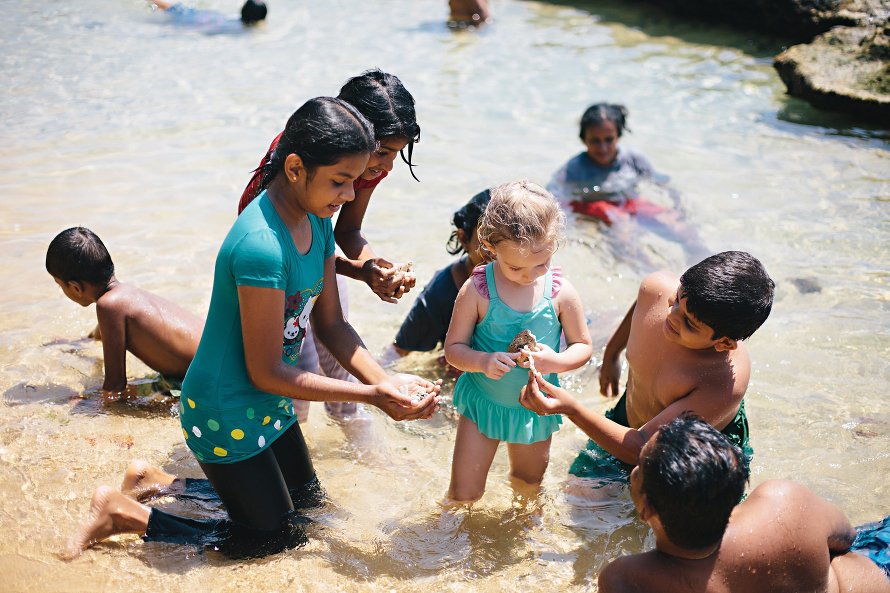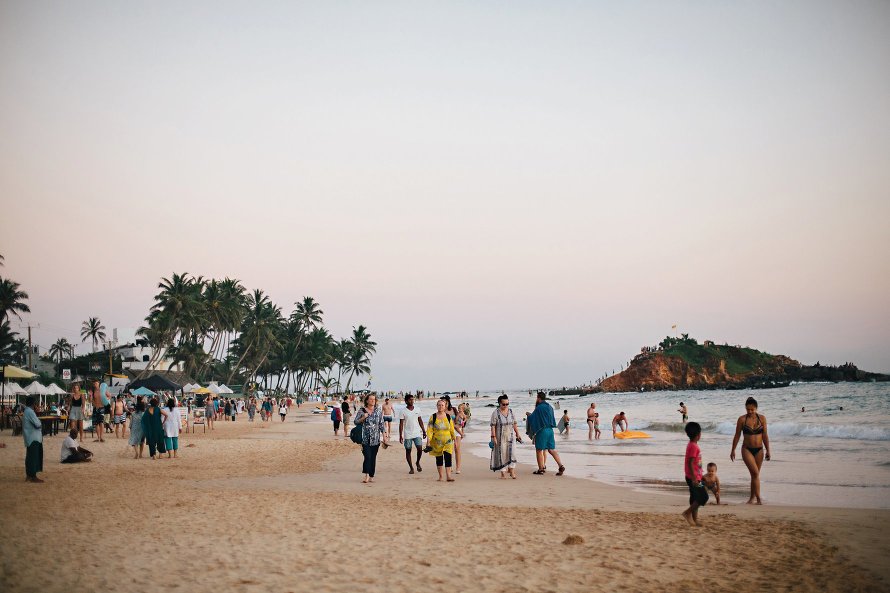 We ventured into Mirissa Beach for dinner our first night. Seeing the crowds of people, we were SO grateful to have chosen a quieter place to stay!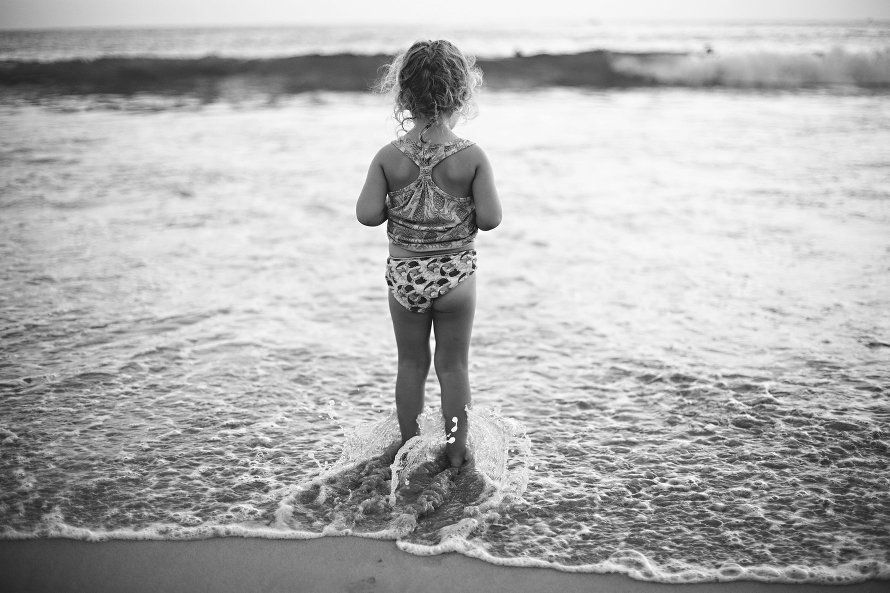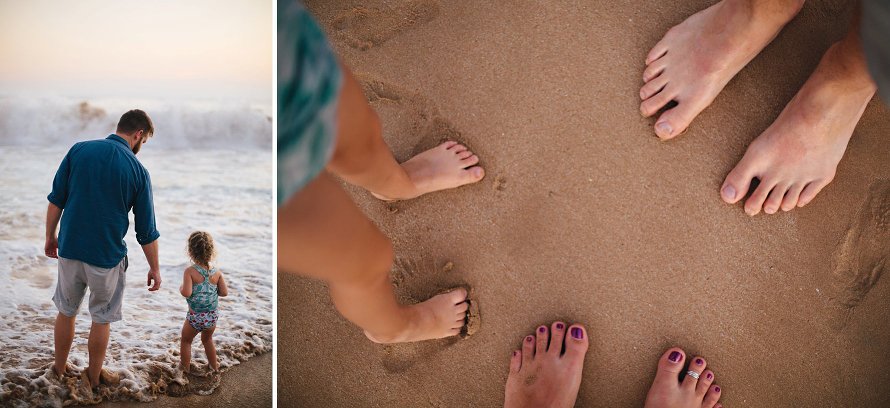 Isla absolutely loved her time on the beach, but she got the biggest kick out of the sweet mama kitty and her two babies that had taken up residence at the guesthouse. I watched Nala put out food for the cats, and was instantly touched by how tenderly he treated them. In so many parts of the world stray animals are ignored, or even worse, abused, and it was so refreshing to see a local person treat animals in need with such love and kindness. I definitely think it speaks a lot to his character (Just a further reason to support Nala's business by staying at the Bougain Villa Sea View!).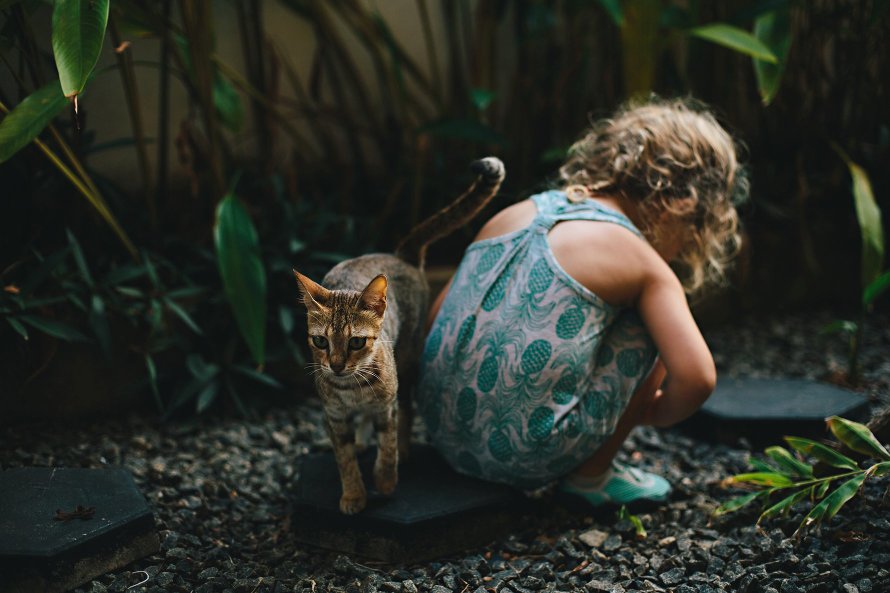 It didn't take long for Isla to decide that these sweet kitties needed names, so taking inspiration from our tropical seaside surroundings, we dubbed the mama Mirissa, the baby girl Flower and the baby boy Fisher. Months later Isla is still talking about them!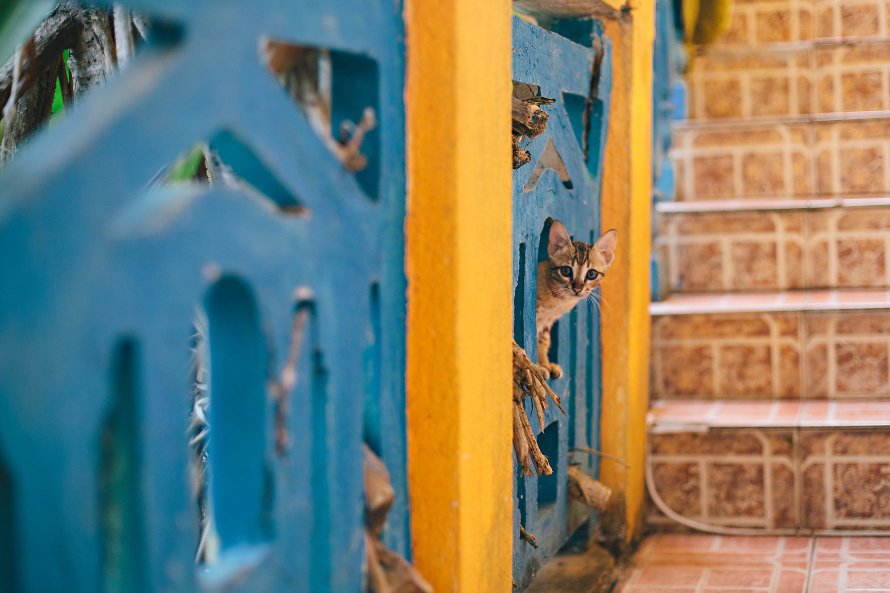 While Mama Mirissa was quite tame and affectionate, little Flower and Fisher were a tad shy, but Isla figured out how to win them over within a day.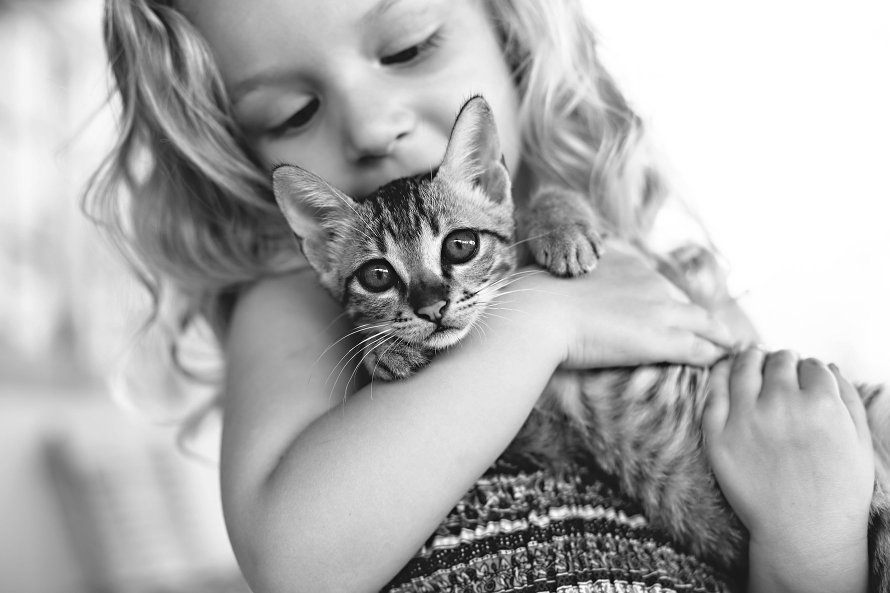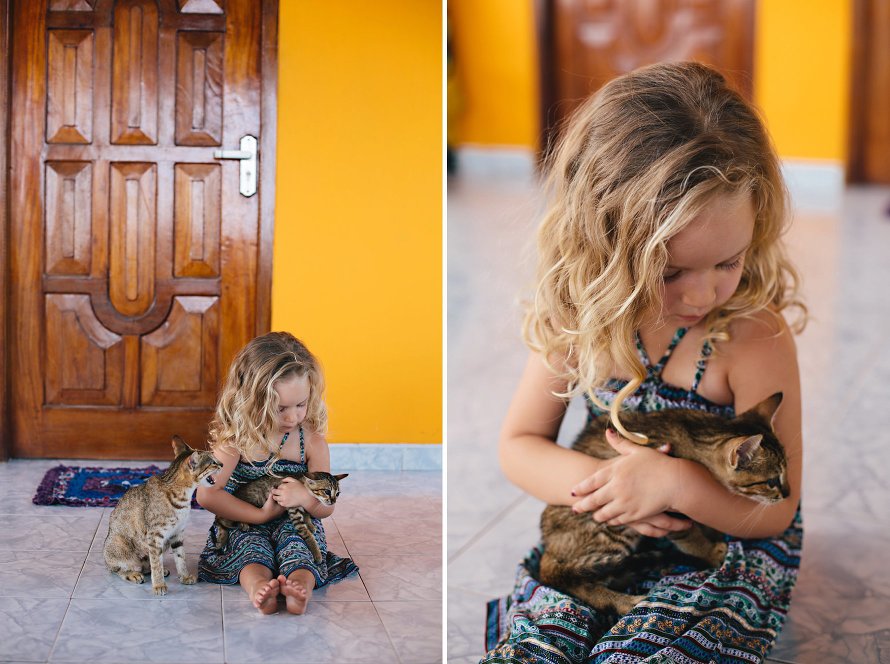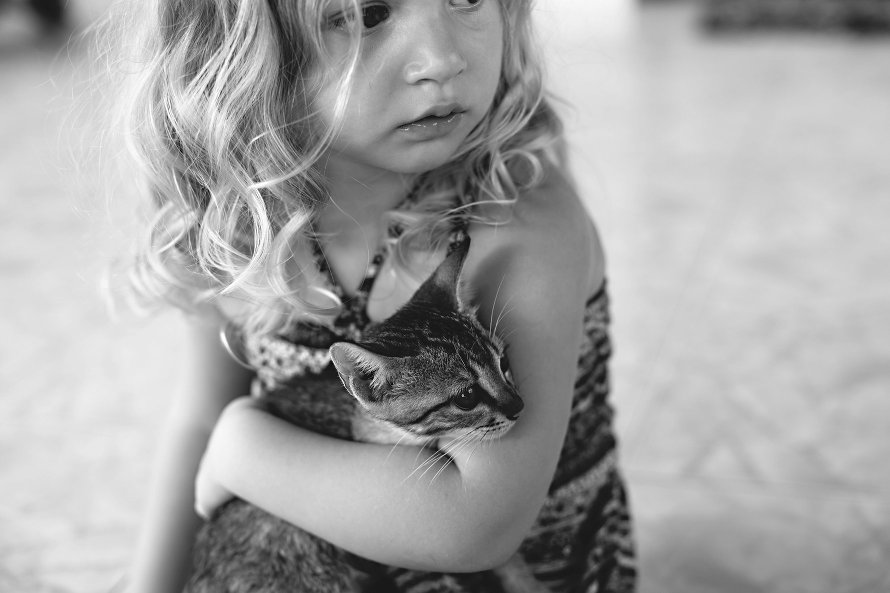 Isaac was BEYOND amazing, caring for both Isla and myself, during our stay in Sri Lanka (actually, the entire trip!). He was on Daddo duty 100% of the time so that I could rest. After a few days of antibiotics and taking it very easy, I was feeling up to watching Isla for a few hours so that he could slip away for a little snorkeling. He quickly met the two turtles that often spend their time on the reef in front of our guesthouse and enjoyed a little swim with them.

I was so thankful to be feeling up to one final walk down to the tide pool on the last evening of our stay. The sunset was absolutely gorgeous and the company couldn't have been better.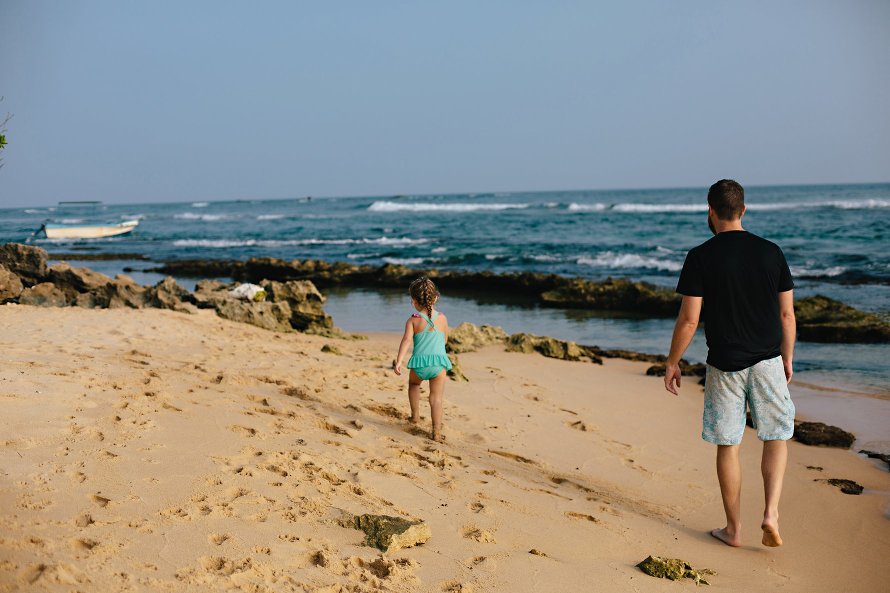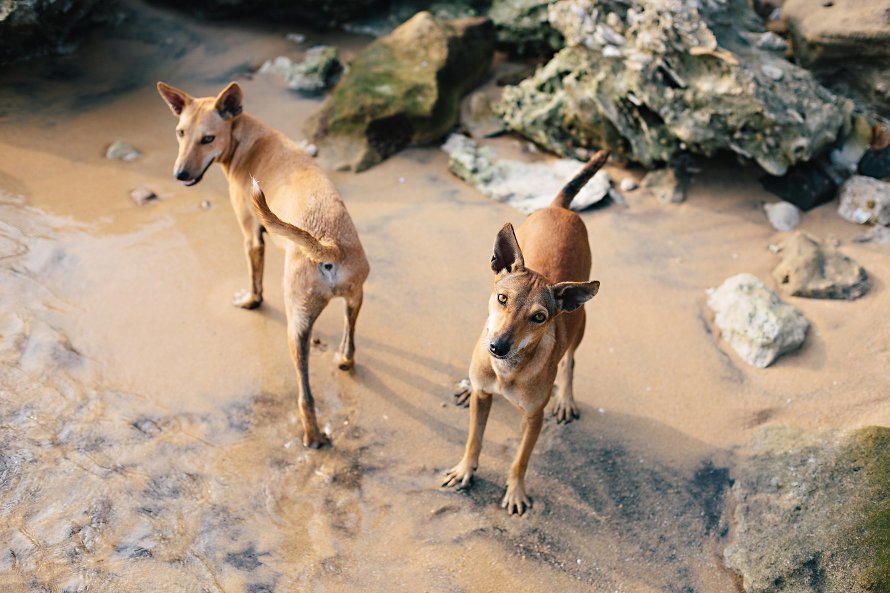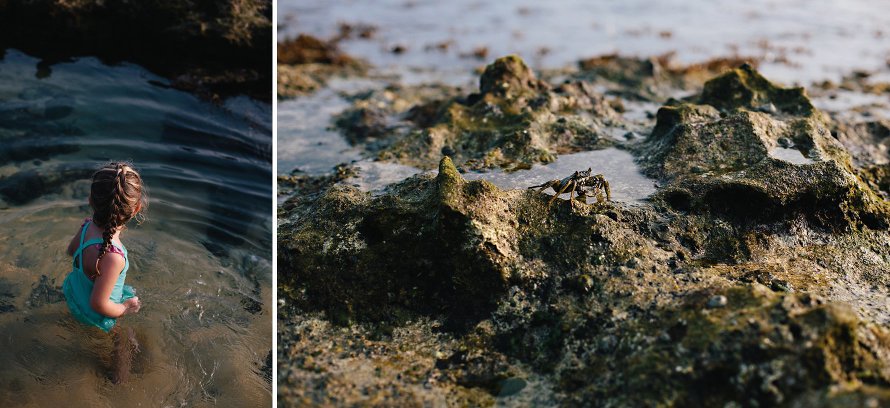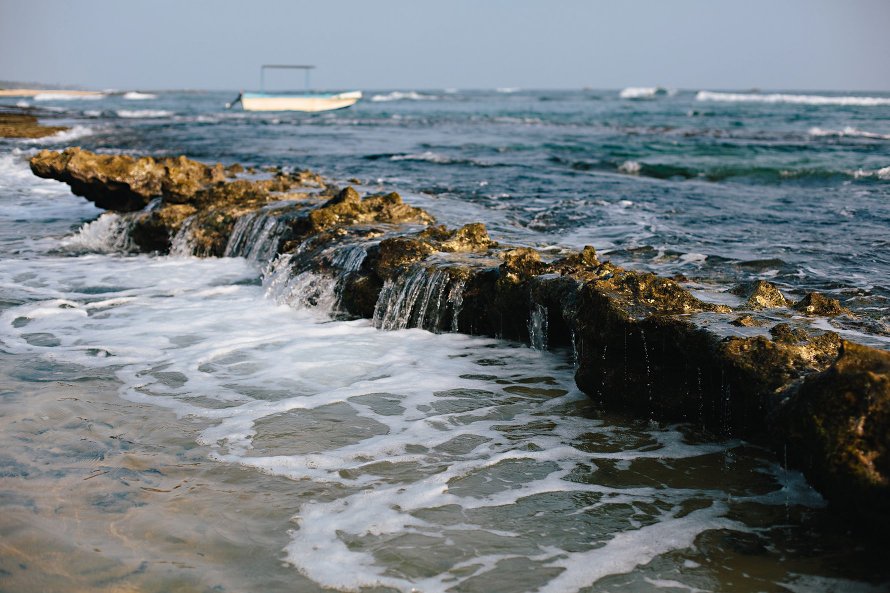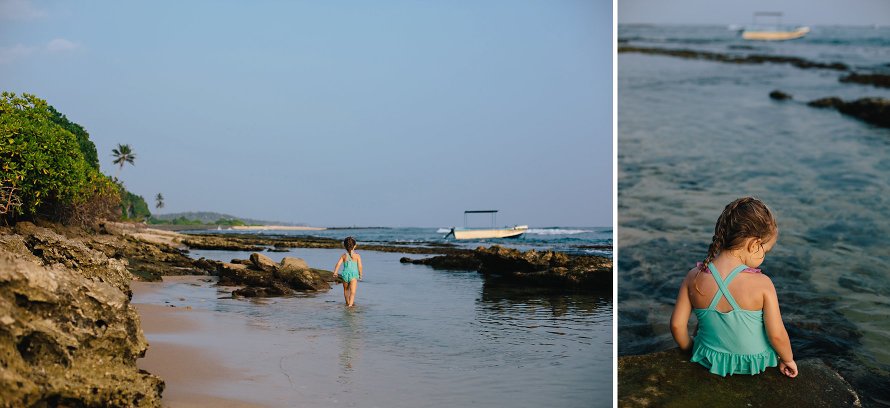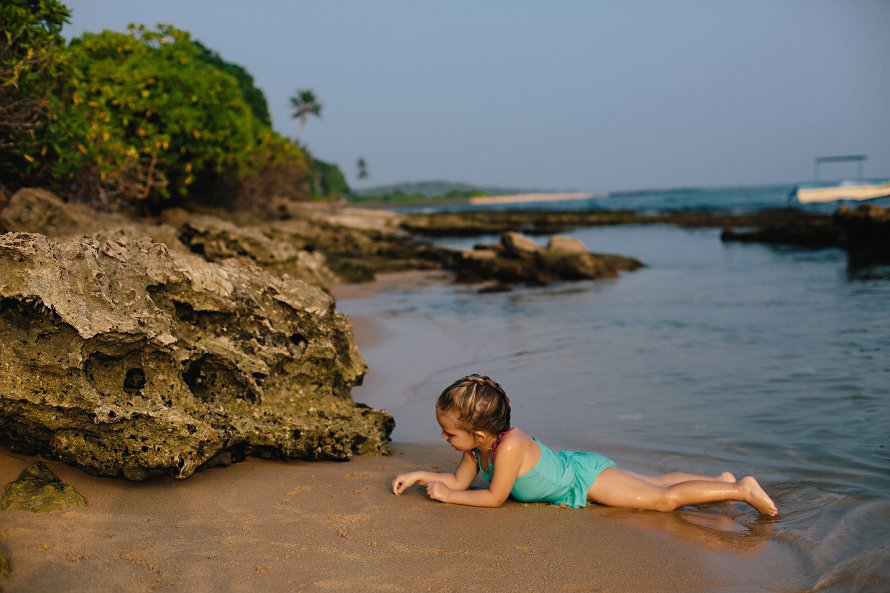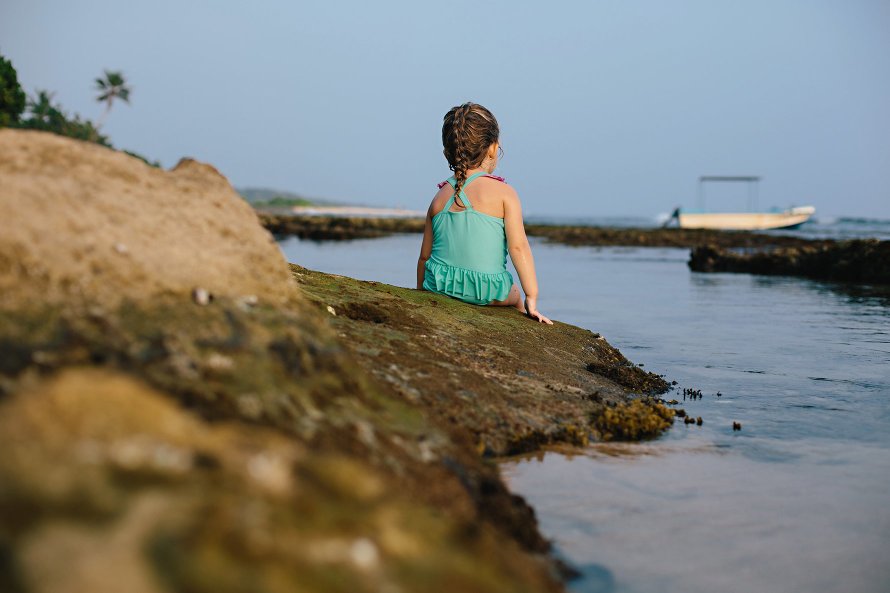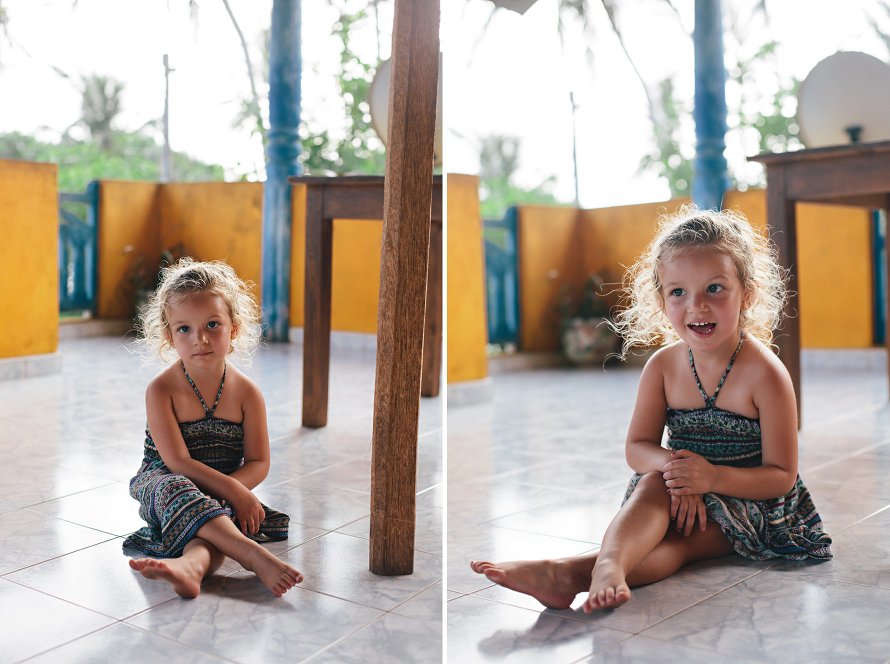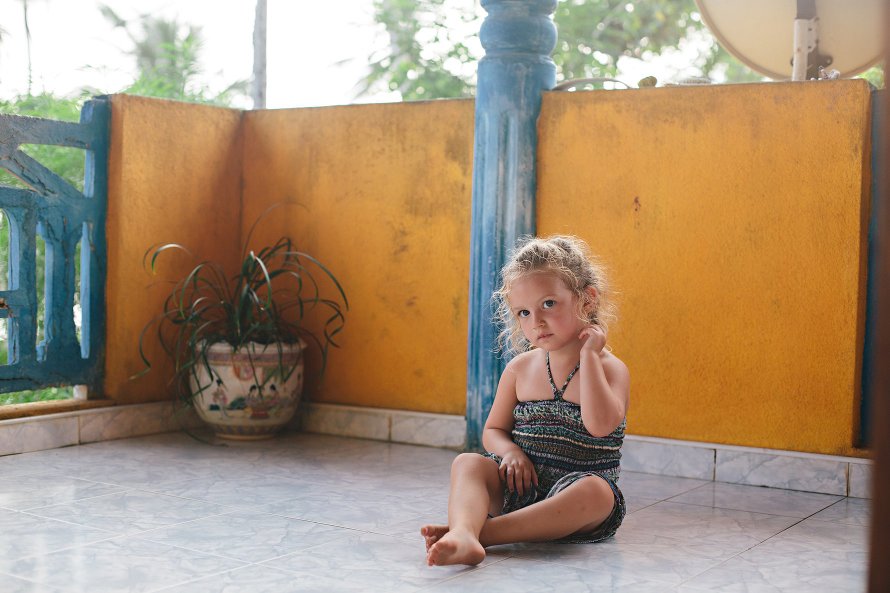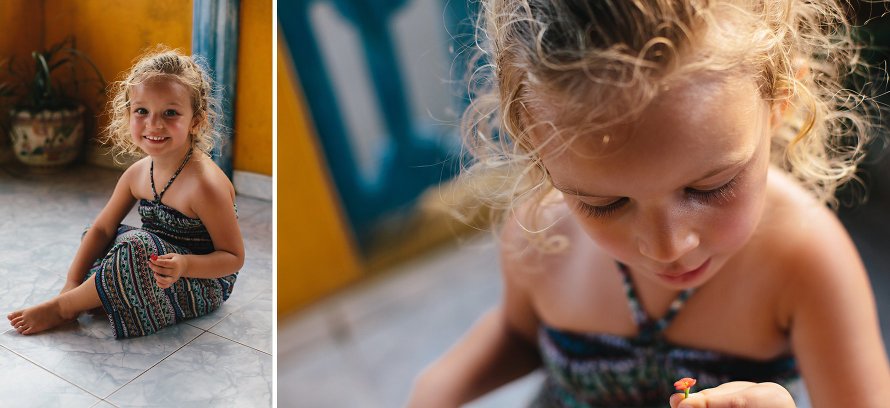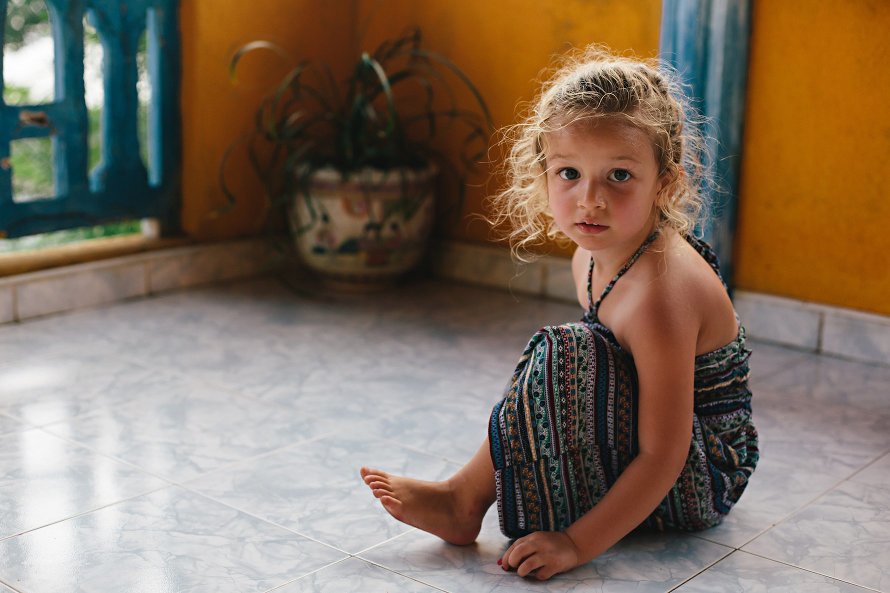 Our stay in Sri Lanka wasn't exactly what I had anticipated, but we were very grateful for the opportunity to experience a glimpse of such a vibrant and fascinating country. I have no doubt we'll find our way back before too long.