We first tried fresh coconut ice cream after a long, sweaty afternoon of exploring atop Penang Hill. It was served in little paper cups from a modest food cart, and it was one of the best thing we had ever tasted (read, we each went back for seconds… and really wanted thirds, but you know, self control and all that). Made from coconut milk, this ice cream is sweet, creamy, fresh, and just a tad bit nutty. Yum, yum, yum! We are certain that coconut ice cream may be one of the greatest culinary creations in the world. For real. Each spoonful is a glorious, refreshing taste of the tropics.
We knew we could not wait until our next trip to Southeast Asia to enjoy some more of this amazing treat, so upon returning home I immediately began searching for authentic coconut ice cream recipes. I found a handful, but decided to go with the simplest option to start: coconut milk, sugar, and salt. Luckily, this recipe produced an ice cream with a wonderfully creamy texture and flavor just like we enjoyed in Malaysia and Thailand. The best part (or perhaps worst part, if you're watching your figure) is that the ice cream is unbelievably easy to make!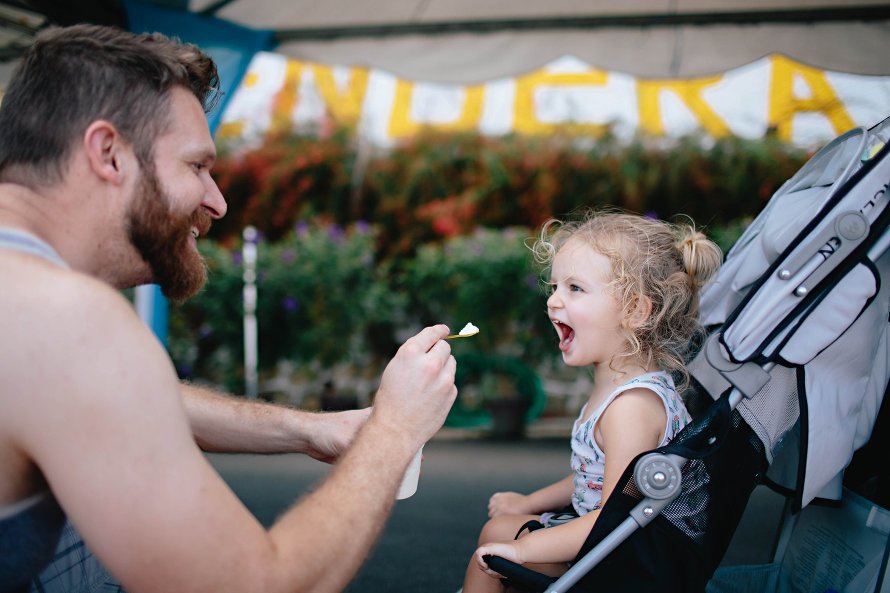 Another memorable coconut ice cream stop was during our visit to the Bridge Over the River Kwai. This ice cream contained little bits of pandan leaves, which gave the ice cream an even nuttier flavor. I'm on the hunt for pandan leaves for our next batch of ice cream.
Each ice cream stand also offered a variety of toppings, such as salted peanuts, sweet corn and red beans, to name a few. We preferred the ice cream as-is, but this past weekend tried adding a little sweetened shredded coconut as a garnish.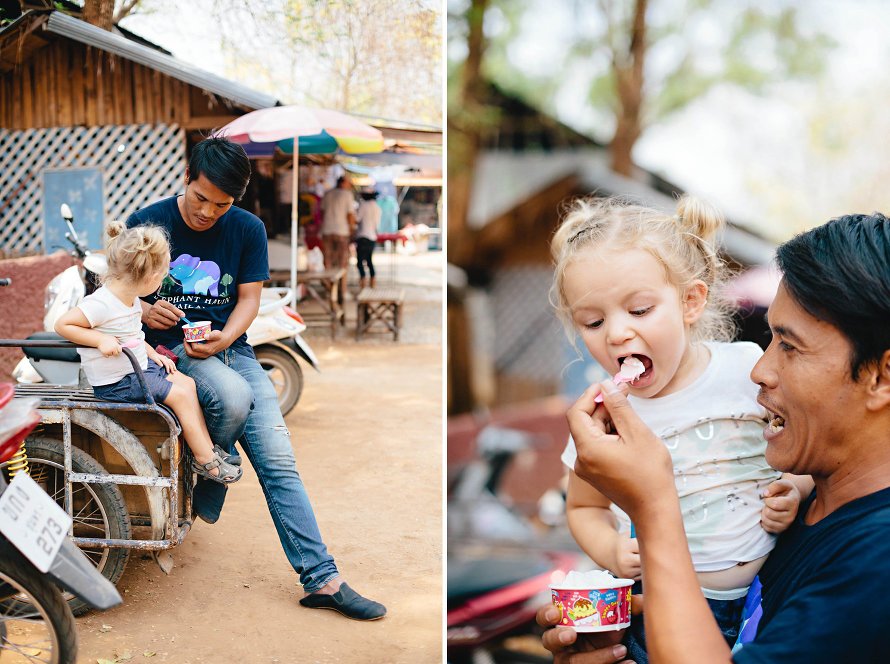 The staff at Elephant Haven (an amazing organization we will be sharing about later) doted on Isla constantly. It was so sweet! They bought Isla this ice cream and she devoured every bite.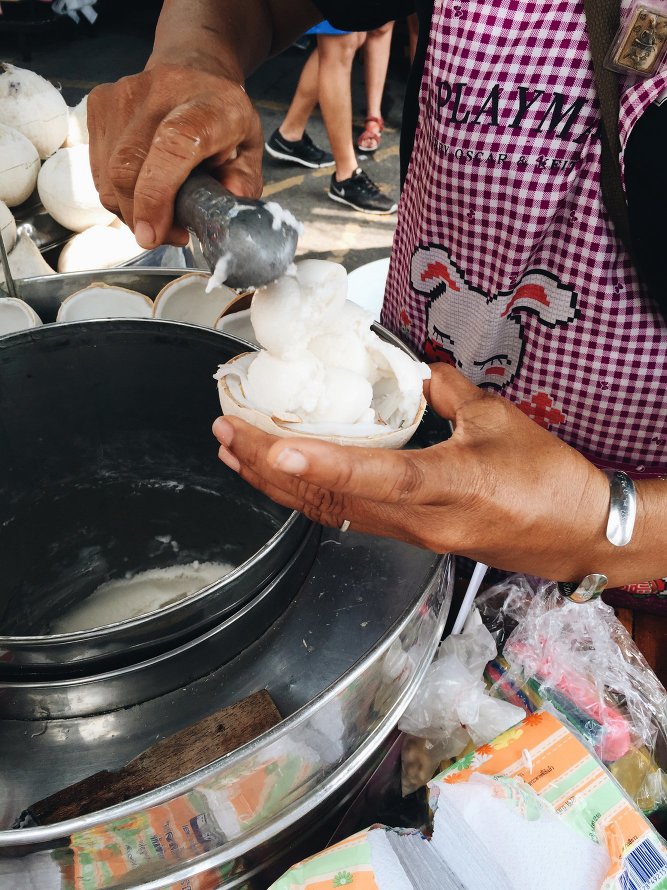 Anyone who has been to Chatuchak, Bangkok's sprawling outdoor market, knows the narrow alleys between shops can be stuffy and sweltering. A couple of these coconut ice creams, served in hollowed out coconut shells (so cute!) certainly helped cool us down.
I found this recipe via Noshing with the Nolands, and they got the recipe from Nancie McDermott's book, Simply Vegetarian Thai Cooking. Side note, this ice cream recipe is vegetarian and vegan!
Coconut Milk Ice Cream Recipe
Ingredients
2 cans (each 14 oz/400 mL) unsweetened coconut milk (we used full-fat)
1 cup granulated sugar
1⁄2 tsp salt
Directions (with a few notes from our personal experience)
In a heavy saucepan, combine coconut milk, sugar and salt. Place over medium-high heat and bring to a boil, stirring often to dissolve sugar and salt.

Our ice cream never had to come to a boil to dissolve the sugar and salt.

Remove from heat and pour into a bowl.
Cover bowl with saran wrap to avoid a skin forming and refrigerate until very cold, about 2 hours.

We put ours in the freezer so that it was really cold, but didn't let it freeze.

Freeze in an ice cream maker according to the manufacturer's directions.

We let our ice cream maker run for about 8-10 minutes, and removed the ice cream once we saw it thickening up.

Serve at once or transfer to an airtight container and freeze for up to 3 weeks.

We put ours back in the same bowl, covered with saran wrap and froze it until hard before serving.

You can make the ice cream base in advance, cover, and chill for up to 1 day before you churn it into ice cream.
We've made two delicious batches of this ice cream in the past week and devoured it all before taking any photos! Both times the ice cream was creamy and perfect, which was awesome since homemade ice cream can be tricky to master. If anyone gives this recipe a try, we'd love to hear how it turns out for you!