We had a week off for Chinese New Year, and while the warm sun-kissed beaches of Southeast Asia were calling our names (loudly, at times!), we decided to save some funds and have a "staycation" in Shanghai. Our relaxing week was absolutely wonderful, filled with lots of cozy snuggles and simple outings, and we relished our family time together.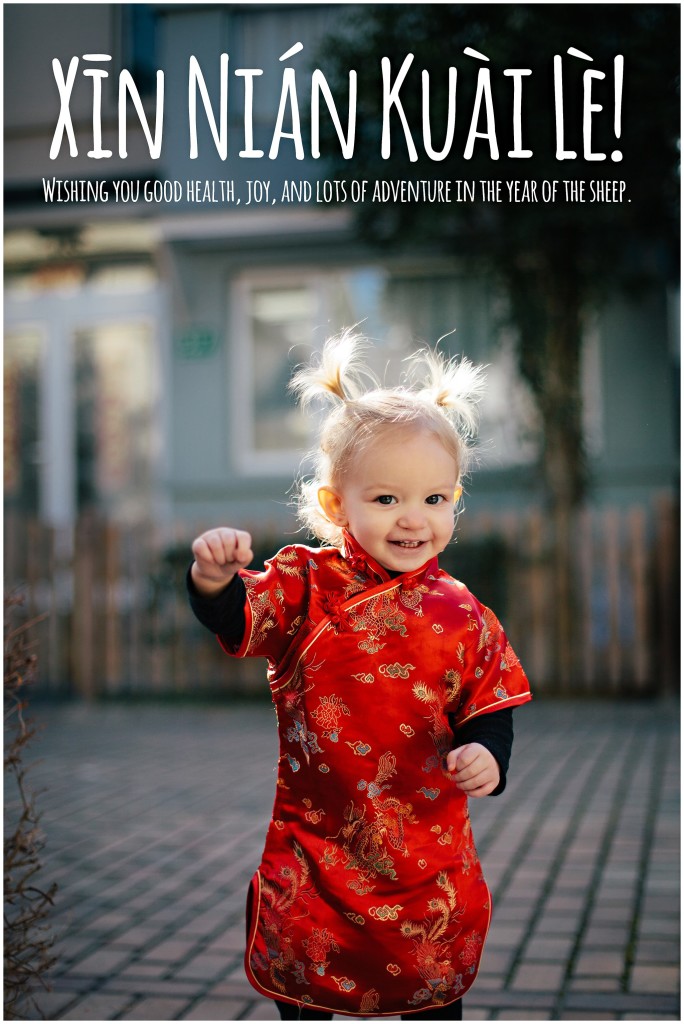 Our school had a wonderful Chinese New Year celebration on Friday, and it was such a fun and festive way to kick off the holiday. The upper and lower school students performed together in the upper school auditorium, and they did a fabulous job! This was the first time the entire school has celebrated together since we have been here, so the event was extra special. Isla joined us, and though she was feeling a bit fussy (teething- boo!), she was amazingly attentive during the majority of the 2-hour performance.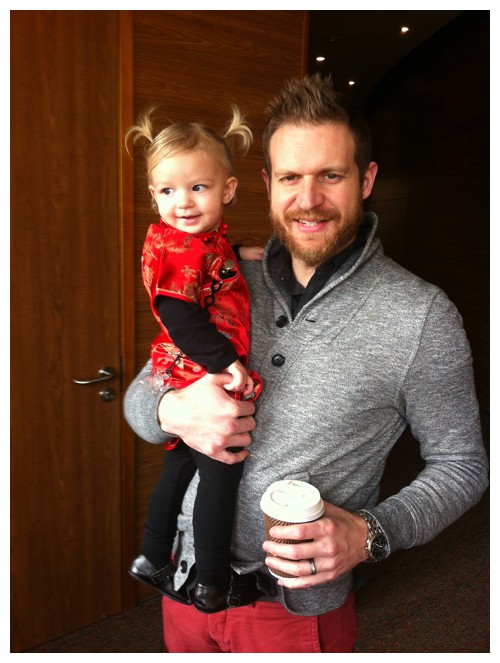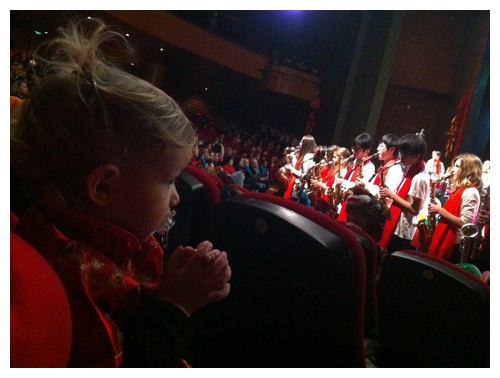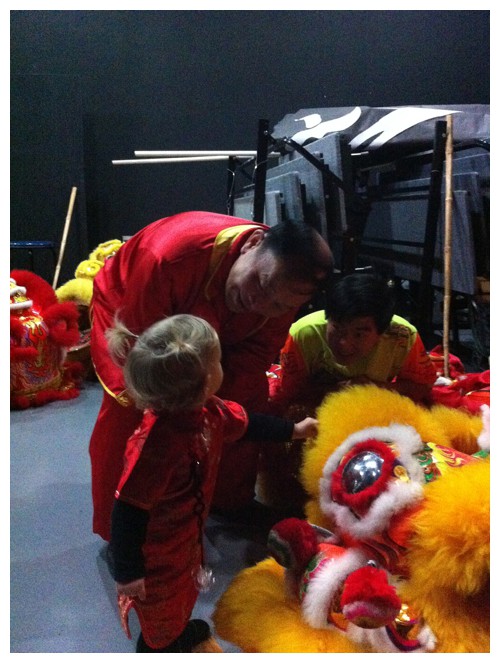 Isla visited with the professional lion dancers backstage. She immediately recognized the lions from all of her Chinese New Year board books, and roared at them.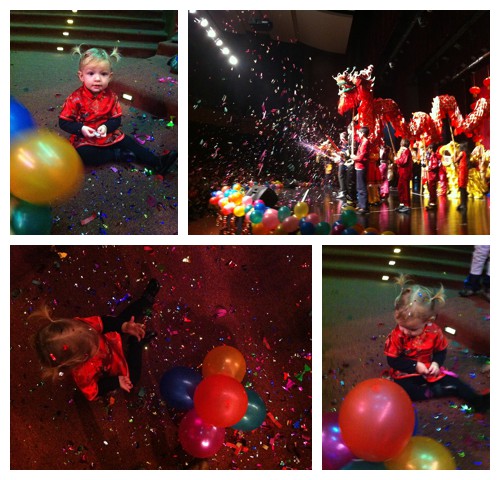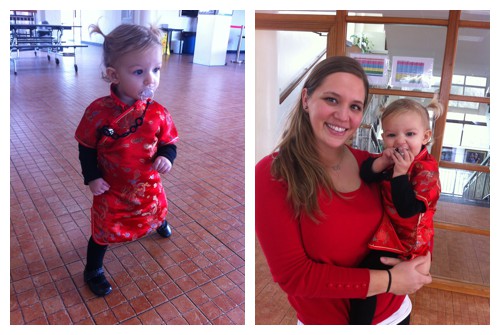 The first full day of our break happened to be Valentine's Day. Isaac scoured pinterest to find these delicious nutella strawberry and cream cheese strawberry french toast roll ups- YUM! Isla helped prepare the breakfast, and we popped a bottle of bubbly to celebrate. Just as we sat down to eat, Isaac brought in a small suitcase and wished me a Happy Valentine's Day. Inside was a card detailing plans for us to enjoy dinner and spend the night at the Hyatt on the Bund with our good friends, Megan and Jamie. It was such a wonderful surprise, as Valentine's Day is normally just a day for us to indulge in lots of chocolate and decadent foods… which we still did, of course!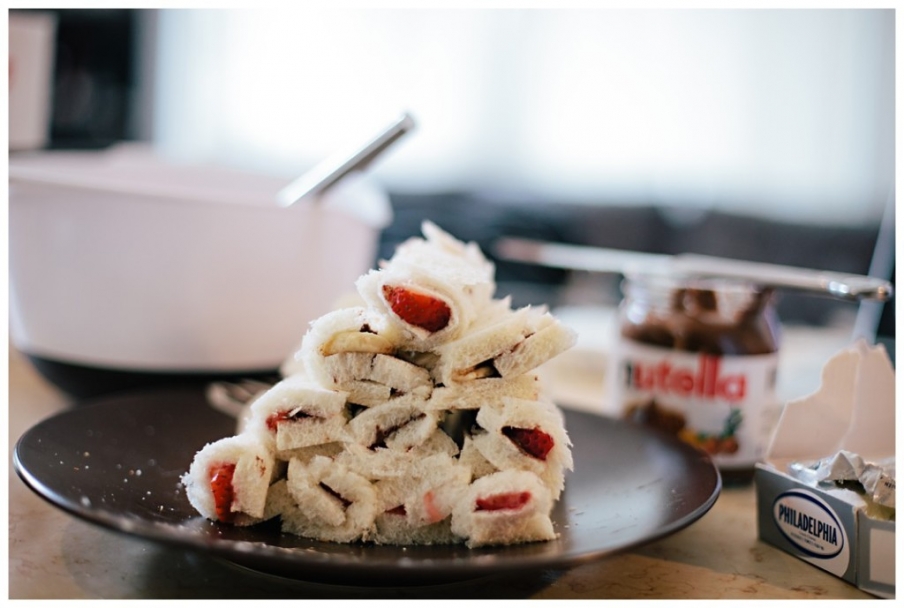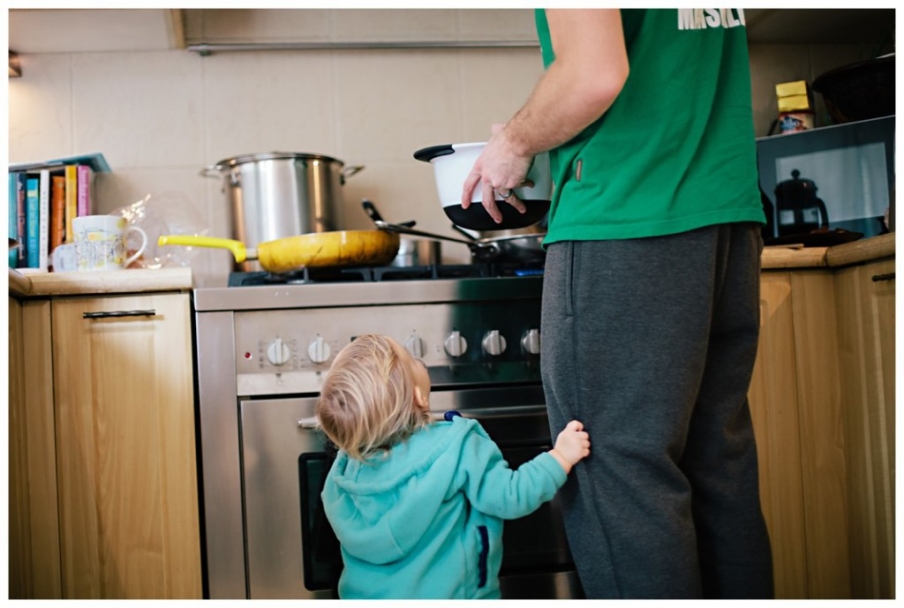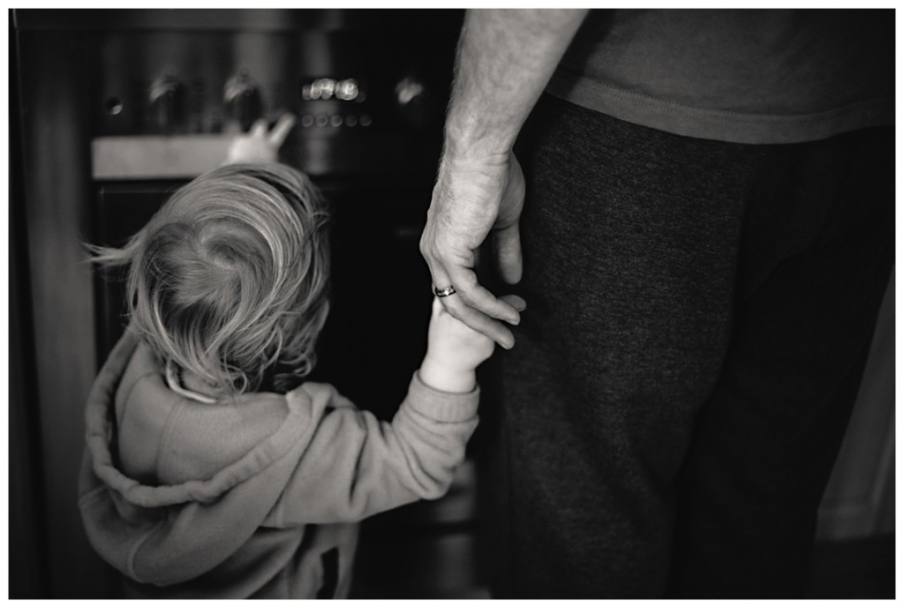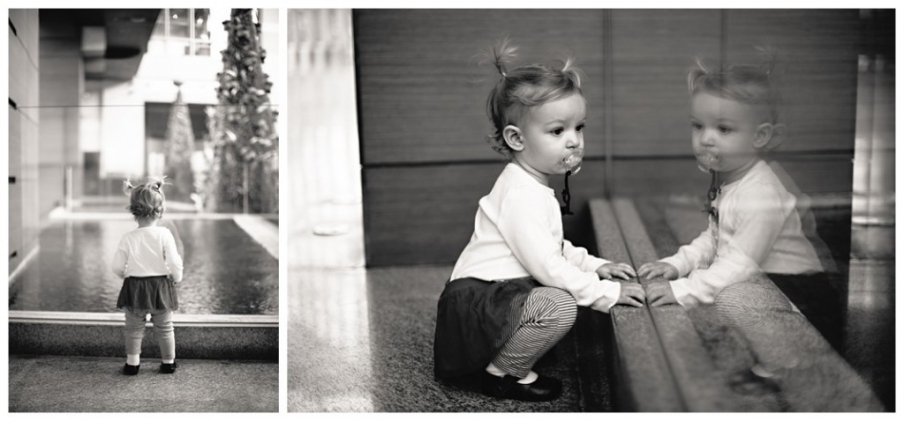 "Wah-er!" Isla was totally captivated by the beautiful water features in the Hyatt.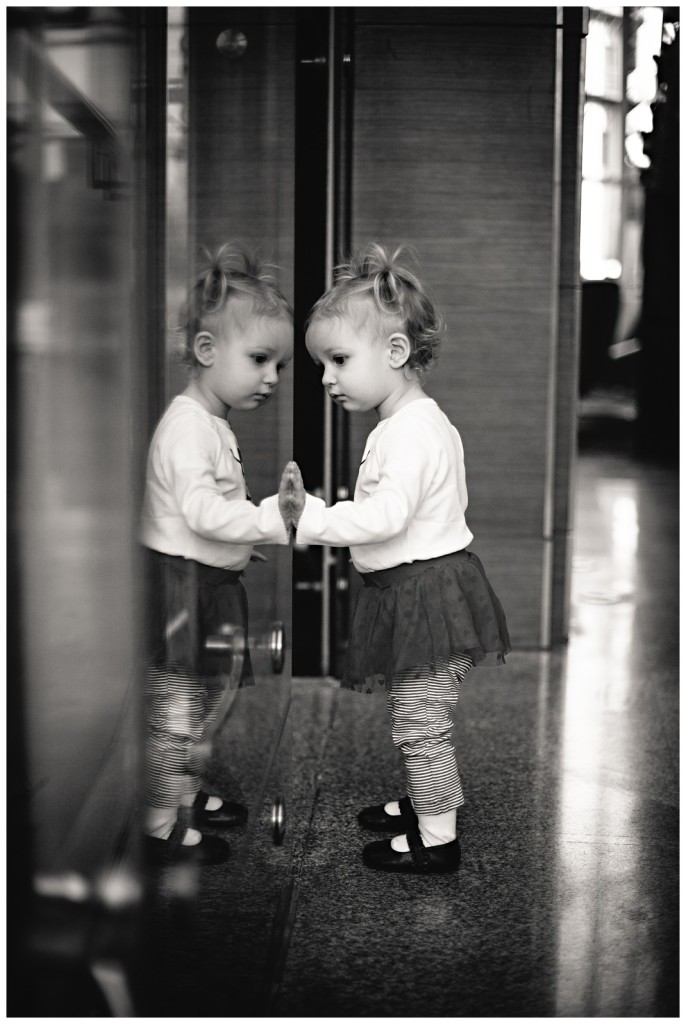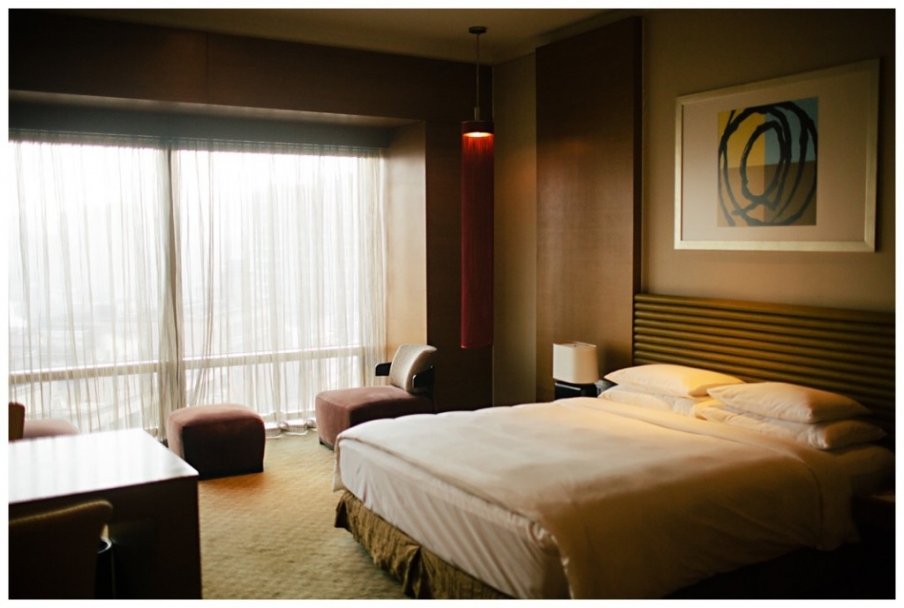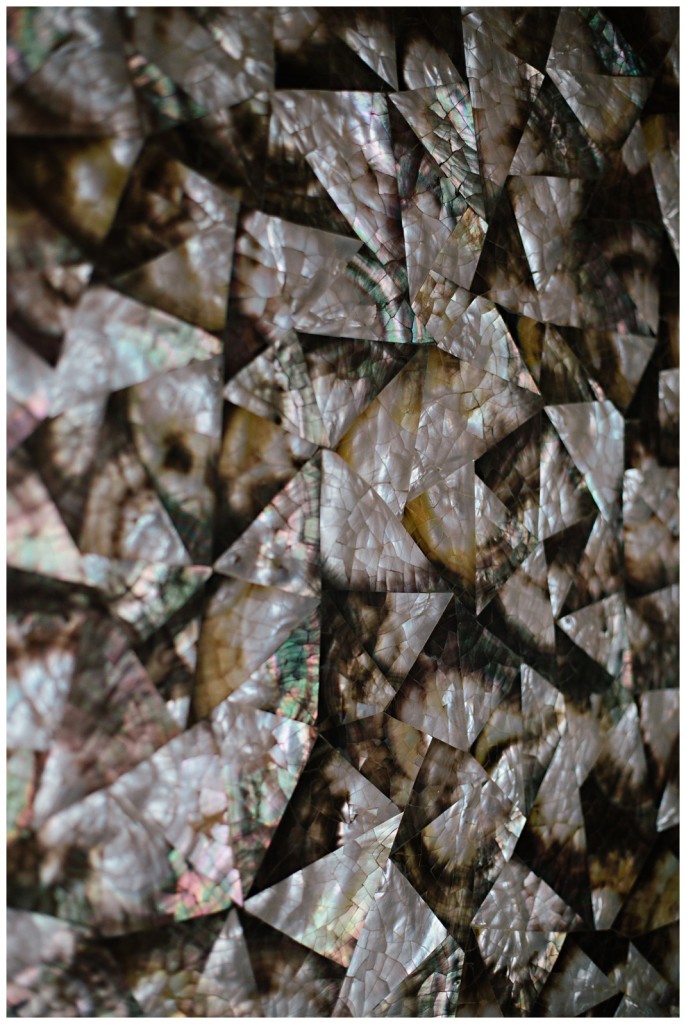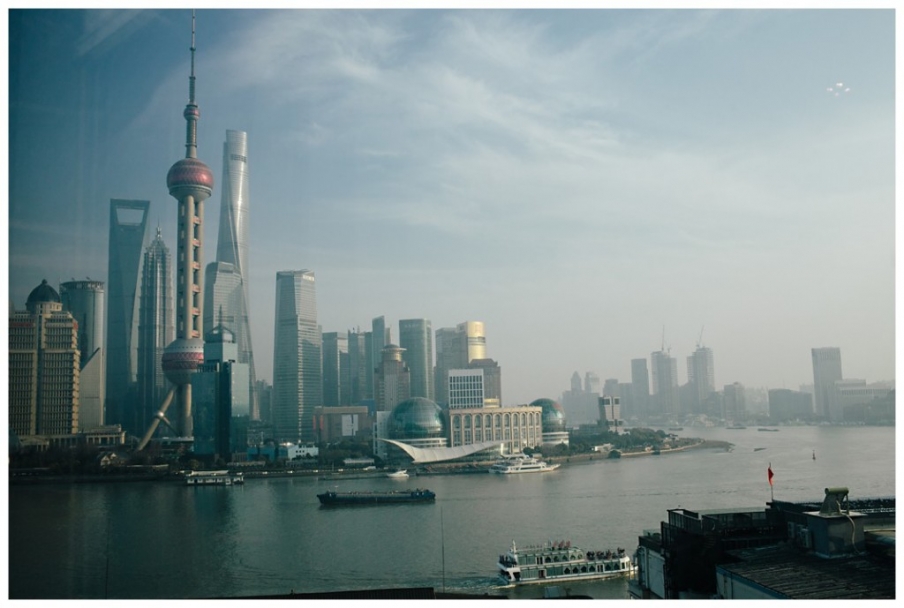 Our room had beautiful, sweeping views of the Bund, and Isla intently watched the world below. She beeped at the cars and pointed out every bird she saw. Fascinated by the boats, but not quite sure what they were, she'd yell, "air pane!" each time she spotted one.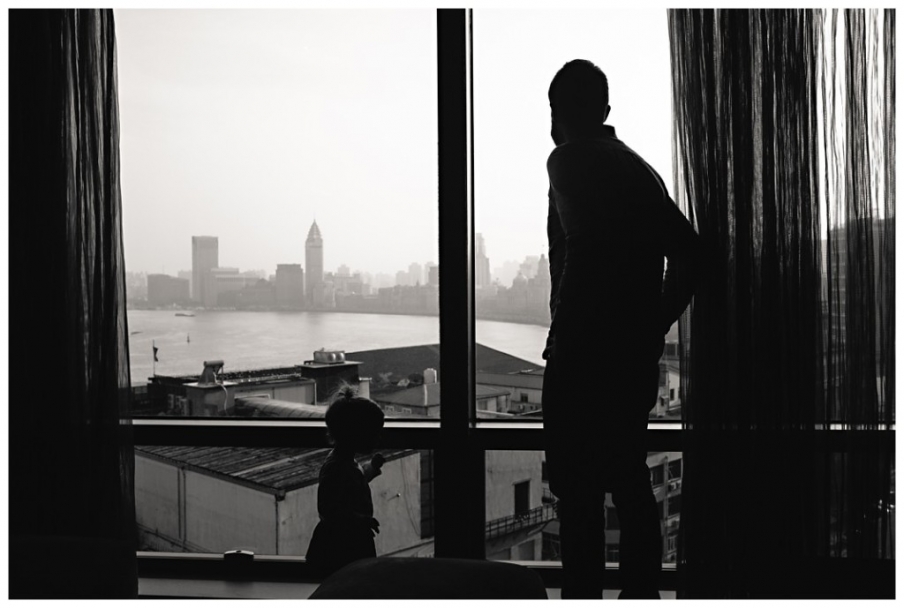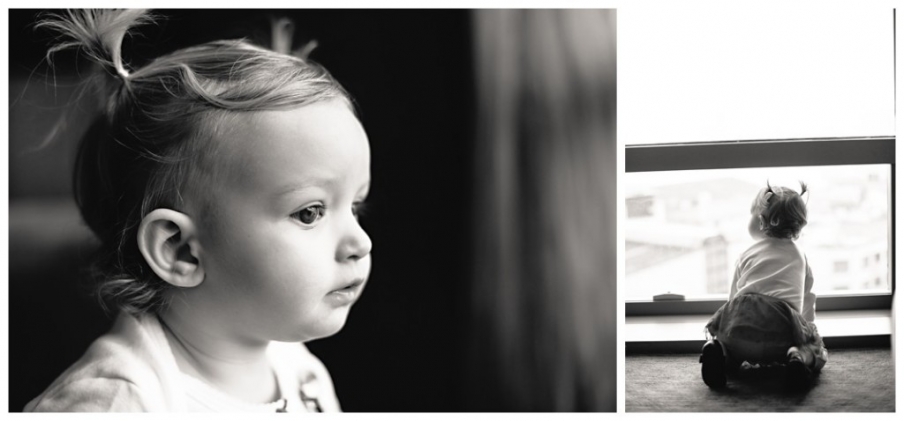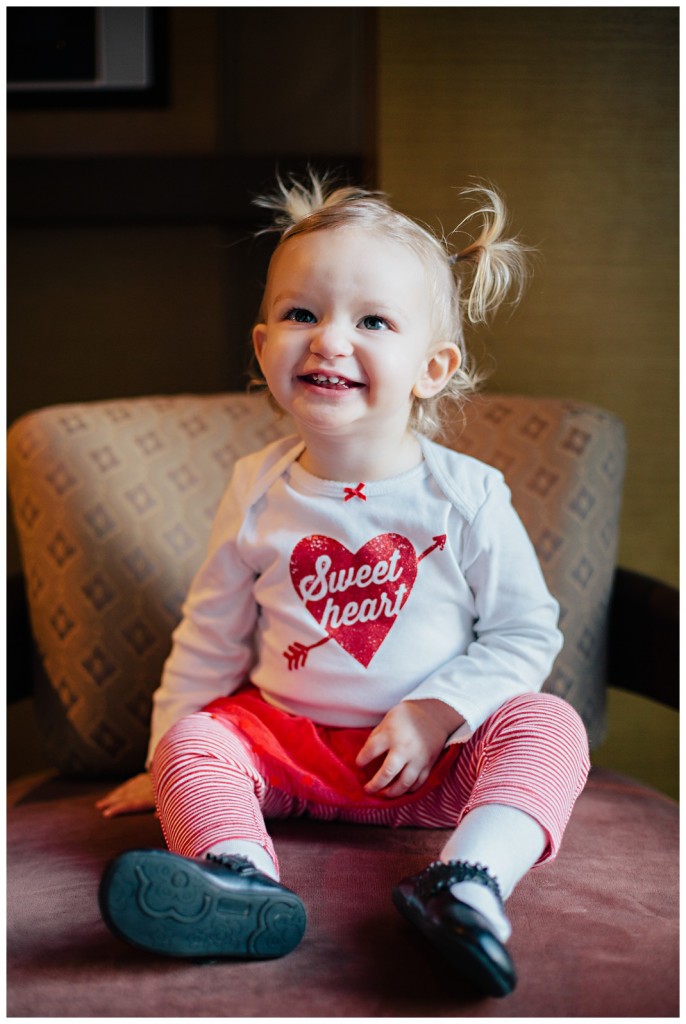 Sweetest little valentine ever!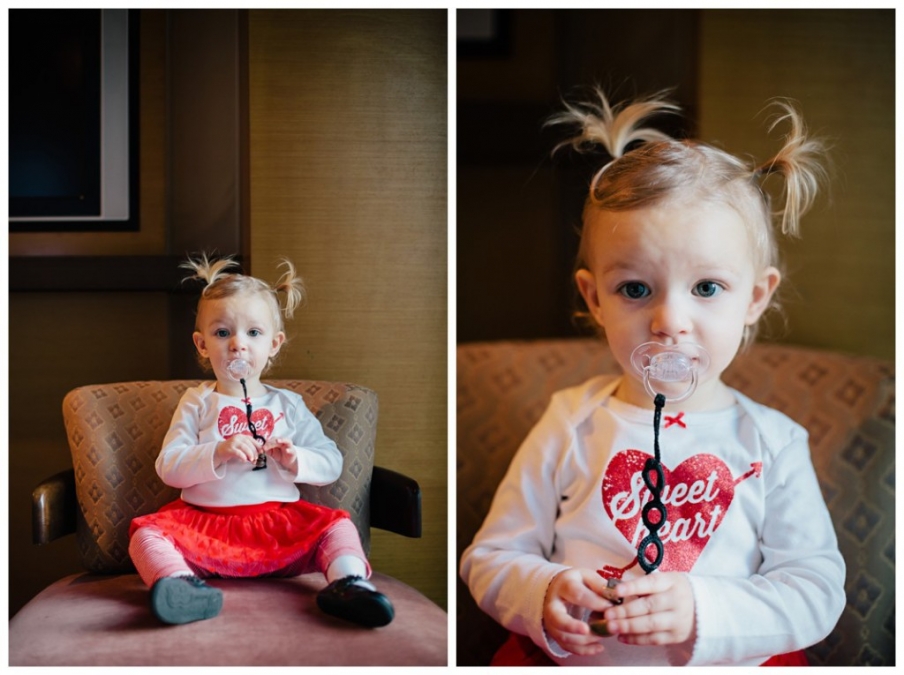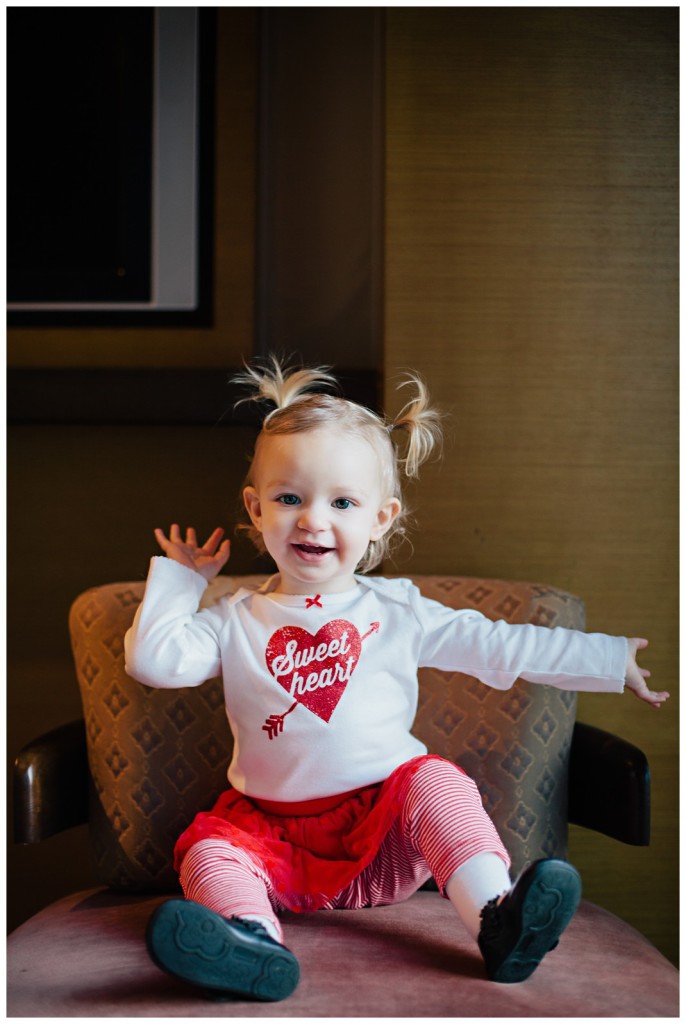 "Ta da!"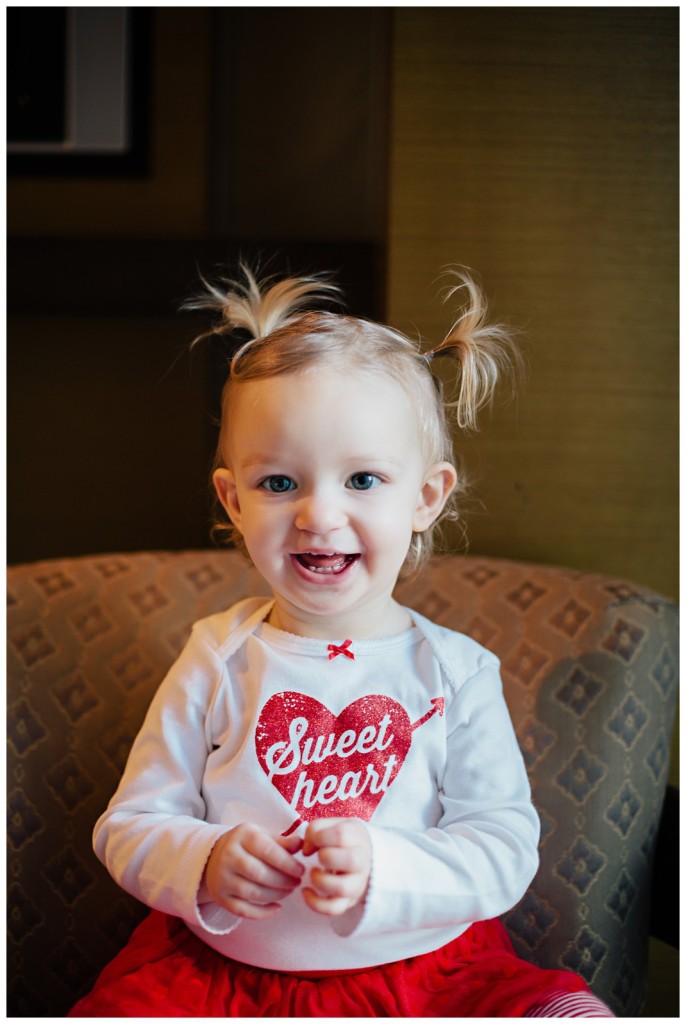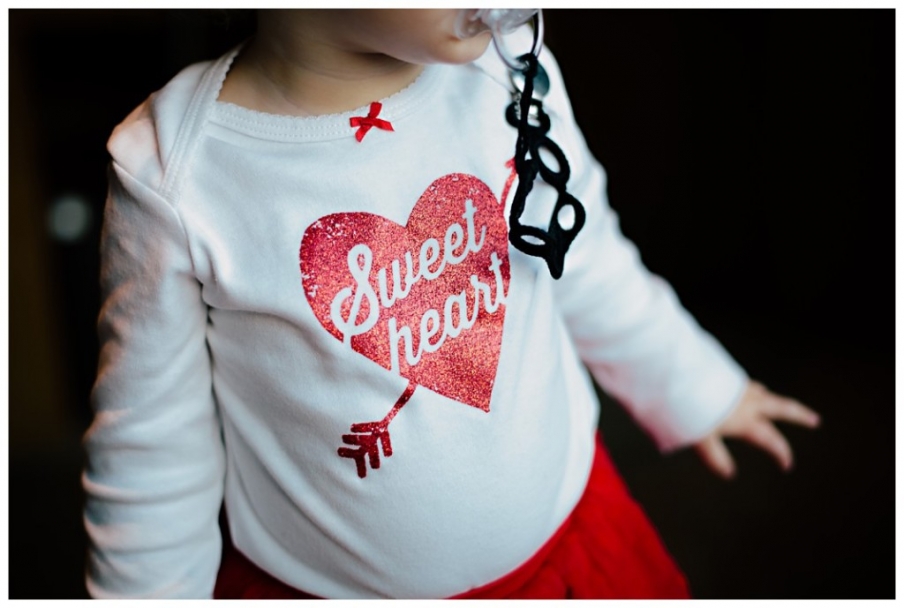 Isla has been going through some brutal teething and wasn't feeling her best, but she really was quite a trooper through dinner so that we could enjoy our meal and conversation with Megan and Jamie. Isla's wasn't all that hungry, but she did nibble on a few "noo-dohs."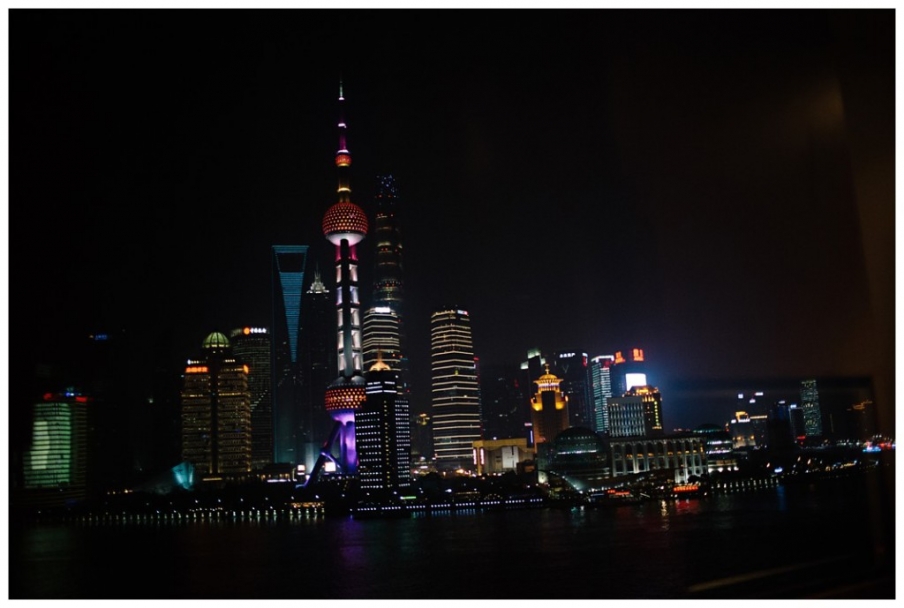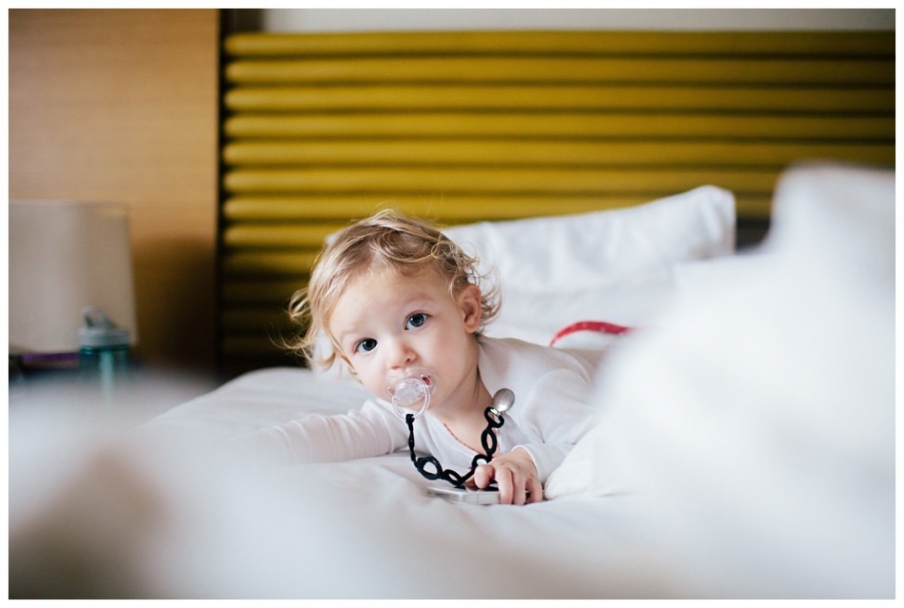 Sleep was rough (teething really is the worst!), but our morning was leisurely. The breakfast buffet was incredible and we ate entirely too much! Afterward, Isaac ventured down to the hot tub for a soak and Isla and I snuggled up and napped.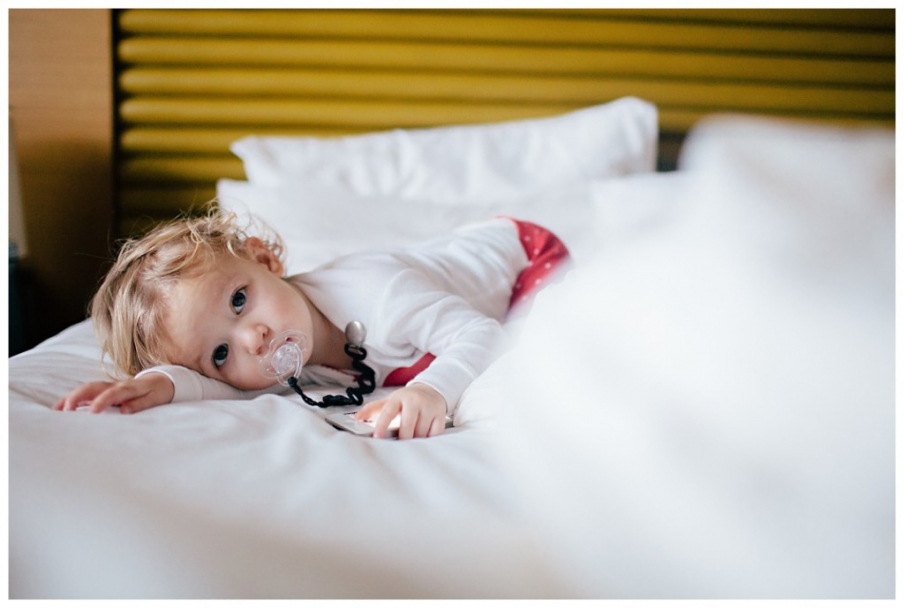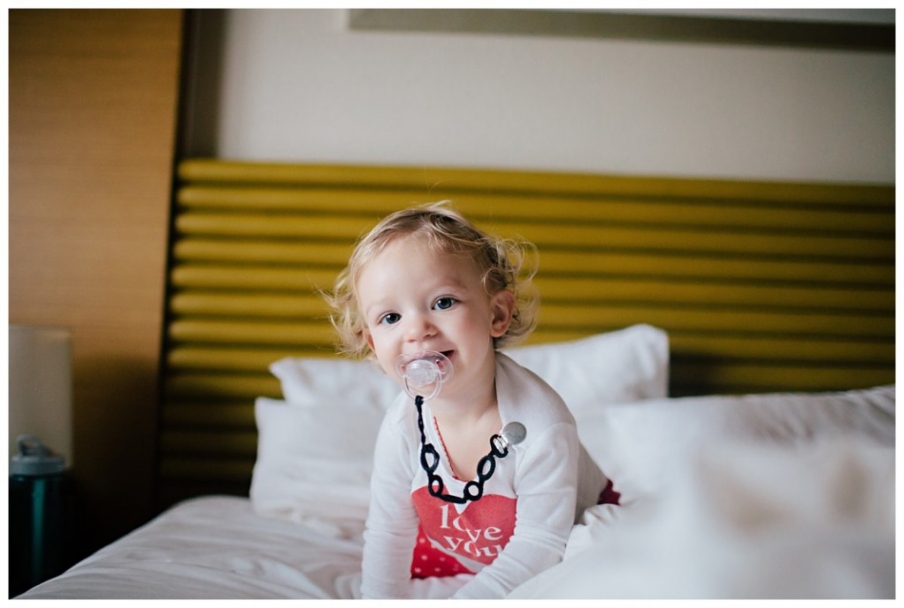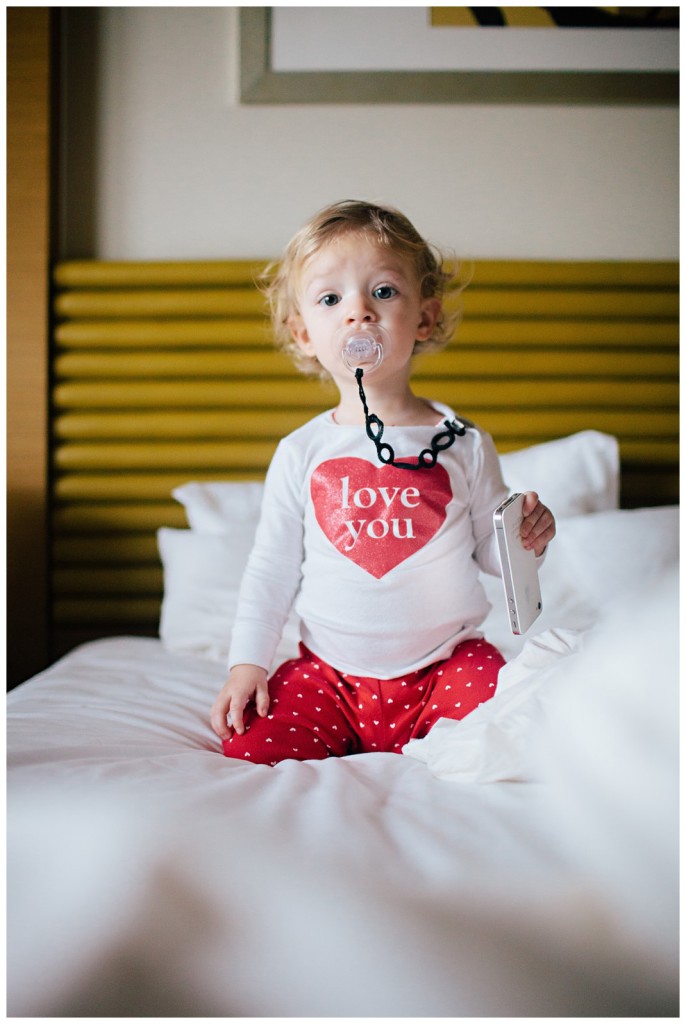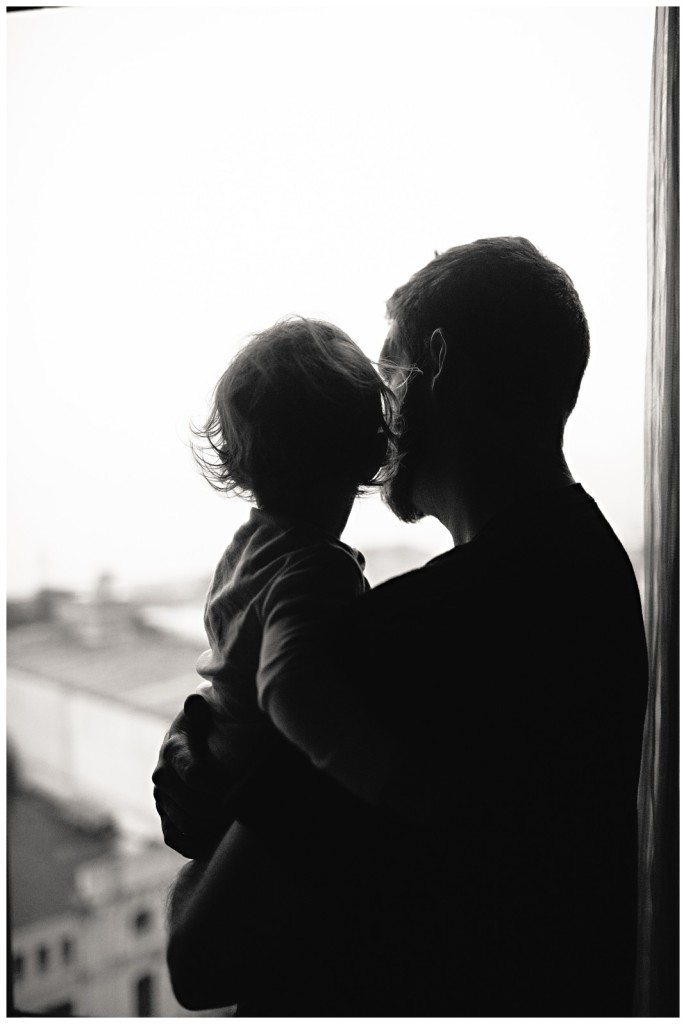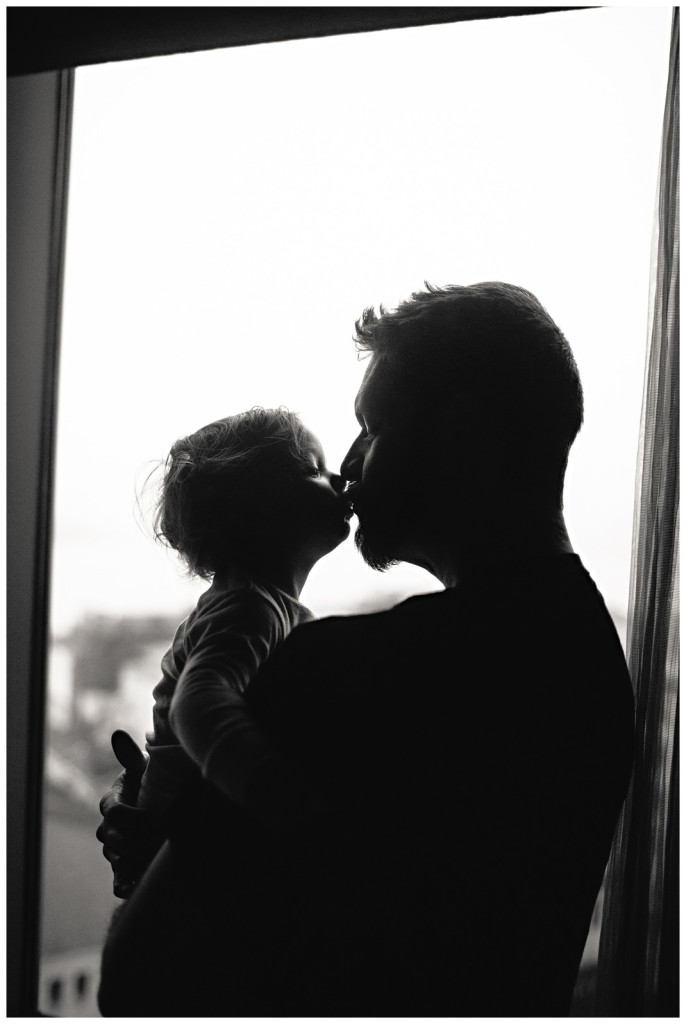 Isla has always been a very loving little girl, but she has become SO affectionate over the past few months. She loves to give hugs, and now randomly leans in to give us the sweetest little kisses… melts us every time!

Smoothies and applesauce were just about the only things that appealed to Isla for a few days.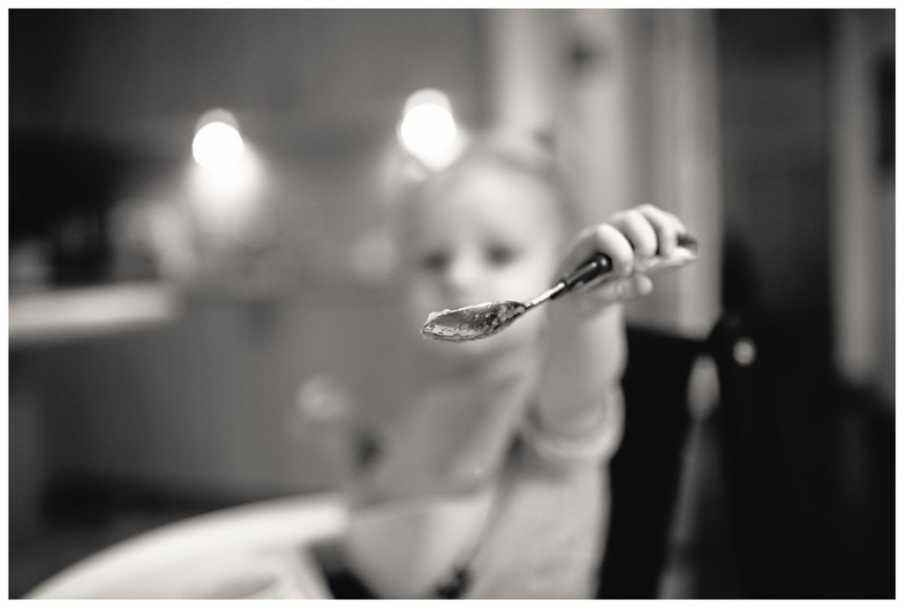 Isla has been perfecting the art of self-feeding. She switches back and forth between both hands, and you can see her brain busily working to figure out how to best angle her hand when scooping and bringing the food to her mouth. She is determined to turn the spoon over, which often results in slopping the food onto her tray or herself. It surprises her every time, and with eyebrows raised she exclaims, "Uh-oh!"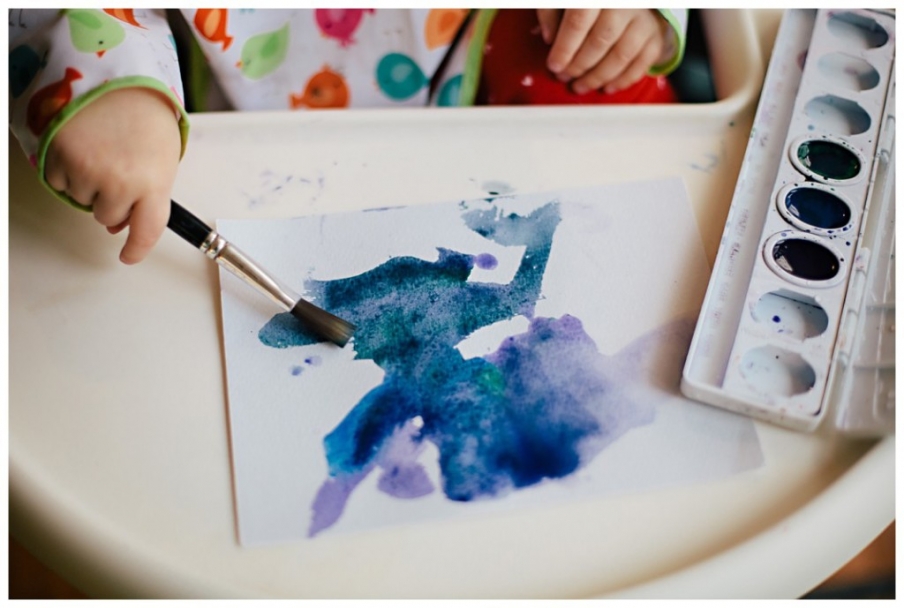 A love for art runs in her blood and it has been so fun to watch Isla develop an interest in coloring and painting. She asks to "cuh yer" several times a day and we have been letting her experiment with watercolors. She is beginning to have a pretty good understanding of the process (dip the brush in water, dip the brush in the paint, put the brush on the paper), and she is obsessed with dipping the brush in the water!
I discovered that I could pop the individual paint pods out so that I could limit the colors Isla used. With each new paper I change out the colors so she can experiment with different palettes.

She experimented with a little finger painting as well…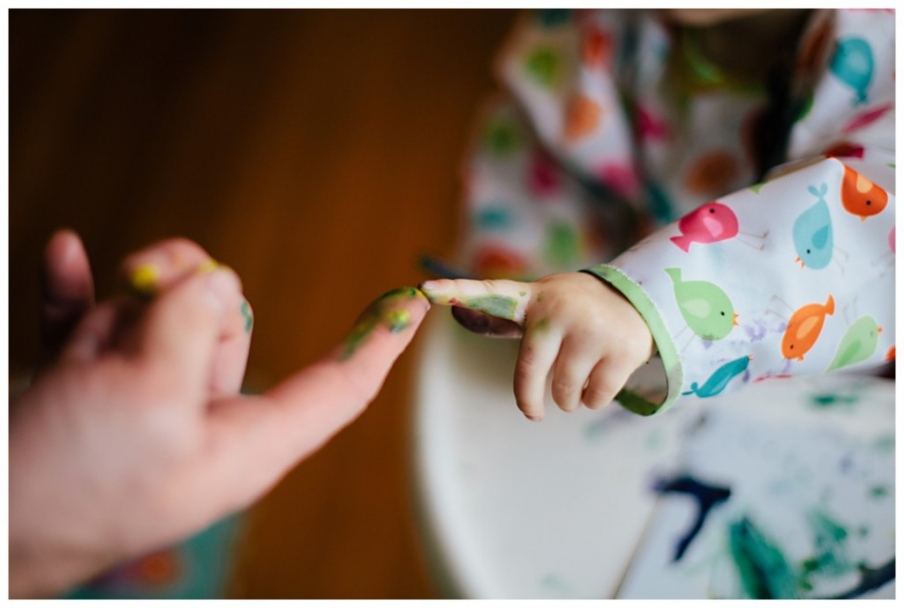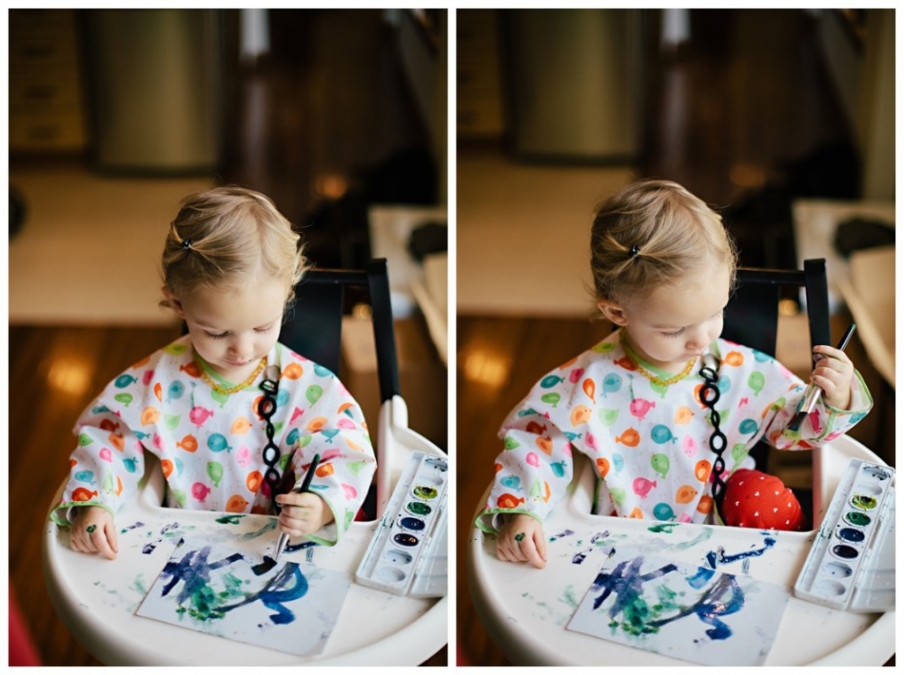 Isla's first water color painting experience was a few weeks ago, and I did not post the photos earlier, so I thought I would include some favorites here…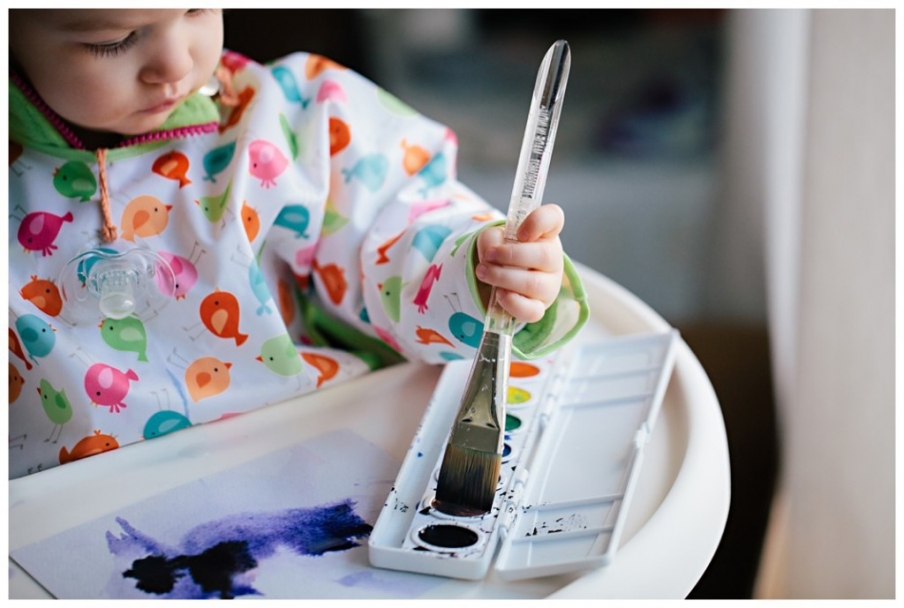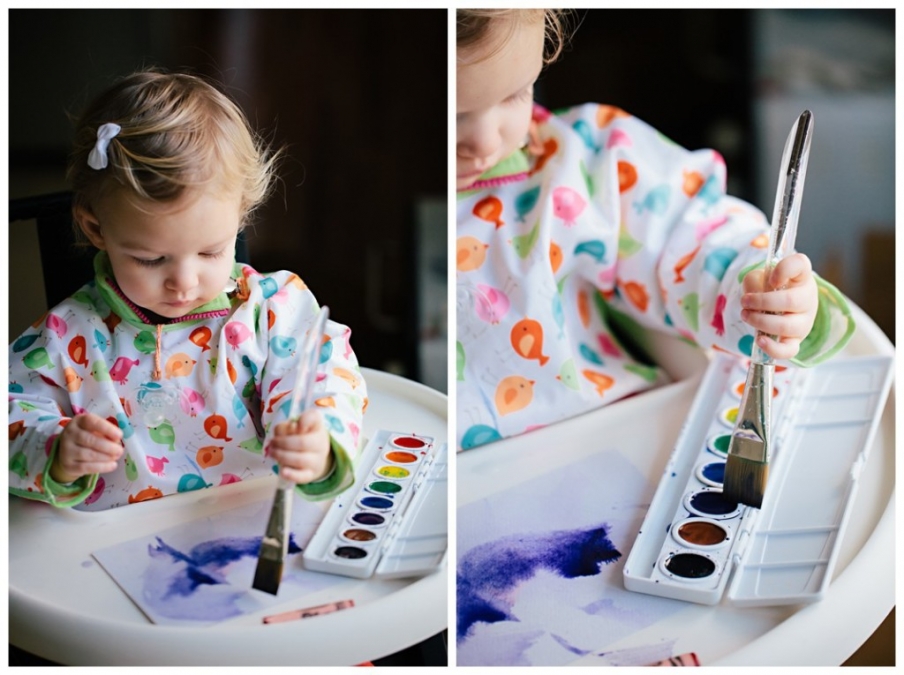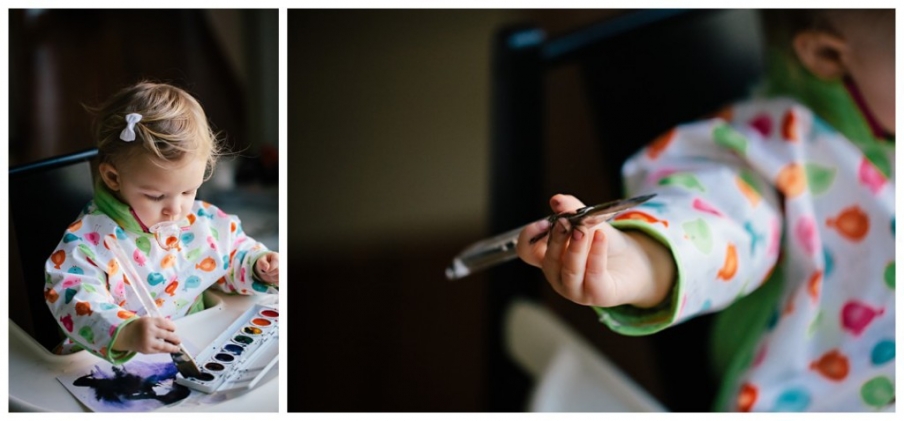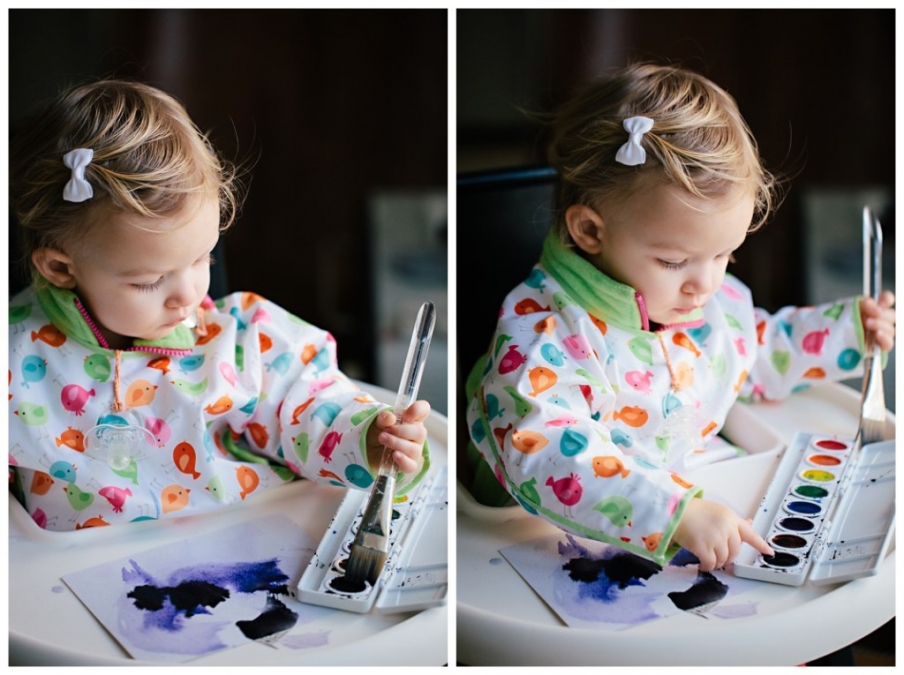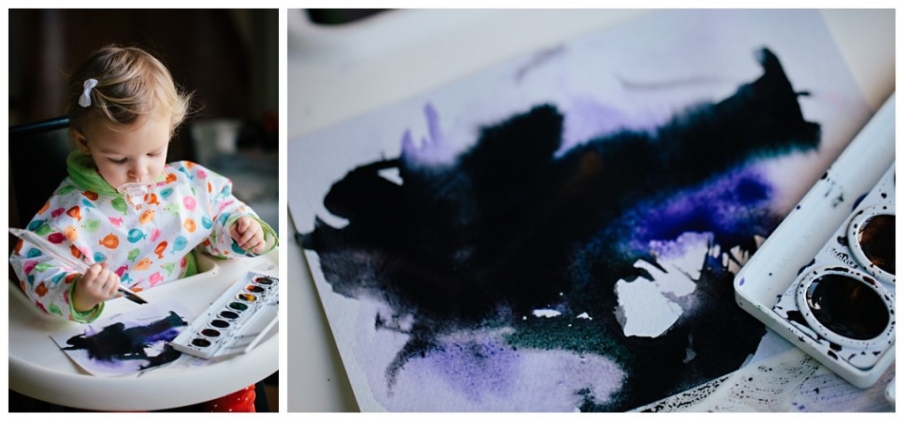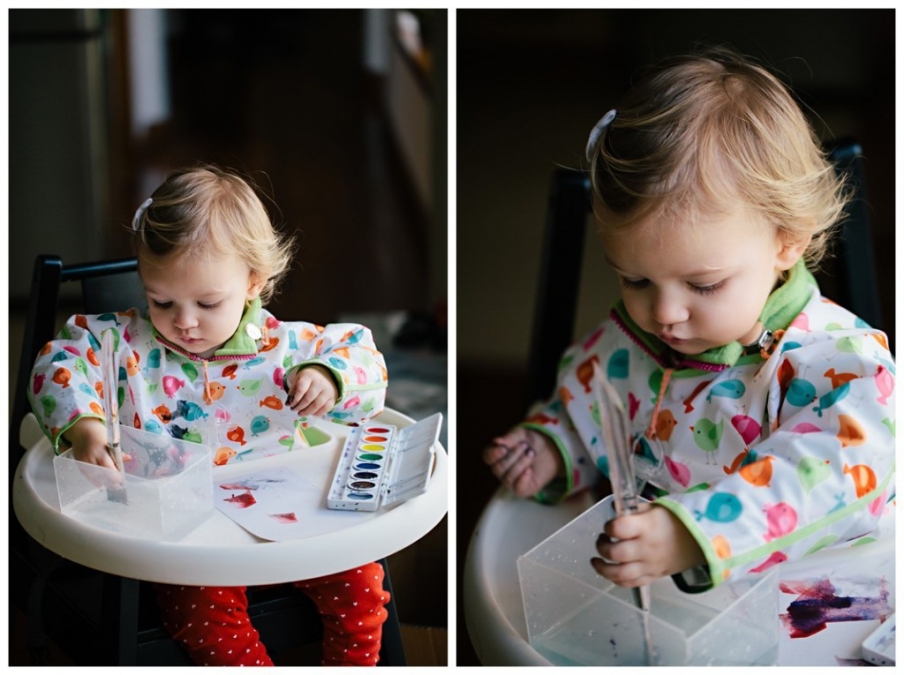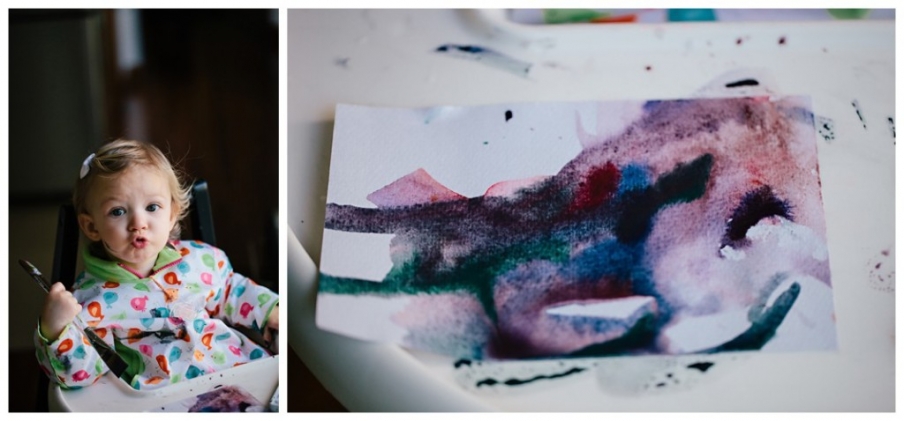 "Ooooh!"Someone is pretty impressed with herself.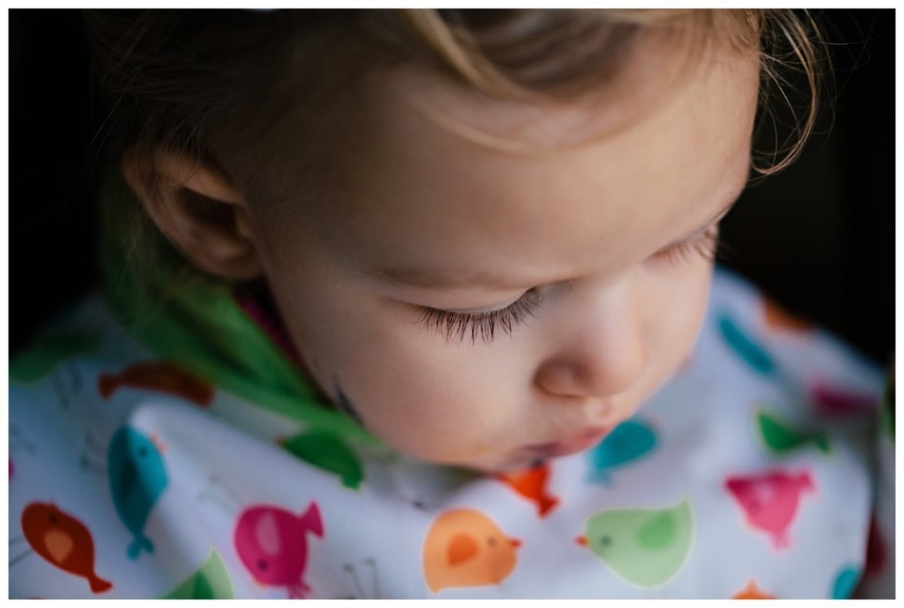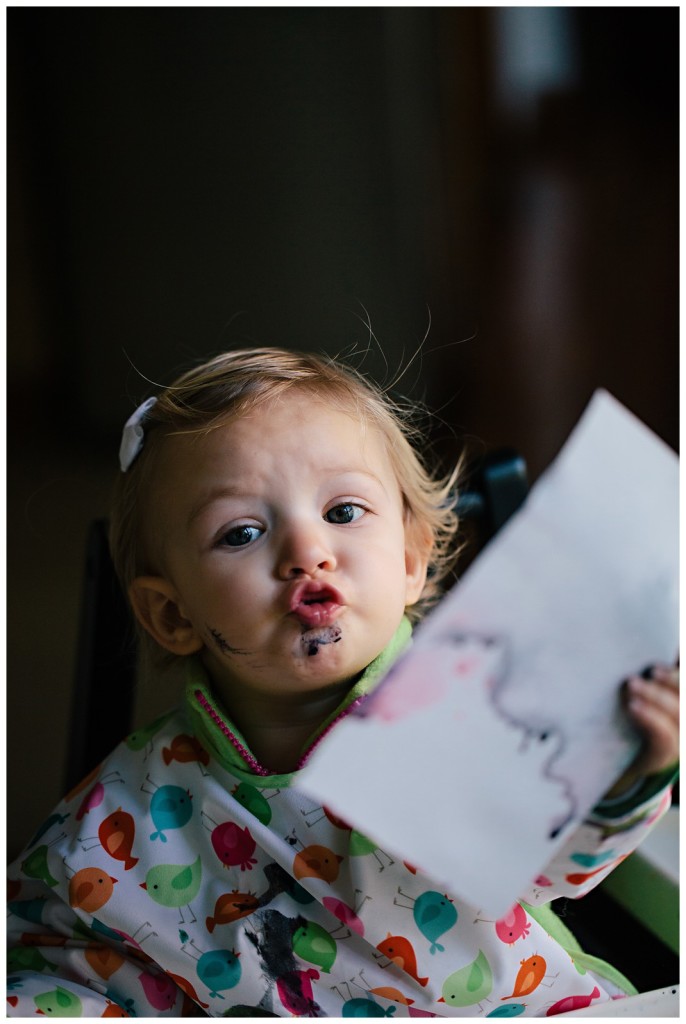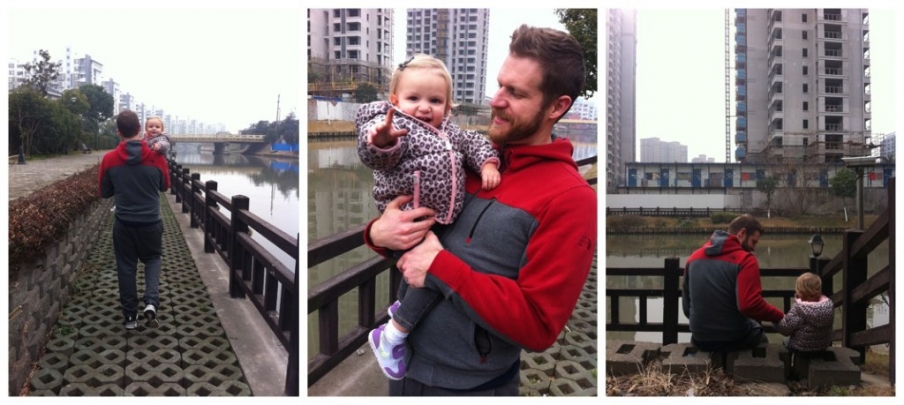 The weather was quite mild for most of the week, and we enjoyed numerous walks around our compound.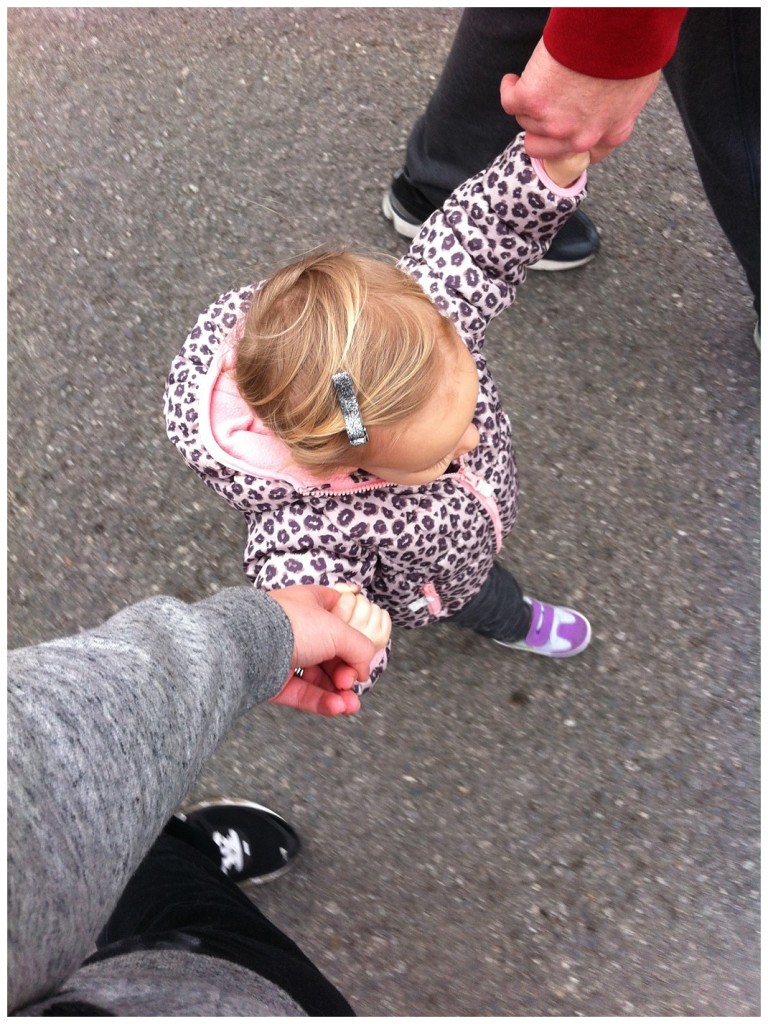 We spent one morning exploring the Shanghai Ocean Aquarium. Above were a few of the only photos I was able to take with my camera before the battery died! Watching Isla's sweet face light up with wonder was absolutely amazing! She excitedly pointed and said, "Oooooh!" at the very first tank we came to, and her excitement grew and grew as we explored further. The aquarium was a beautiful building and housed many interesting exhibits. Sadly, several of the enclosures were far too small for some of the larger inhabitants (the very unfortunate case with many zoos and aquariums!), but otherwise everything seemed to be well cared-for and clean.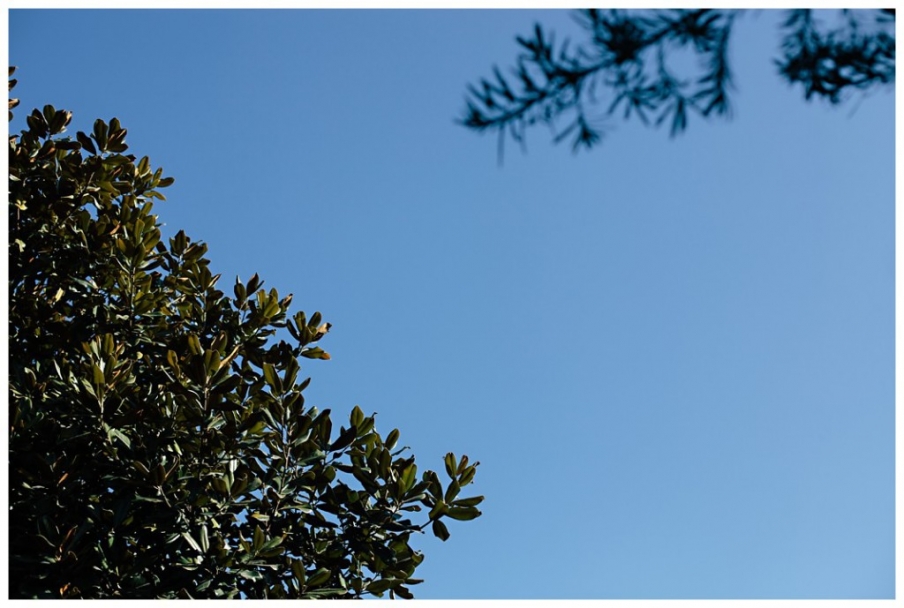 New Year's Day brought brilliant blue skies and incredibly clean air… amazing how the environment changes when everyone is off on holiday and the factories aren't chugging out smog!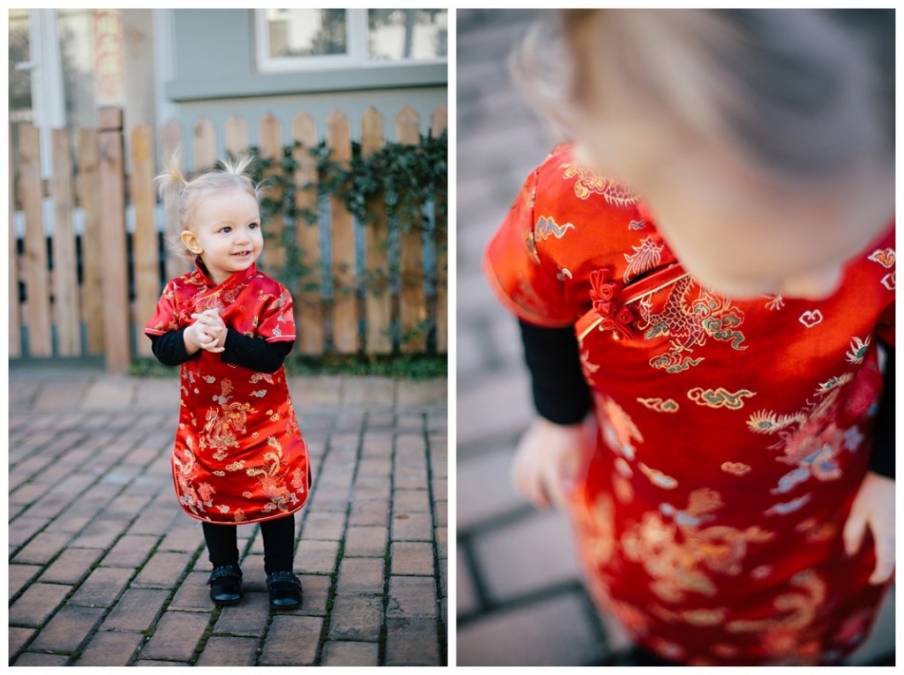 Isla proudly wore her qipao for the day. She loved the silky fabric and said, "soft," as she rubbed her belly.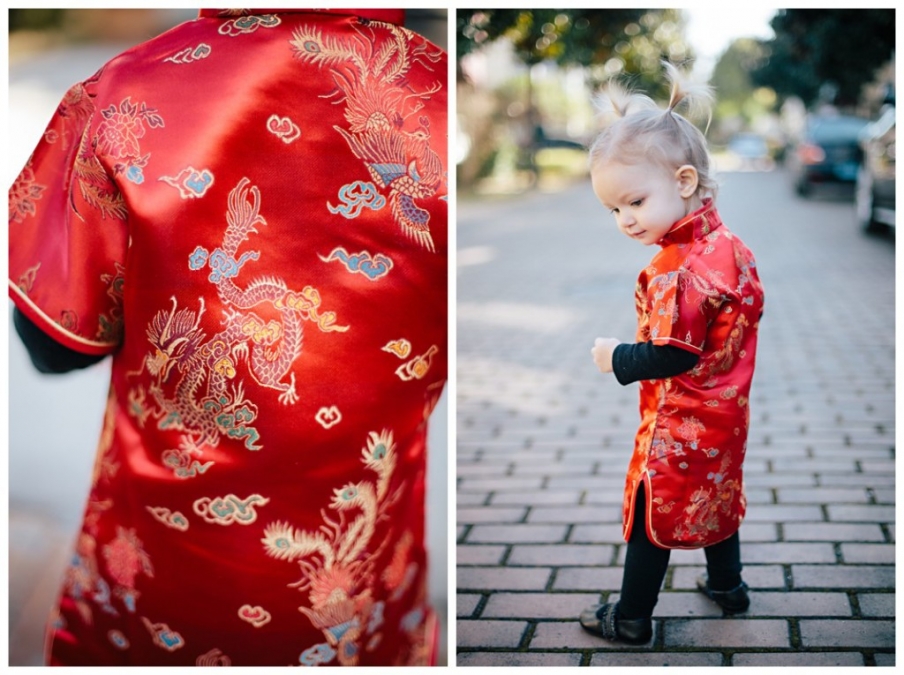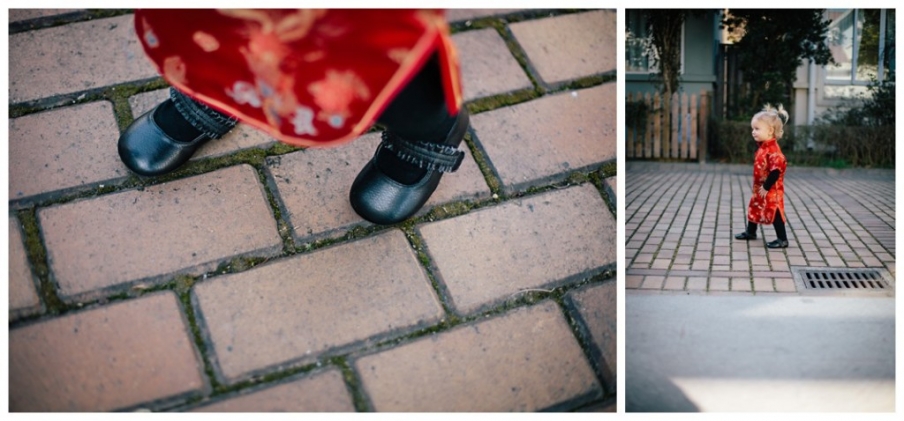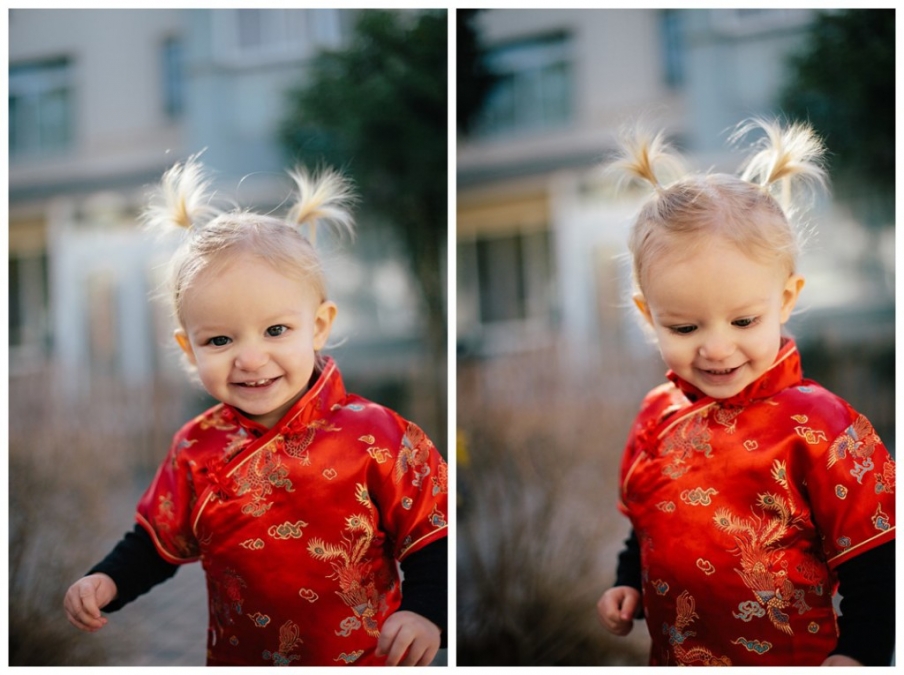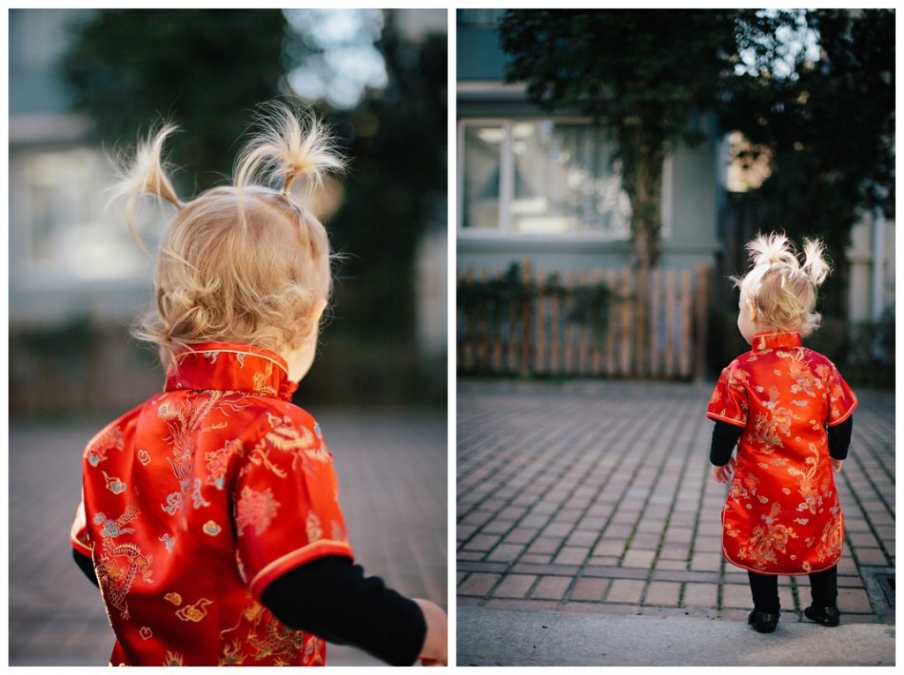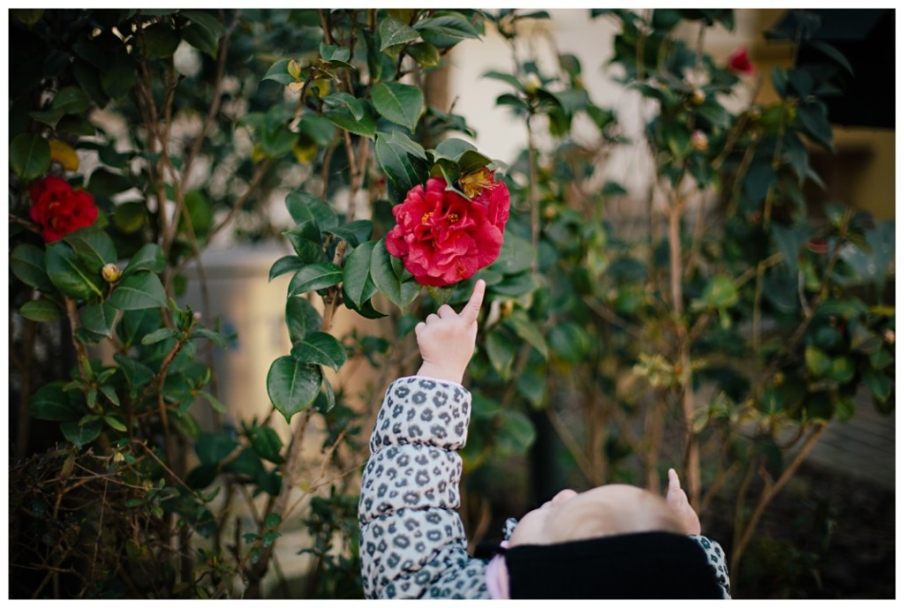 "Fow-er"

Isla did her best to lure this neighborhood kitty over for a hug, but apparently hugs just weren't his thing.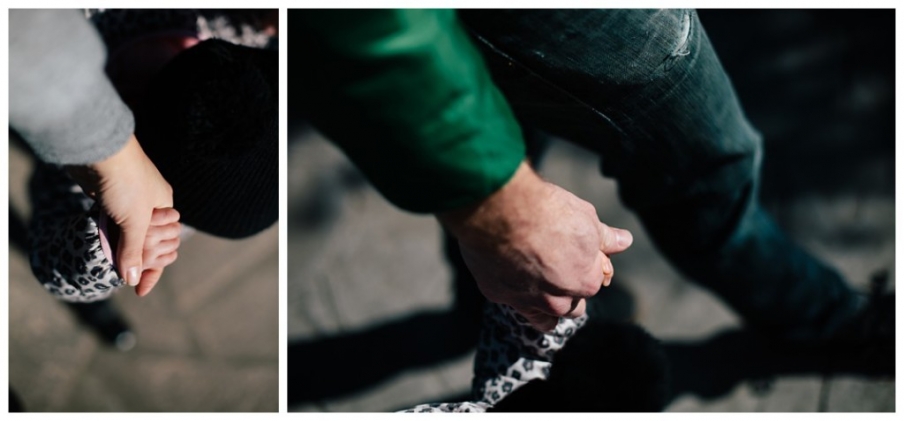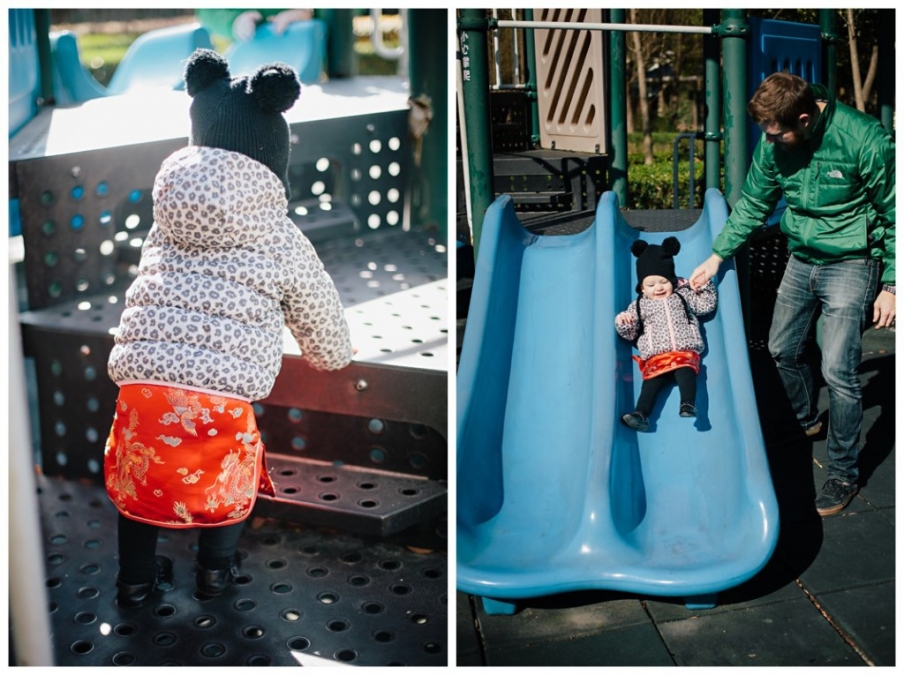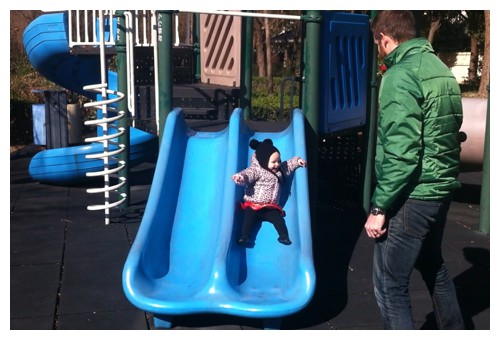 We made several trips to the neighborhood park, and Isla worked up her courage to slide all by herself. Hooray, big girl!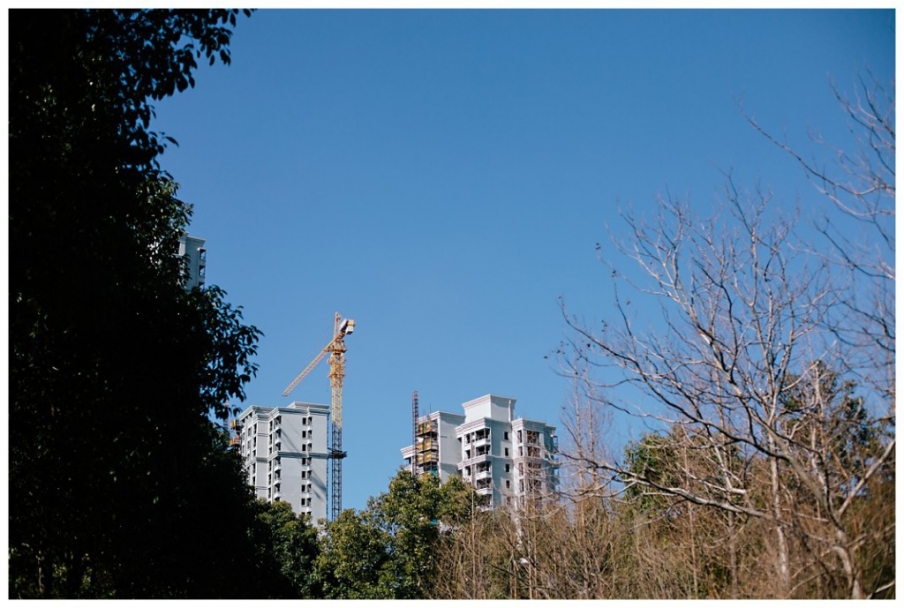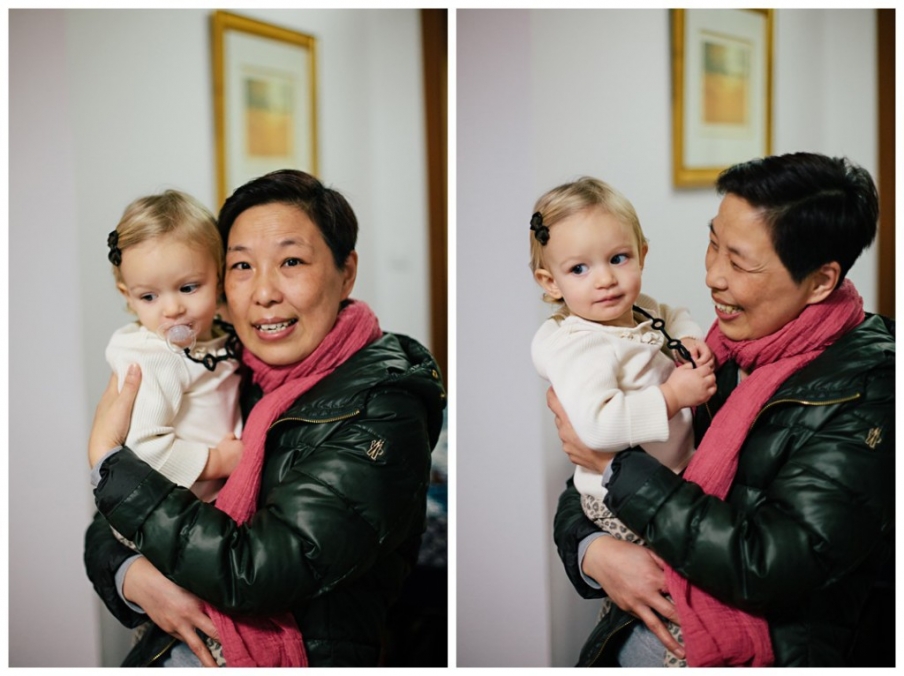 We enjoyed a very special visit with our dear ayi, Sue. Earlier this month Sue was diagnosed with ovarian cancer and has had to undergo surgery and begin chemotherapy. We are just heartbroken that she has to go through this scary ordeal, and that she can no longer care for Isla. She has been like a second mom to our sweet girl, and Isla absolutely adores her! Even after not seeing her for a month, Isla went straight to Sue as if no time at all had passed. It was a joy to watch them play together.

Our friend Lisa joined us for the visit and she gave Isla her first hong bao! Thank you, Lisa! Isla was very excited. Lisa also helped Sue pick out this wonderful book for Isla. It is filled with beautiful artwork and tells the true story of a young Chinese girl who longed to go to college when higher education was not common for women. We love stories about strong girls!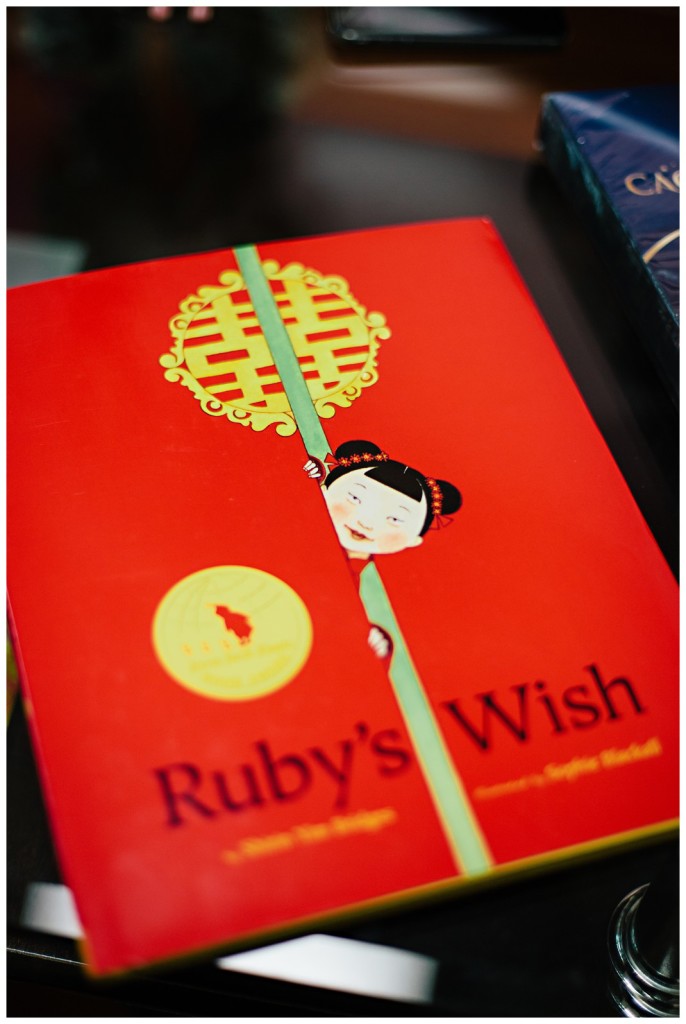 Sue's husband has a bird and Isla was completely tickled watching it. She would giggle, point, and say, "Teet! Teet!" (tweet, tweet)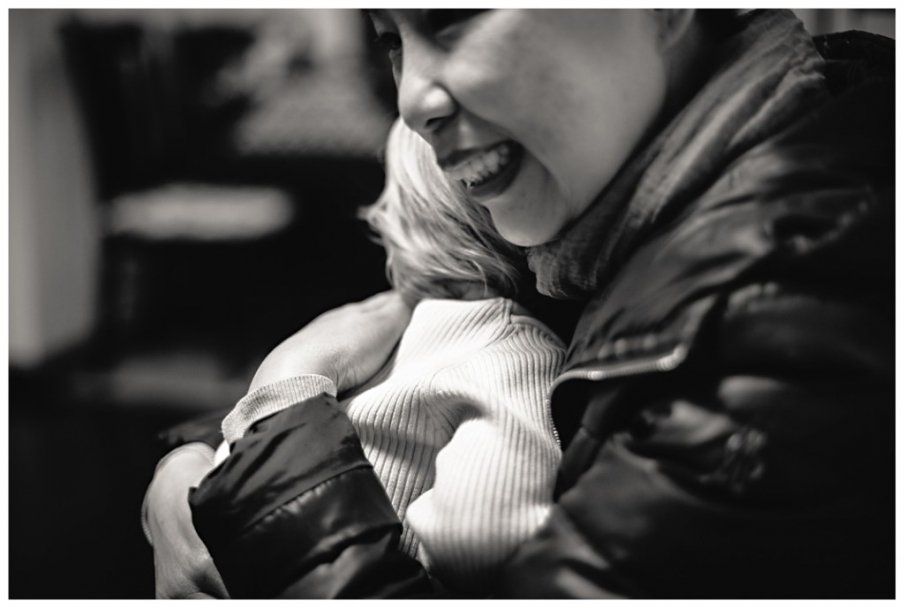 This image absolutely melts my heart! We love, love, love our Sue… and it's clear she loves, loves, loves our Isla.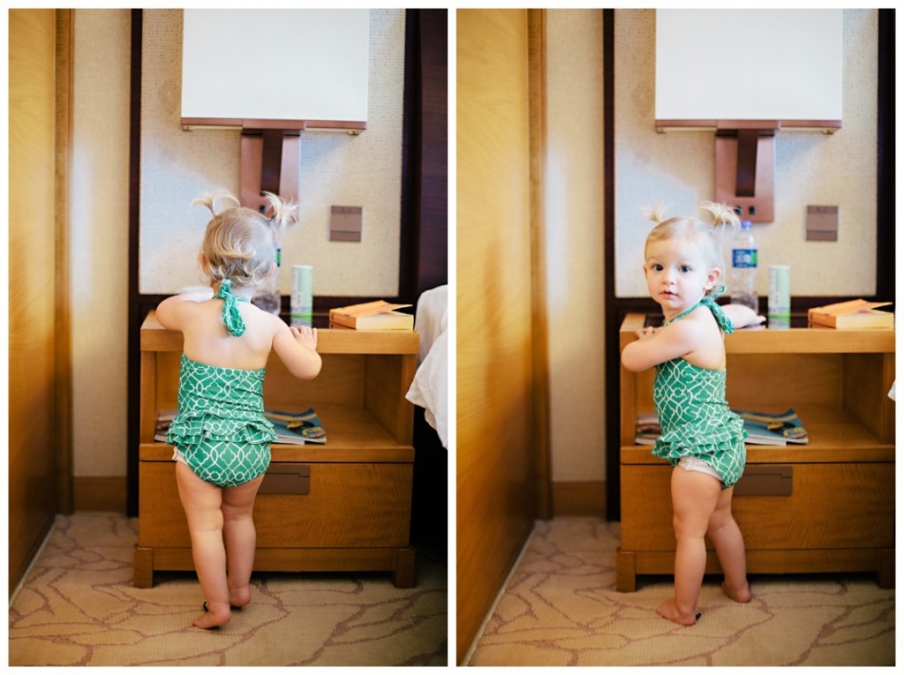 Cal, Sherry, and Lucas spent the weekend at the Kerry Hotel in Pudong, so we joined them for a very fun day! We went swimming, ate lots of delicious food, enjoyed happy hour, played a little pool, and ate some more. I was so thrilled that Isla still fit in my favorite of her swimsuits.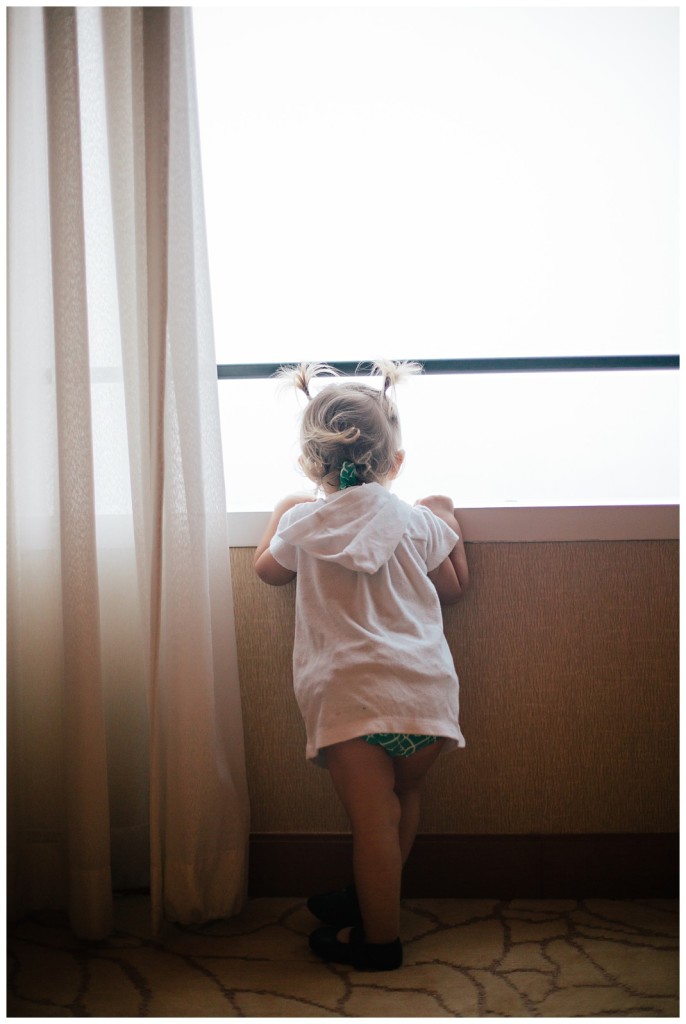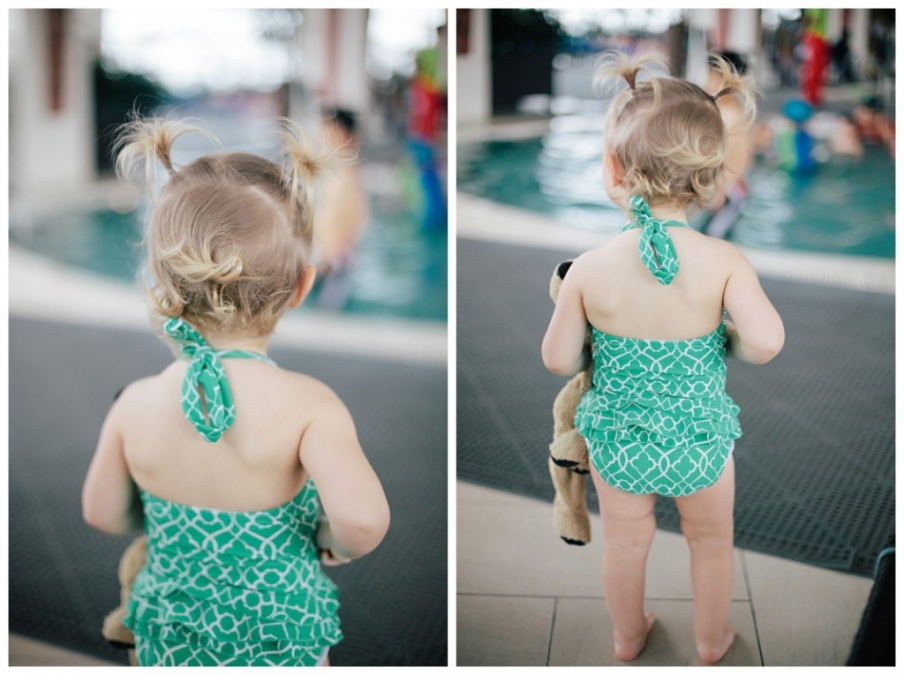 Isla loves Lucas' doggy, and I've been told she is the ONLY person he will willingly share it with… young love!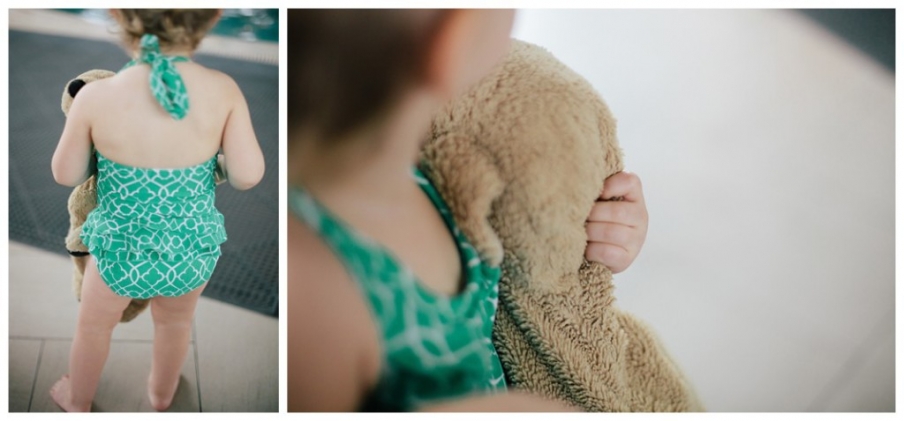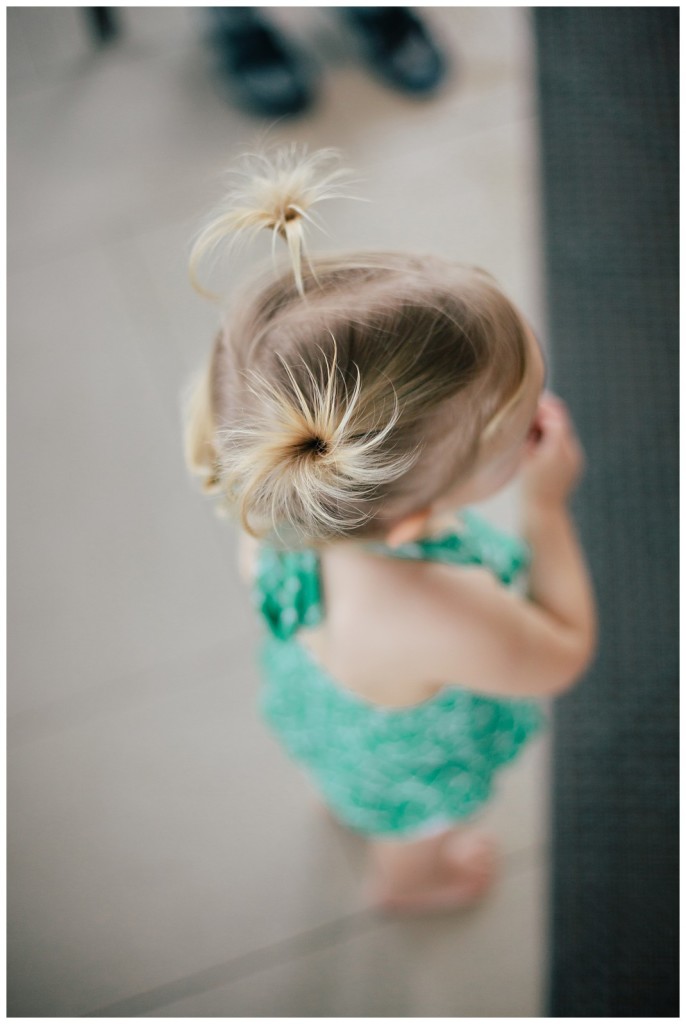 Perfect piggies!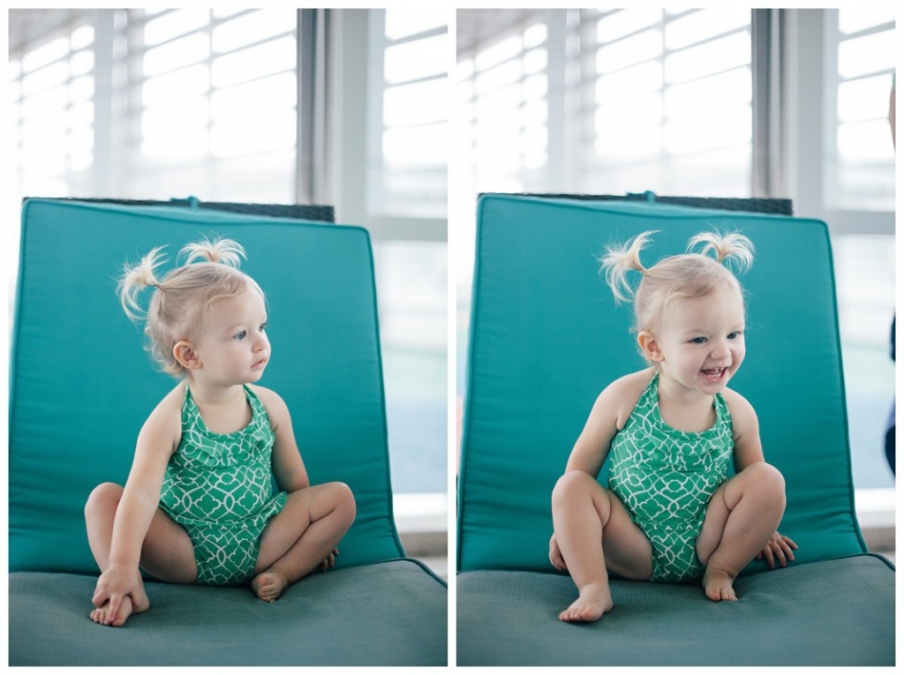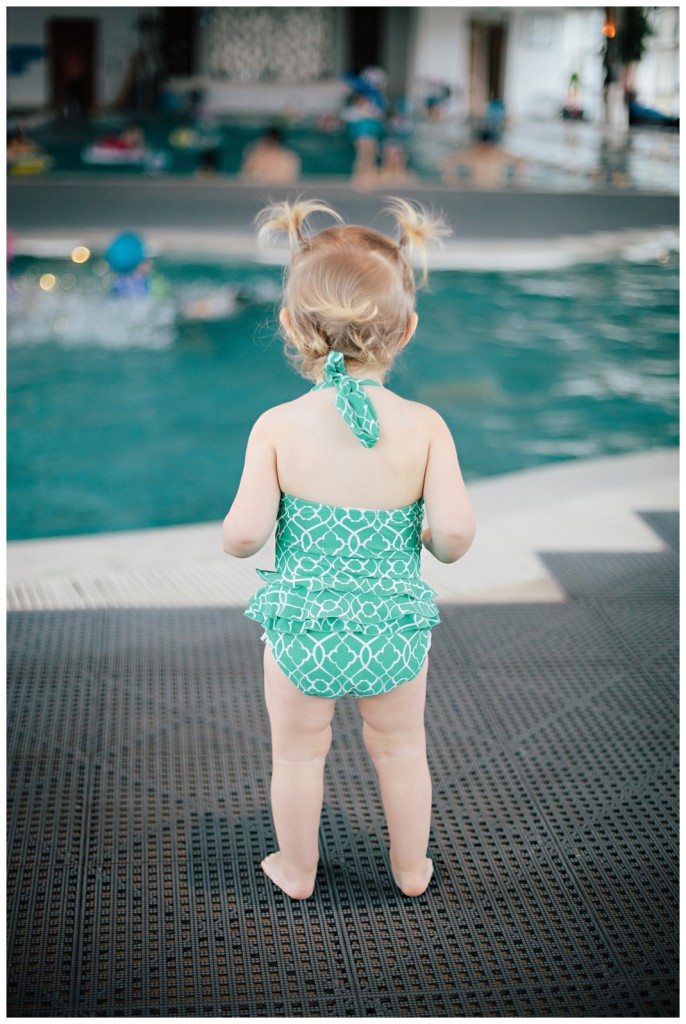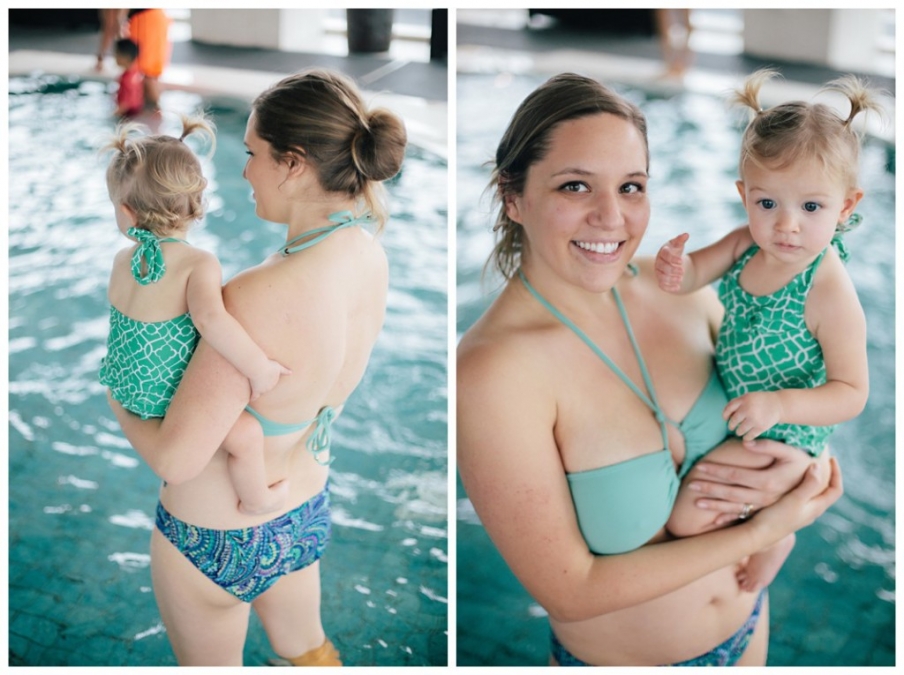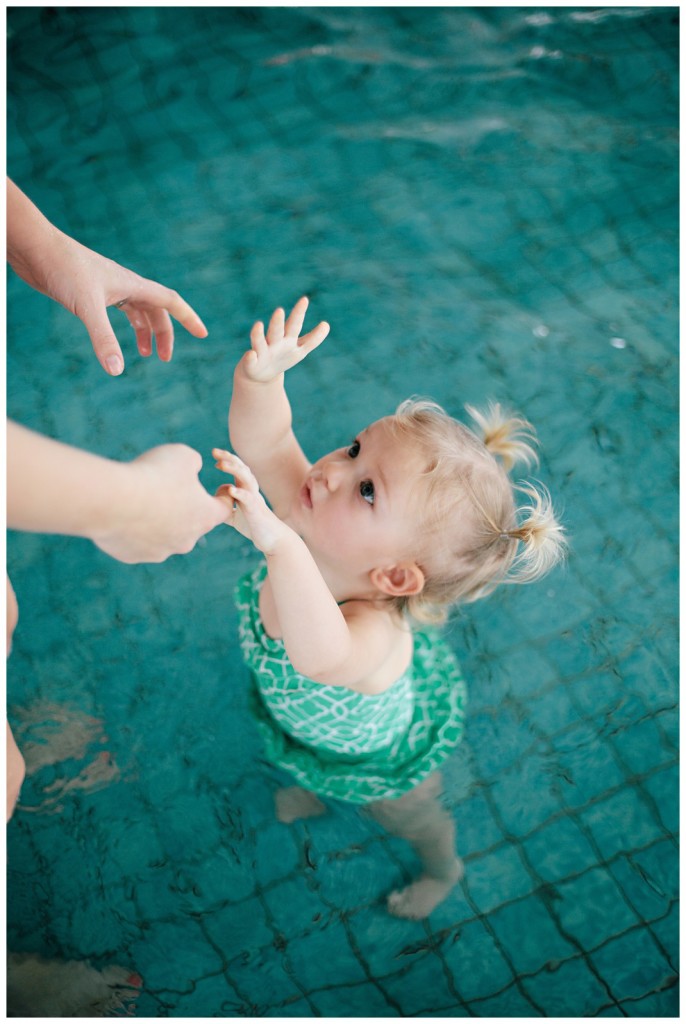 Isla was eager to look at the water, but immediately wanted out once we put her in. We tried our best to encourage her to swim and play, but she would just shake her head and say, "No."
Even sharing a floaty with Lucas wasn't enough to convince her.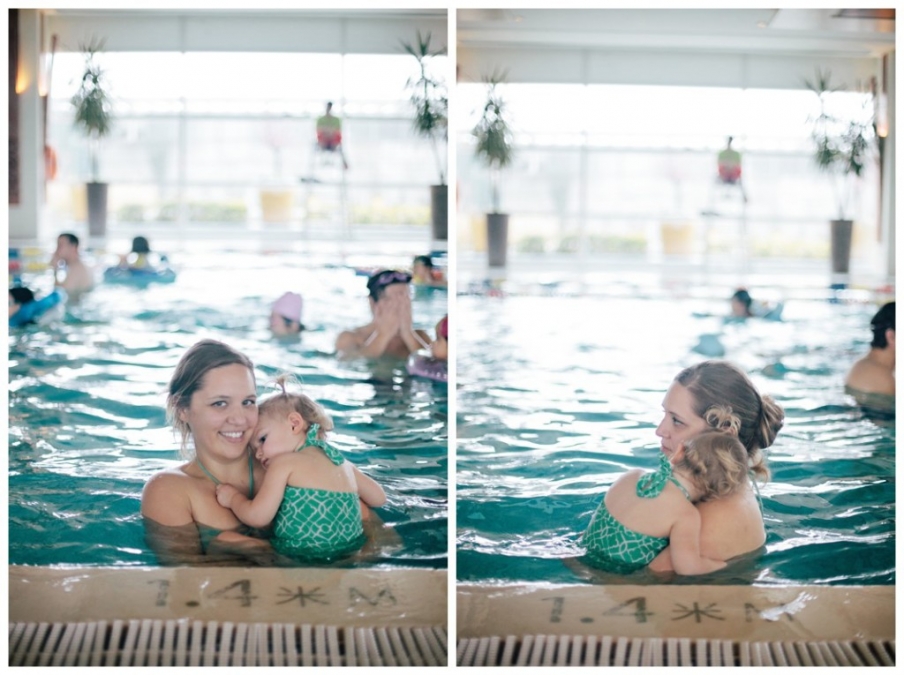 So, we snuggled instead. That was just fine with me.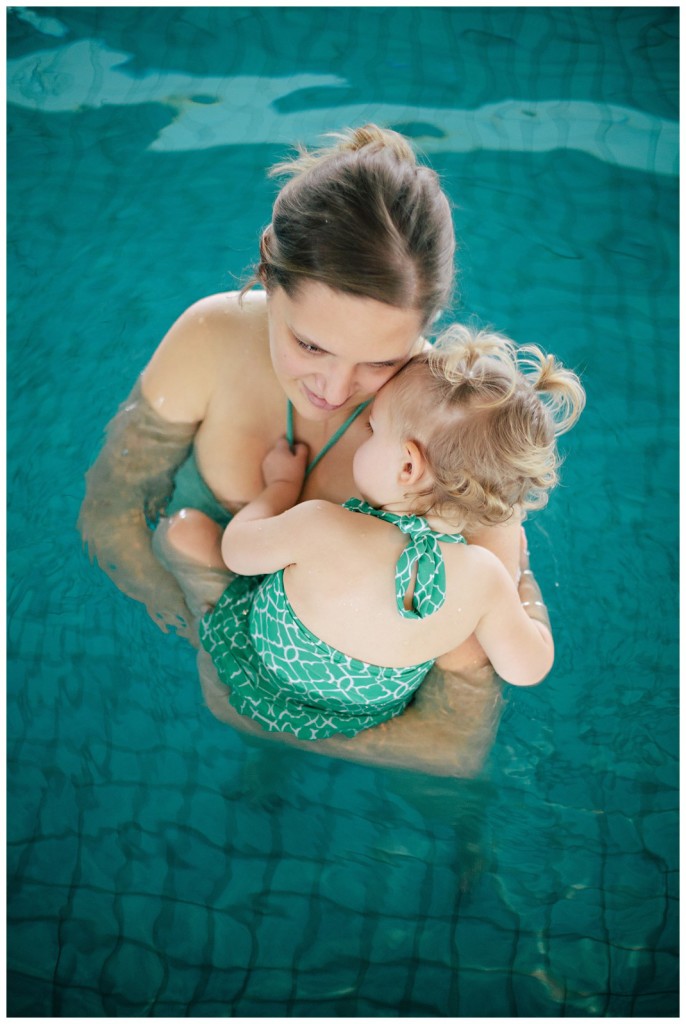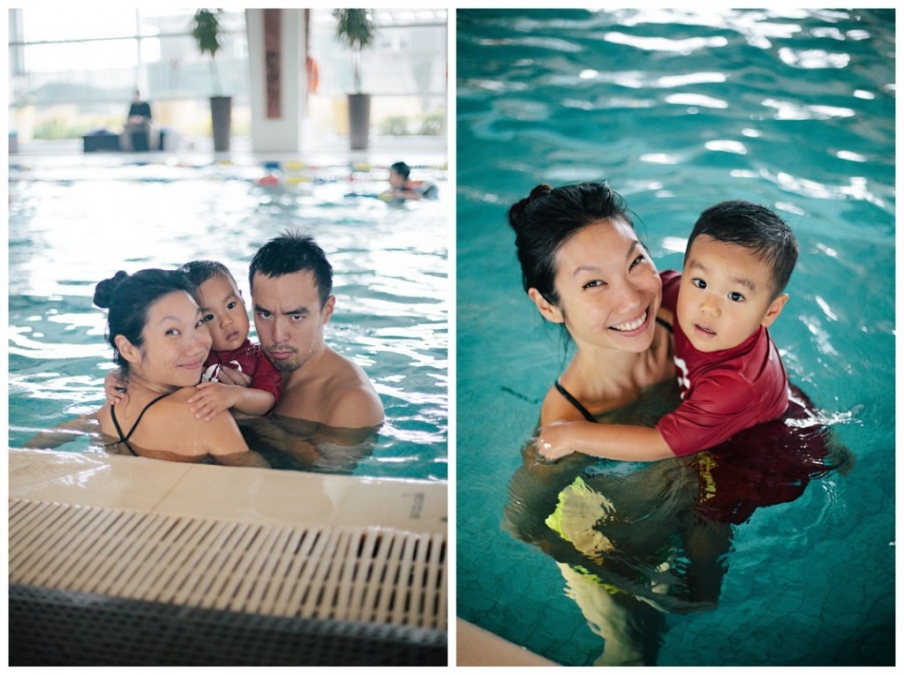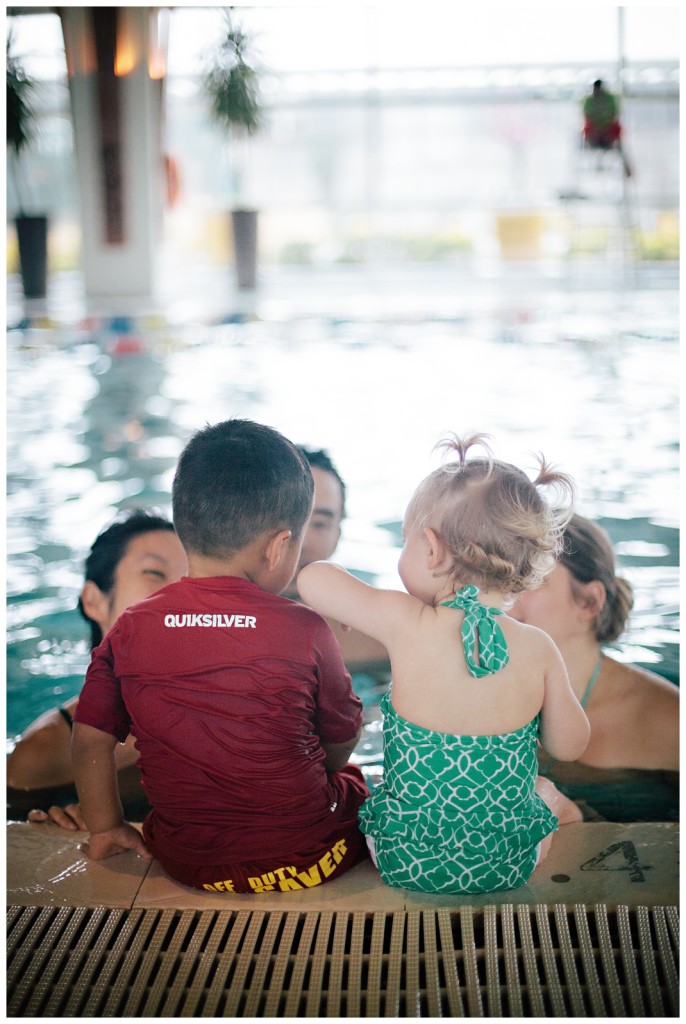 Hey, buddy.

I absolutely LOVE watching these two together!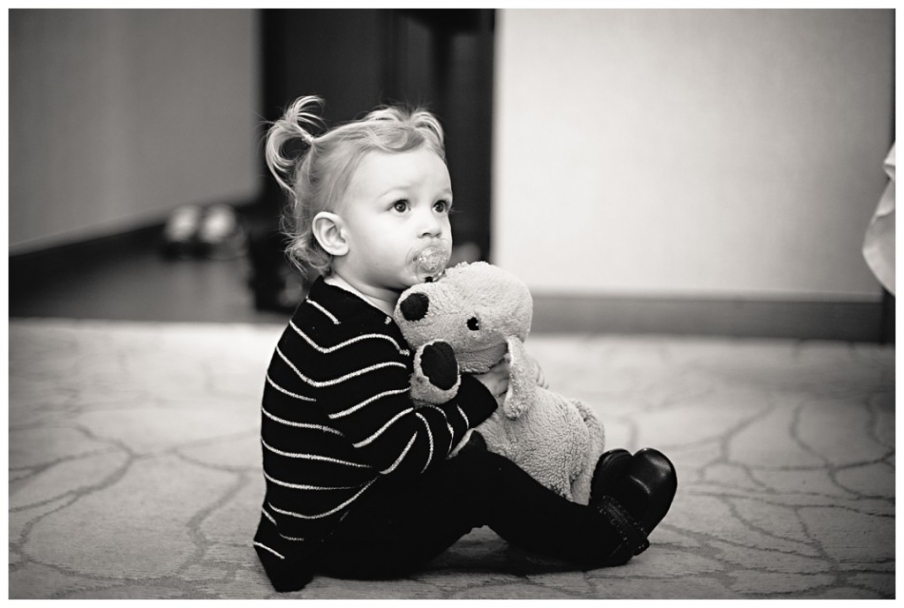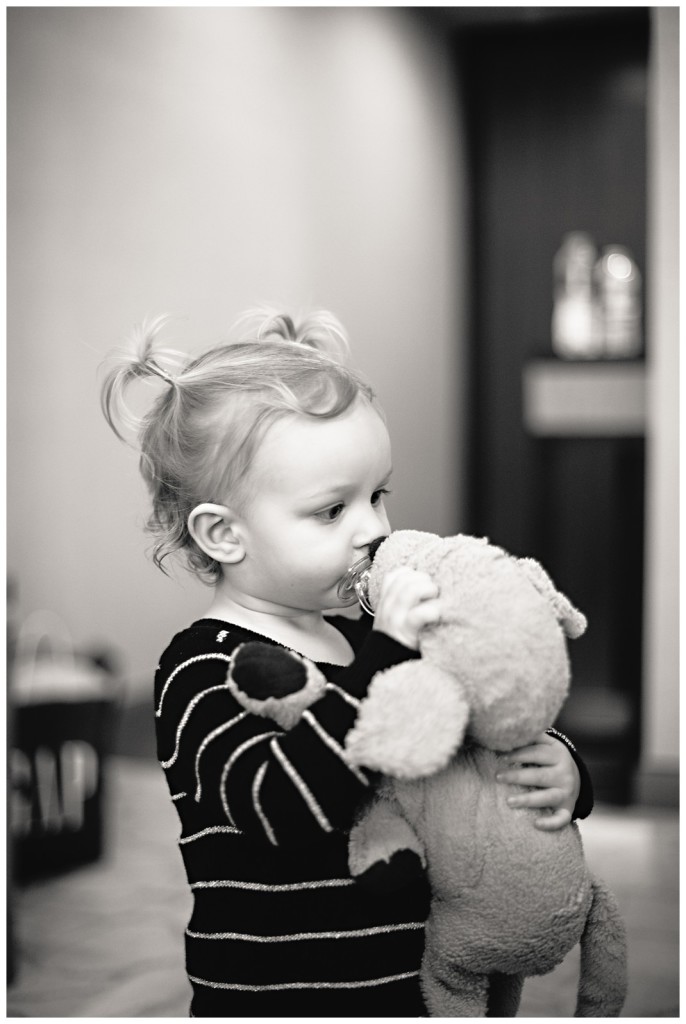 Isla really loves Doggy!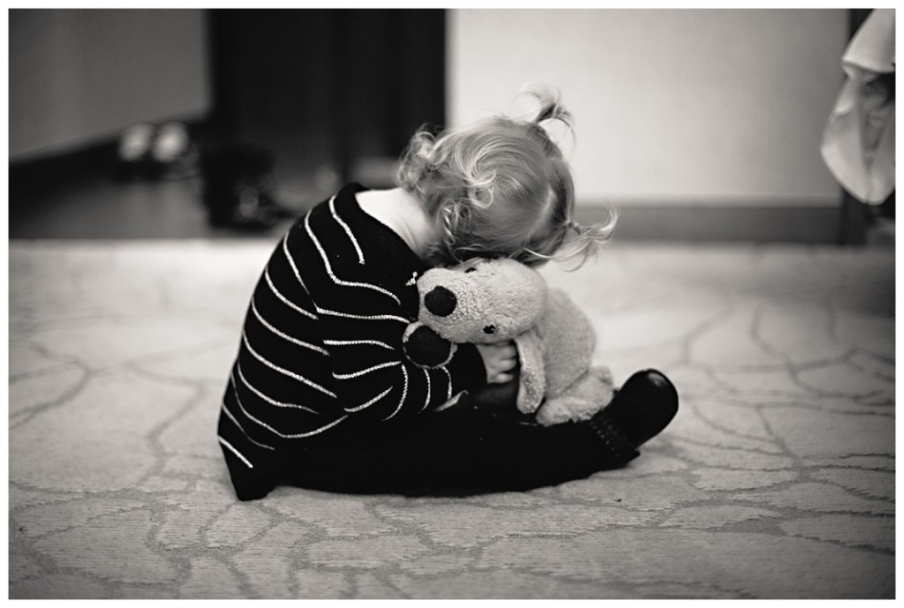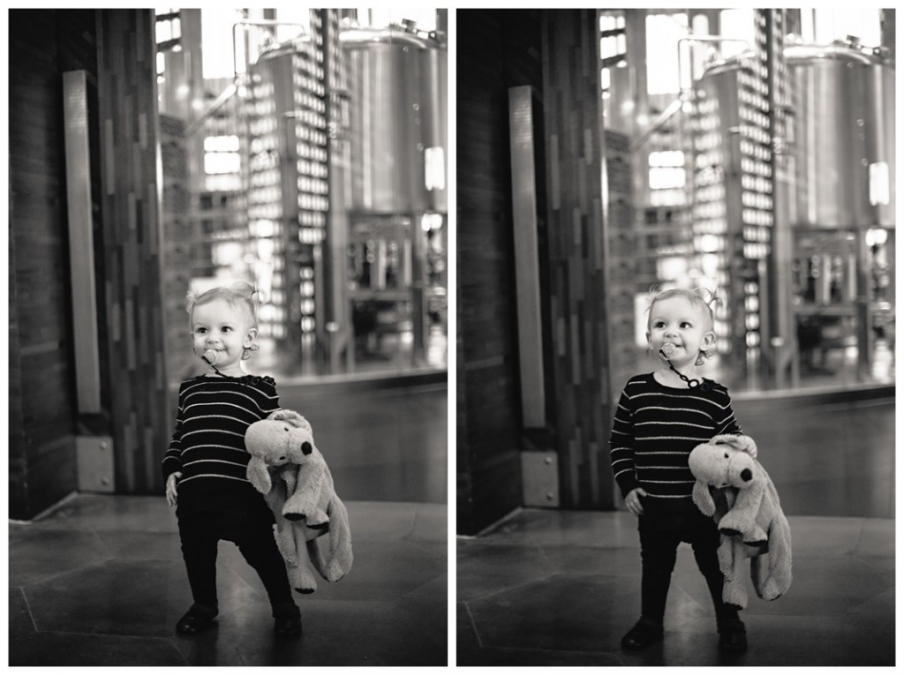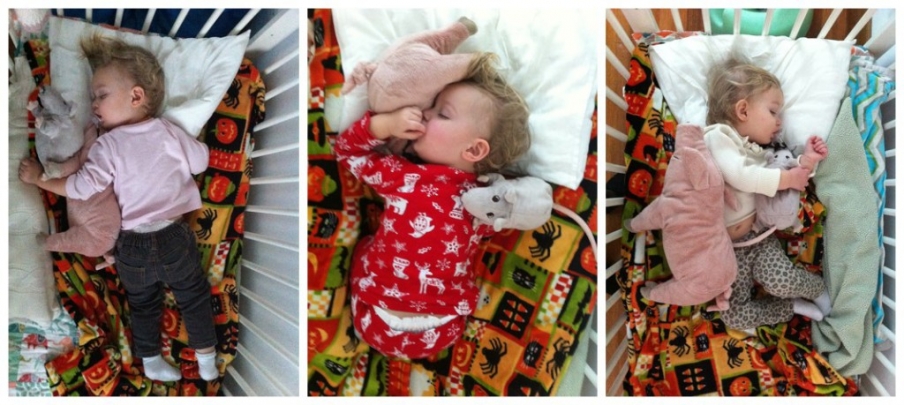 Speaking of stuffed animals, I must acknowledge my new favorite plush pals, Rat and Piggy. They have been absolute life savers this week! We tackled the challenge of sleep training over the break to help Isla get used to sleeping in her own bed all night AND falling asleep by herself. I think Rat and Piggy were key players in our success. Isla started sleeping through the night at 9 weeks, and we thought we totally had the sleep thing down. Then at 10 1/2 months she began teething and we experienced sleep regression. Since then we have had forward and backward progress, and Isla has only slept through the night a handful of times. Take away point: we are tired. Really tired. Neither of us could stomach letting her "cry it out," but we were all exhausted and we knew something had to change. I have been reading more and more articles that say you need to stick with the method for at least three days to build a habit. So, we thickened our skins as best we could and let her cry. The first night was nothing short of brutal. Instead of holding her until she fell asleep, I put Isla in her crib and she screamed hysterically. After nearly two hours of trying to comfort her, singing to her, and rubbing her back, I finally got her to go to sleep. She was up every hour or so after that. Isaac would go down to her room to check on her, and stay with her until she fell back to sleep. She made it through the night in her own bed, but I don't think any of us slept more than a few hours. The next attempt was during her nap. I put Isla in her crib and again it was instant waterworks. After a few minutes I handed her a little stuffed rat that was in her crib and she hugged him. I have tried this attempt with stuffed animals before and she has always batted them away. Encouraged by this change in behavior, I quickly grabbed the first stuffed animal I could reach off of her shelf, which happened to be the pig, and thrust him into her other hand. She snuggled Piggy and Rat tightly into her chest and stopped crying. It took a while to convince Isla to lay down, and again I had to sing and rub her back, but this time it only took around 45 minutes before she drifted off to sleep. That night she quickly accepted Rat and Piggy and snuggled up with them. She fell asleep fairly easily, but woke up three times throughout the night. Isaac went down to check on her the first two times, and the last time he called down to her from our room and reminded her to snuggle Rat and Piggy. We hovered over the monitor to watch her reaction, and after about a minute, Isla sat down, looked around, scooped up the stuffed animals and curled up with them. Biggest collective sigh of relief ever! Each nap and bedtime has become easier, and while Isla still cries as we leave the room, it is very brief. Last night by the time I went straight to our room and turned the monitor on she had already gathered Rat and Piggy and was laying down, drifting off into dreamland. Even more impressive is the fact that we've had fireworks and firecrackers being set off right outside our house for the new year celebrations (the windows were literally shaking from the booms!) and Isla has slept through all of the noise! When retrieving Isla from her crib we cheer for her and reiterate what a good girl she was to sleep in her own bed with Rat and Piggy. She snuggles into me and grins with pride. It is the cutest! When we have told others about how well Isla is doing sleeping on her own, she knows what we are talking about because she immediately starts clapping and says, "Yay!" just as we have been doing for her. We are feeling encouraged with her sleep progress, and are very thankful to Rat and Piggy for their snuggly assistance!

Our mornings have been extra special now that we are all feeling rested. They are filled with lots of happy snuggles, kitty kisses, and the cutest baby bedhead- the sign of a great night's sleep!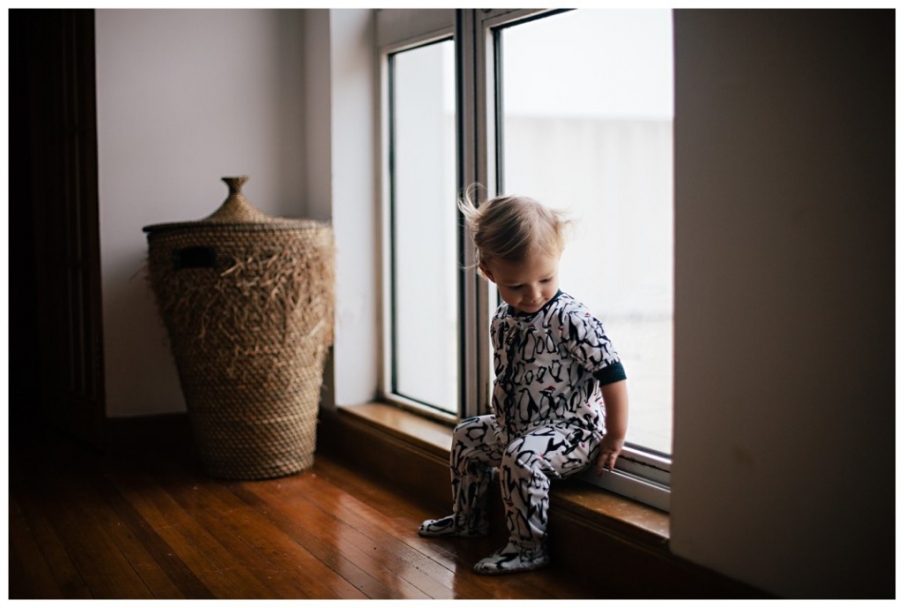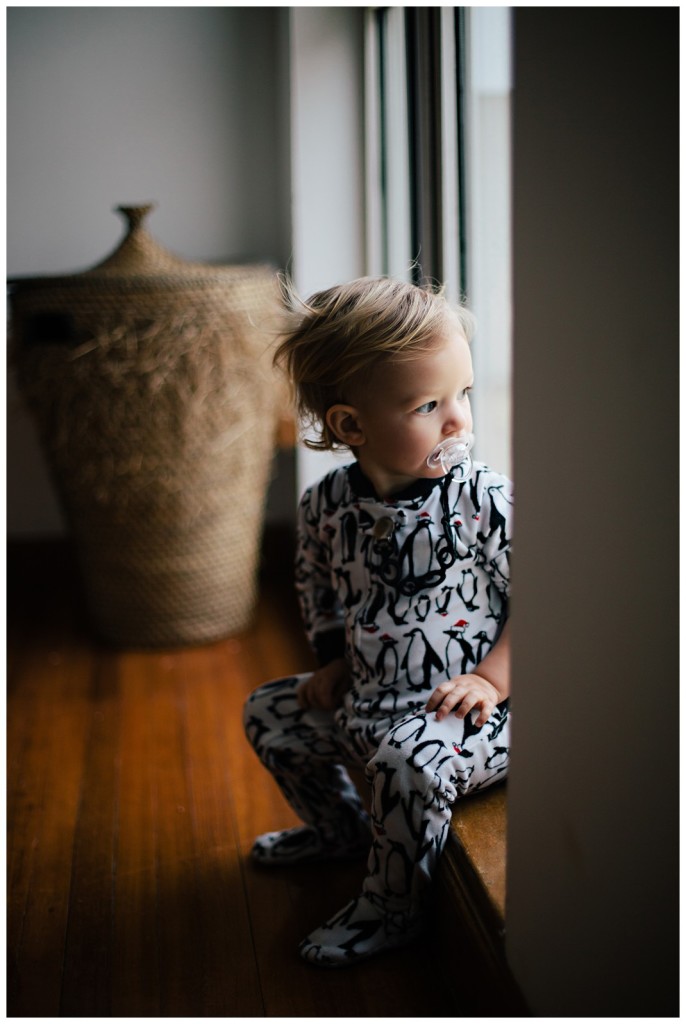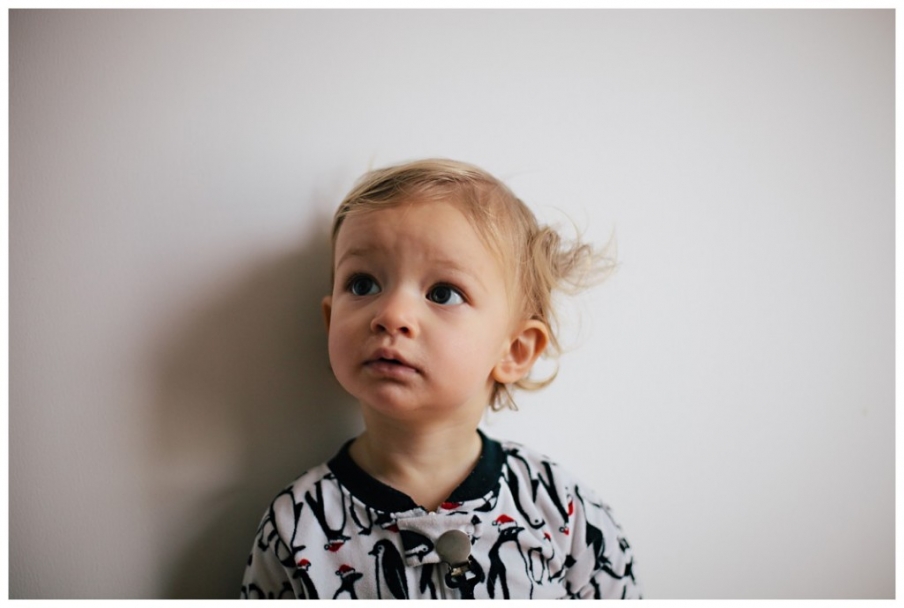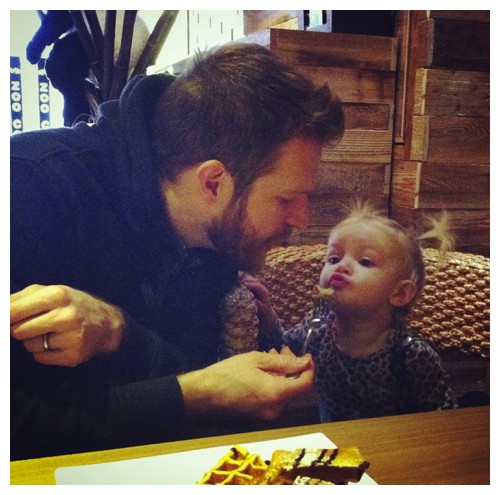 A large strip of restaurants and cafes has opened on Xiuyan Lu, just a short walk from our compound. On the final morning of our holiday we ventured over to Zoo Coffee and enjoyed some yummy waffles. Isla loved her "vah fohs" and was eager to help Daddy blow on them until they were cool enough to eat.
Our Chinese New Year staycation was just the right mix of getting out and about and relaxing at home. We returned to work today feeling refreshed and ready to tackle our final four months of teaching and living in Shanghai. While I know saying goodbye is going to be incredibly painful this week off gave us a delicious taste of what life is going to be like when we get to spend all of our days together… we are very excited!