Isla turned 20 weeks on Thursday. 20 weeks! How is that even possible?! Our sweet little pumpkin has been growing and changing like crazy. New skills and behaviors seem to develop overnight, and it is so much fun to witness her sweet personality evolve. I've been making sure to take notes of all of her weekly changes…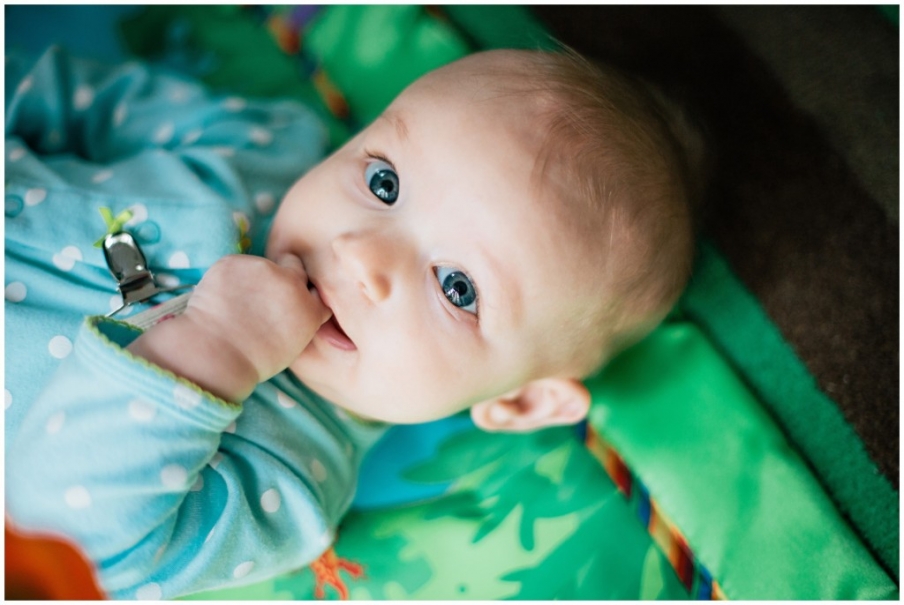 Week 10
- Our strong girl is trying to sit up by herself
- Isla has discovered how to make raspberries, and thinks that "thpppt" sound is hilarious
- Drooling and hand-chewing has begun
Week 11
- Isla is now wearing 6 MONTH jammies! While she still fits in 3 month clothes, her long legs and feet require more room in the "footed" variety.
Week 12
- Isla wants to be standing a lot
- Bubbles, drool, and raspberries are happening CONSTANTLY
- Our sweet girl is big enough to sit up in her bumbo seat now, and is also enjoying regular exercise time on her play mat
Week 13
- Isla had her first big belly laugh while playing with Daddy. It was amazing!!! I cannot wait for more of these.
- Baby Girl is starting to appreciate songs and rhymes. She squeals in anticipation when the "itsy bitsy spider" gets close to her neck. She also giggles when we play patty cake and sing, If You're Happy and You Know it- the stomp your feet bit is her favorite!
- The increase in drool now requires Isla to wear a bib so that the front of her onesies aren't always soaked… ew.
Week 14
- Little Muscles can now hold onto my fingers and pull herself into seated and standing positions!
- Isla began reaching out for toys on her play mat this week.
Week 15
- Isla has started responding to her name.
- She is starting to reach out and try to touch things a bit with her hands, such as the cats, but luckily she hasn't become too grabby yet.
- We have a little book worm! YES! Isla loves to look at her I Love You book, and squeals excitedly when we read it to her.
- While playing on her blanket, Isla has started experiment with the idea of rolling over. She keeps getting stuck on her arm, but she's making a definite effort!
- This week (February 2nd, 2014) Isla's tootsies took their first dip in the Ocean, on Takapuna Beach in New Zealand. The water was pretty chilly, but Isla was completely mesmerized by the waves washing onto the shore.
Week 16- Lots of big changes this week!
- Happy Baby has arrived… our little yogi has begun grabbing her feet and is perfecting the pose. She is so obsessed with the foot-grabbing that she even does it while nursing!
- Isla's sounds have started to change, and instead of agoo's she has begun stringing together all sorts of sounds
- The hand chewing is even more intense now, and Isla has now graduated to gnawing on Mommy's fingers. She attacks them like a ravenous dog- hilarious! I can't feel any teeth yet, but she is clearly preparing herself for them.
- Isla is very interested in her books and enjoys reading with us. She has started to reach out and touch the pages of her books.
- While I think Isla has known who we are for quite some time, there is no doubt now. She sees us, her face lights up, and then we melt.
Week 17
- Our little animal lover has taken a special interest in the cats this week, especially Safa. She watches them with wide-eyed fascination, and reaches out to touch them (she's only pulled one or two fistfuls of fur). Needless to say, the boys are a little more weary of her now.
- Our little talker continues to babble and come up with all new sounds. Her volume has started to increase as well!
- Isla still isn't grabbing at things much, but she is definitely becoming more tactile. In addition to cat fur, she has found an interest in touching fabrics, like her blankets and burp rags. She runs her hands over them, and then snuggles them up against her face when she is tired. SO sweet!
Week 18
- Isla's little abs are getting stronger, as she continues to try and sit up by pulling her head forward
- Isla dramatically drapes her arms over her face now while nursing. I think she may do it to help tune out the surrounding stimuli, as she is starting to become distracted by talking, the television, etc. while she eats.
- Isla now greets Mom and Dad with giant gummy smiles (my favorite!) and sometimes even happy squeals. It is amazing!
- Isla has been developing more of a routine and is definitely ready for bed by 7:30pm each night
Our tall girl had her 4 month check up this week. She is 25 inches long (63.5 cm) and is in the 75th percentile for height. She weighs 14.3lbs (6.5 kg) and is in the 50th percentile for weight.
Week 19
- Baby girl is definitely having a growth spurt this week! She is now drinking 6.5 oz bottles during the day, and is spending a lot of time sleeping. However, when she is awake, she is very active and is much stronger during her tummy time. It won't be long now before this kiddo rolls over on her own.
- Isla's grip and gross motor skills are improving, and she loves to hold on to her pacifier strap. She is also beginning to grip teething rings on her own while she chews on them. She seems to pull everything (fingers, teething rings, burp clothes) into her mouth these days.
- Isla now has 3 little rolls on each thigh- adorable doesn't even begin to describe those legs!