For Isla's first birthday we decided on a Little Pumpkin (xiǎo nánguā) theme. I've dreamed about throwing parties for my (future) children for years, and I'll admit I may have started planning this party before Isla had even been born! Pinterest was my accomplice and I had grand visions for her celebration… little pumpkin shaped sandwiches, soft white and burlap accents, perfectly shaped pumpkin cake pops and cupcakes, custom paper products, neatly wrapped presents (all in coordinating orange, tan and white, of course)… yes, my mind set the bar pretty darn high.
The days leading up to Isla's birthday were a whirlwind, with report card comments being due, my mom arriving, and countless last minute hand-made party preparations that should have been started weeks earlier… ah, nothing like leaving things until the last minute! And, as it often happens when you wait until this last minute, things didn't go exactly as I had planned… Starting with the orange candy melts and pumpkin shaped cookie cutter I  purchased specifically for Isla's party vanishing into thin air. We turned the house upside down, and to this day we still cannot find them! Next, my fine motor skills decided to take a vacation as I attempted to create the seemingly simple pumpkin shaped desserts I had pinned, and everything I touched seemed to crumble… no pun intended. Argh! And presents? I never even got around to wrapping them! Luckily, I had my amazing mom, super supportive hubby, and dear friend Frannie by my side to help me with all of the preparations, push through my frustrations, and focus on the fun side of things (lots of "Pinterest Fail" jokes were made). Yeah, the chocolate cupcake recipe I chose flopped (literally and figuratively) and my pumpkin icing job didn't look half as cute or polished as the online image that I was attempting to replicate, but in the grand scheme of things it didn't matter. Nor did the fact that our sandwiches had to be cut into neat little triangles instead of pumpkins. Mom, Isaac and Frannie helped me bring so many of my other ideas into reality and found creative ways to improvise when necessary. The party was still absolutely beautiful, so much fun, attended by dozens of our dearest friends and Shanghai family who love our little girl, and most importantly, it celebrated our precious Isla's first year of life! We truly couldn't have asked for a better party…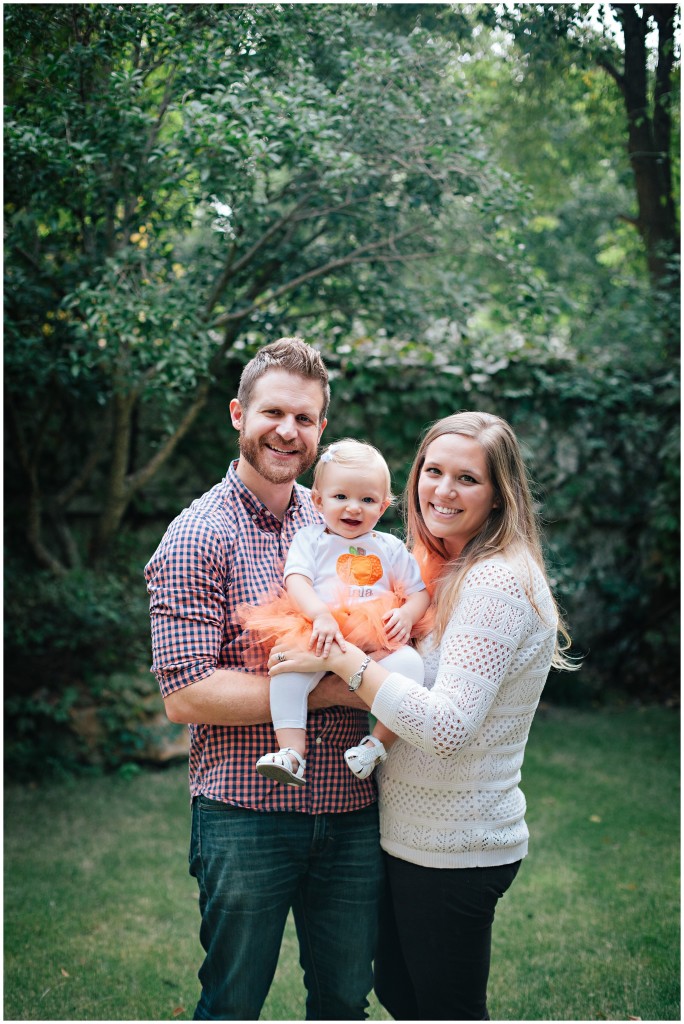 Isaac designed all of the pumpkin prints and we put them in frames we already had around the house. He also created darling coordinating menu tent cards.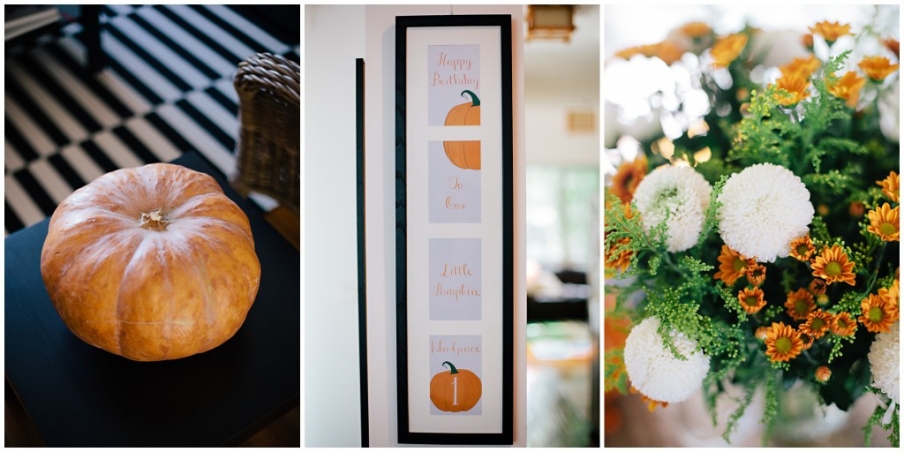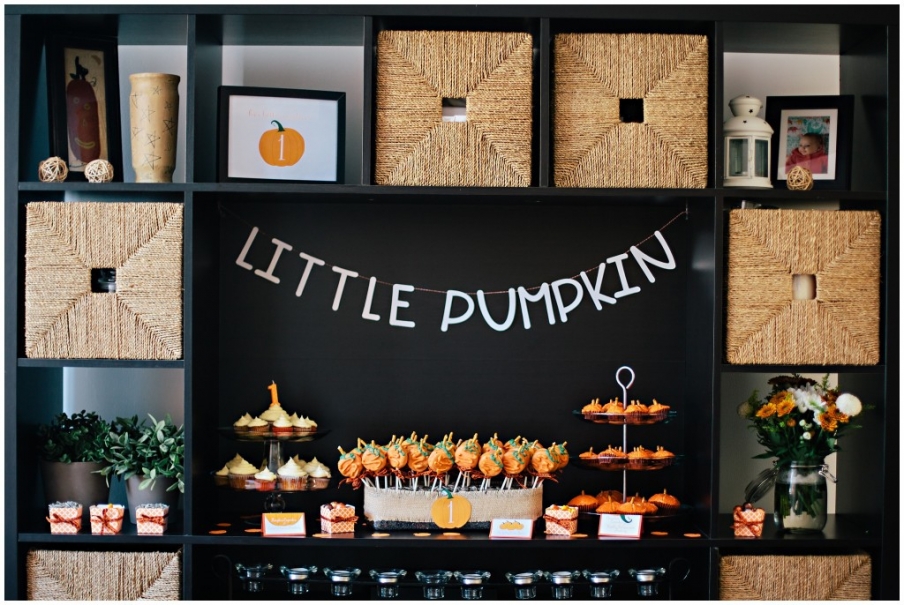 We created a little dessert bar in our entertainment center, which, interestingly enough has NEVER held a TV in the 3+ years we've had it!

God bless my mom, who, in a burst of creative energy at 1:00am, experimented with yellow candy melts and red food coloring to create these sweet pumpkin oreo pops. Thank you, Mom!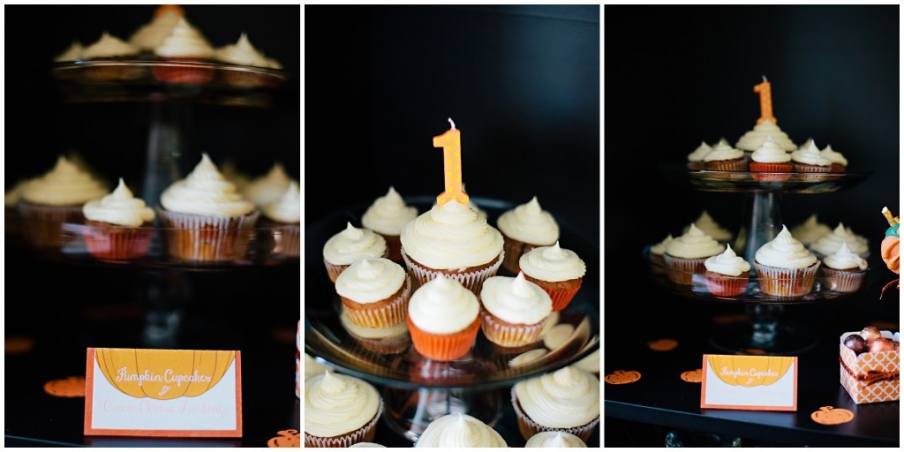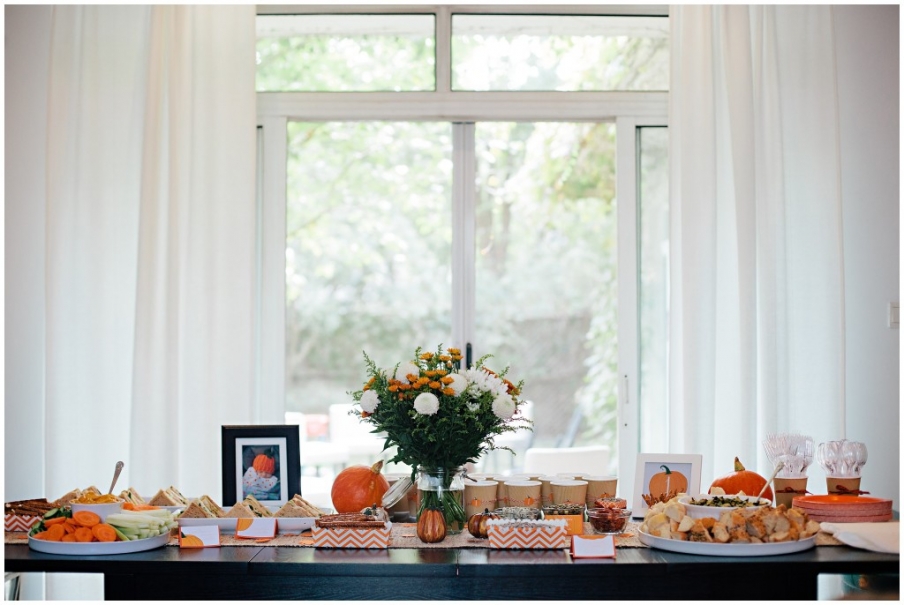 I tried to create a lunch menu that kept with a fall theme and was fairly simple to prepare. I looked for recipes that we could make ahead of time to help make the day-of set up a little easier. Isla's birthday lunch included:
- Turkey sandwiches with caper mayonnaise, lettuce and cheese
- Ham sandwiches with pesto mayonnaise, lettuce and cheese
- Harvest pumpkin soup sippers with crumbled blue cheese, bacon, and pumpkin seed toppers (Amazing and so easy to make! I've included the recipe at the end of this post)
- Autumn salad (romaine with apples, pears, bacon, red onion and pumpkin seeds)
- Warm spinach and artichoke dip with rustic bread
- Carrot Hummus with veggies
For dessert we made:
- Chocolate cupcakes with vanilla butter cream frosting
- Pumpkin cupcakes with cream cheese frosting
- Oreo pops
For munchies, we put out pretzel sticks, candy corn, chocolates, and these addictive pumpkin spice yogurt covered pretzels
Out on the deck we filled a huge tub with ice and stocked it with bubbly, beers, sodas and waters.
No one would leave hungry or thirsty, that was for sure!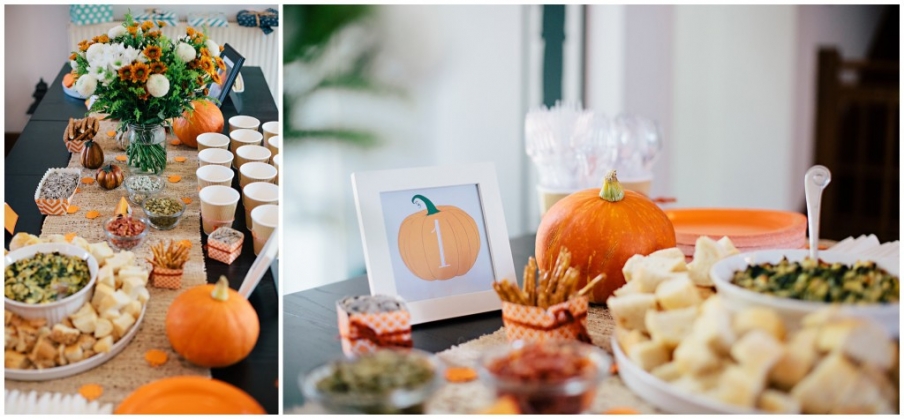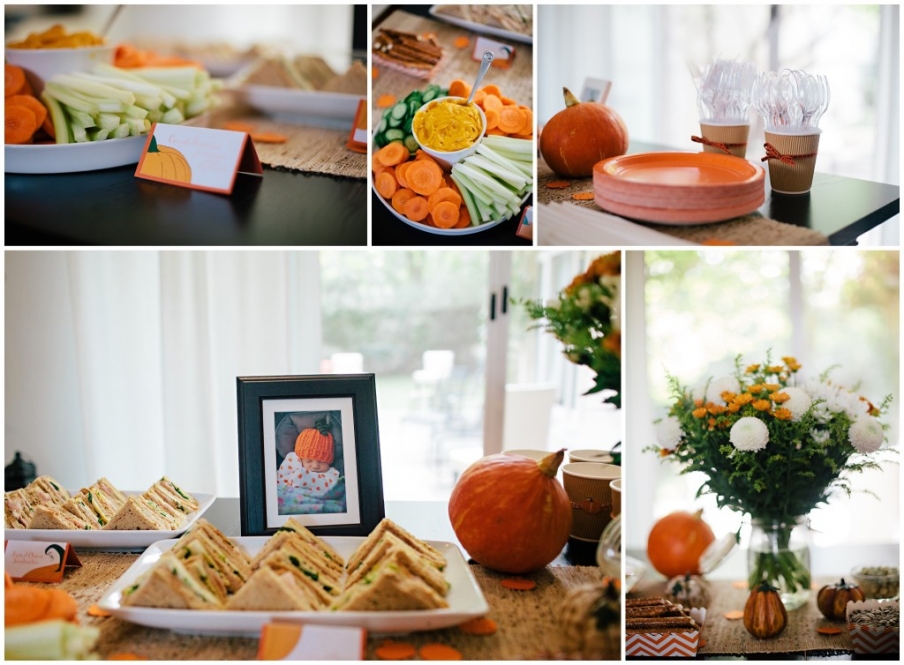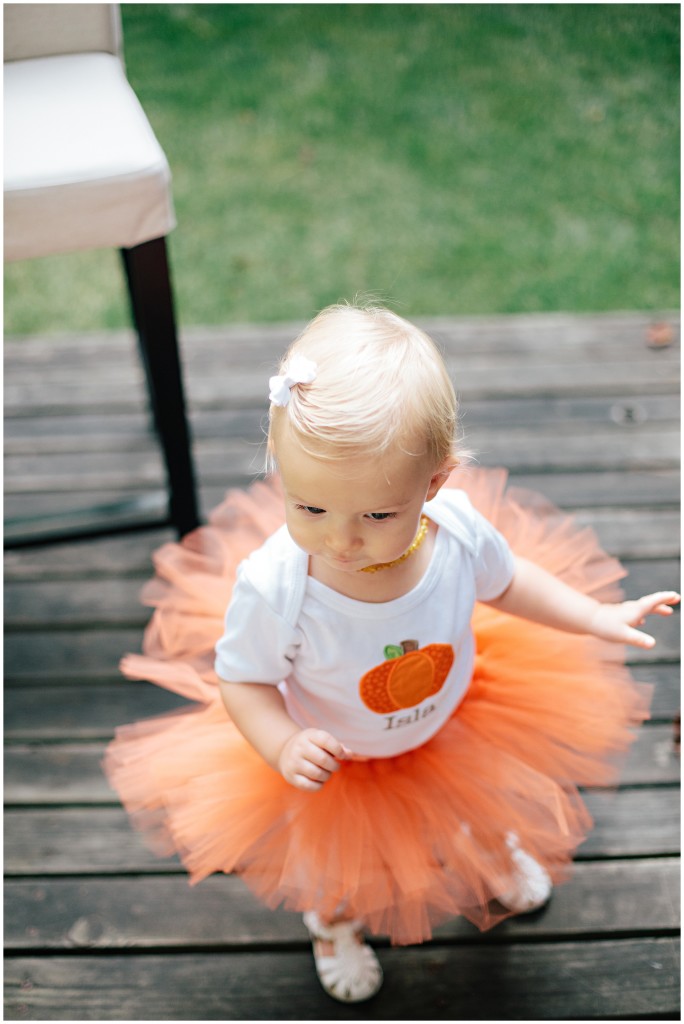 Thanks to some wonderfully talented Etsy crafters, Isla wore the cutest little birthday outfit…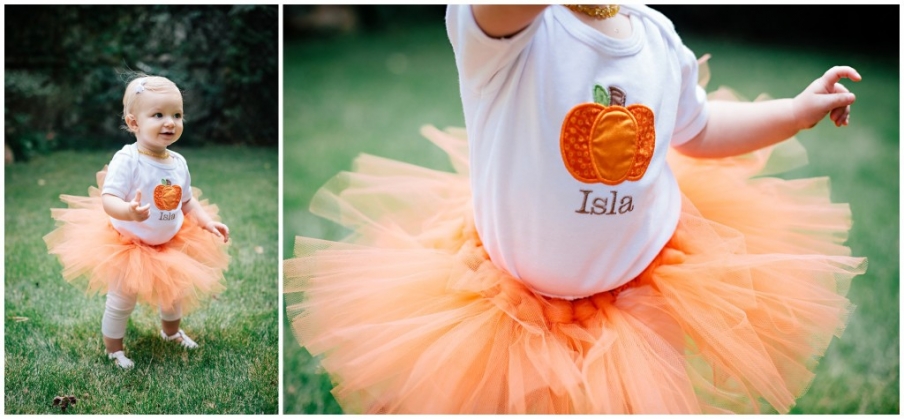 Custom pumpkin onesie | Orange tutu | Sweet hair bow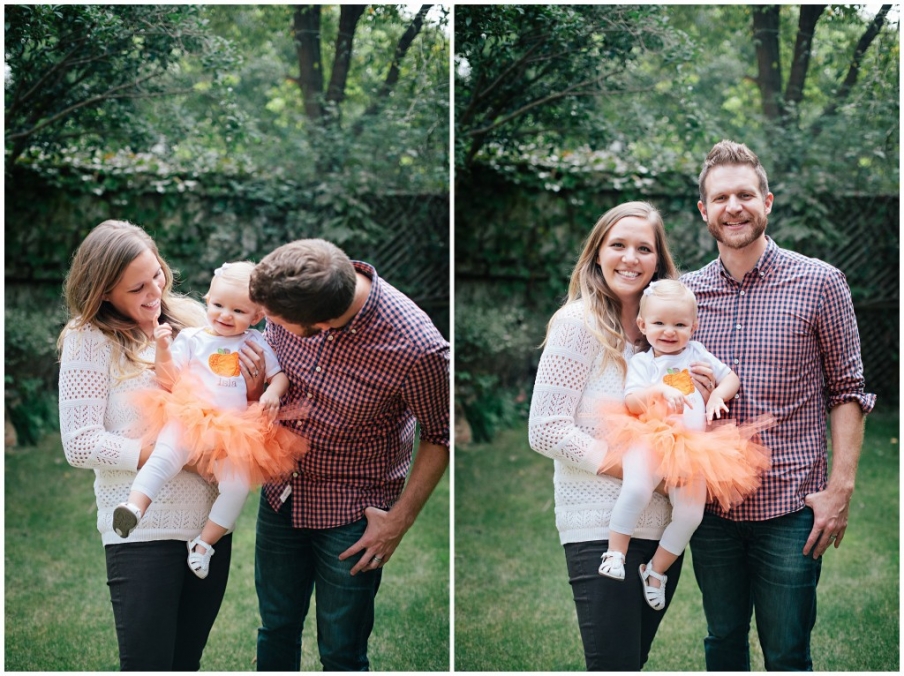 Isla LOVES this pumpkin soup!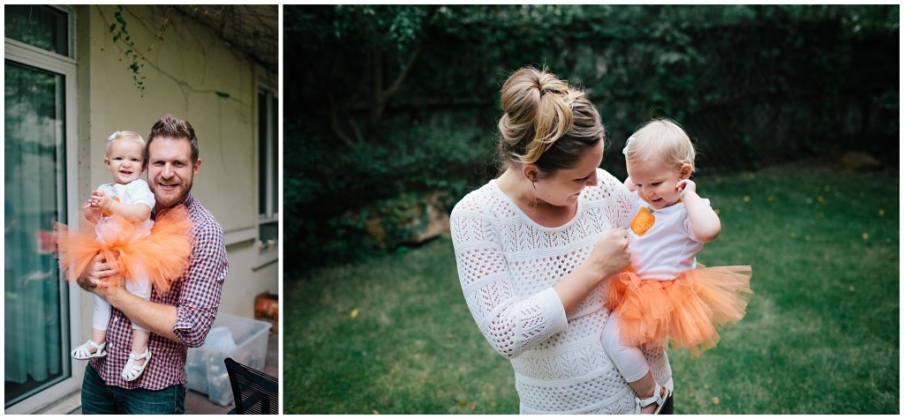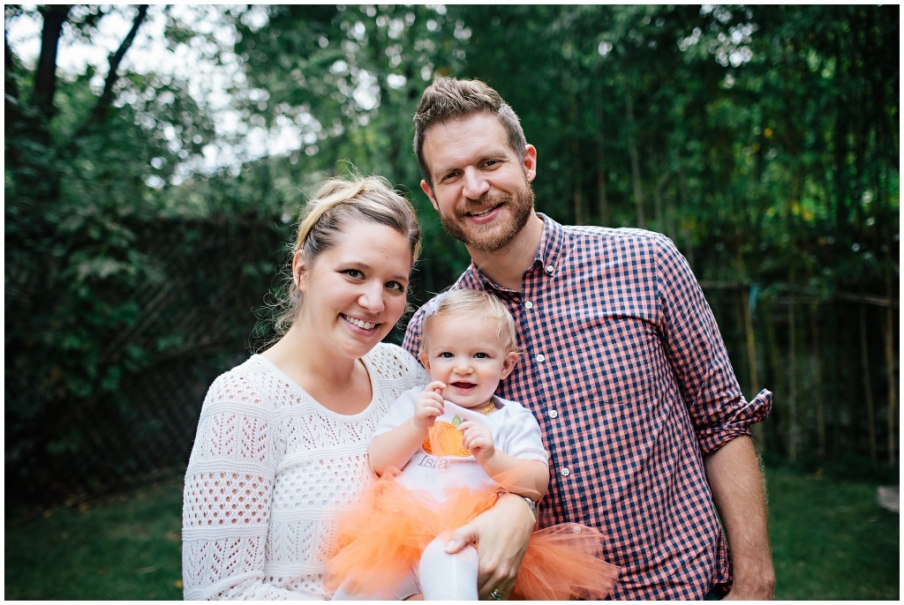 Our birthday girl loved her pumpkin cupcake… especially the cream cheese frosting!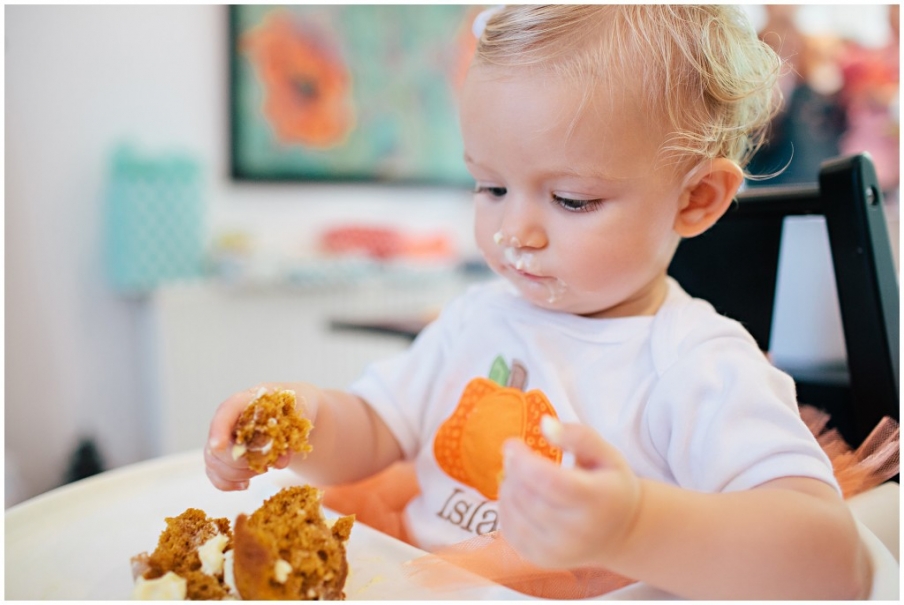 Sharing with Daddy, such a sweetie!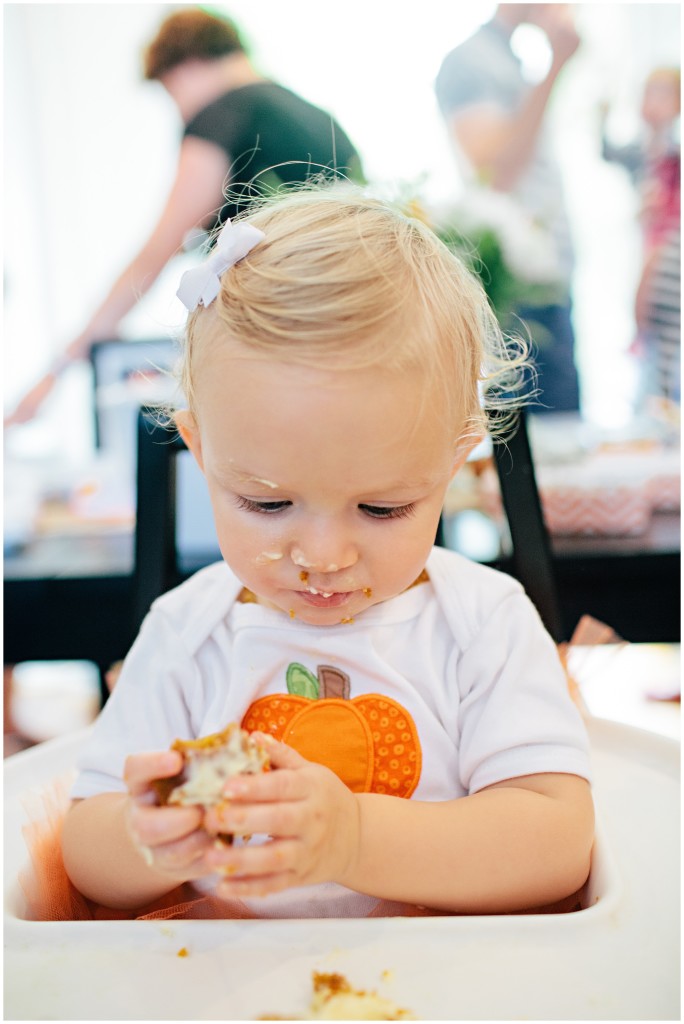 A little frosting for the eyebrow…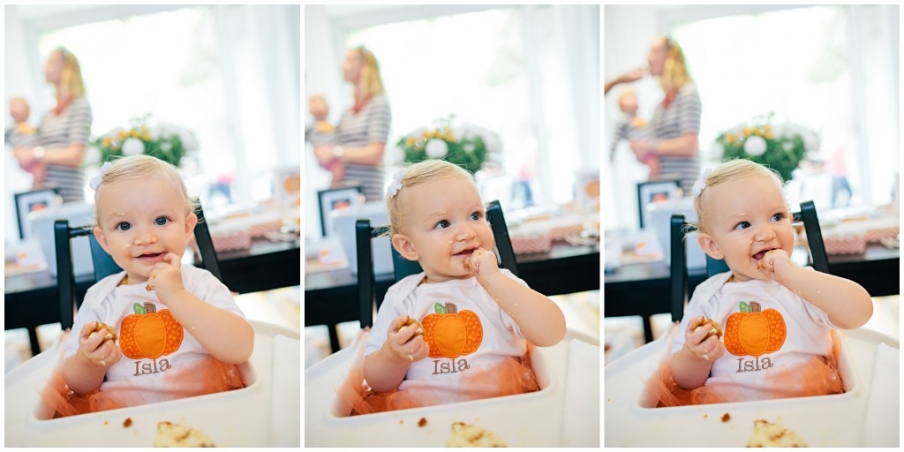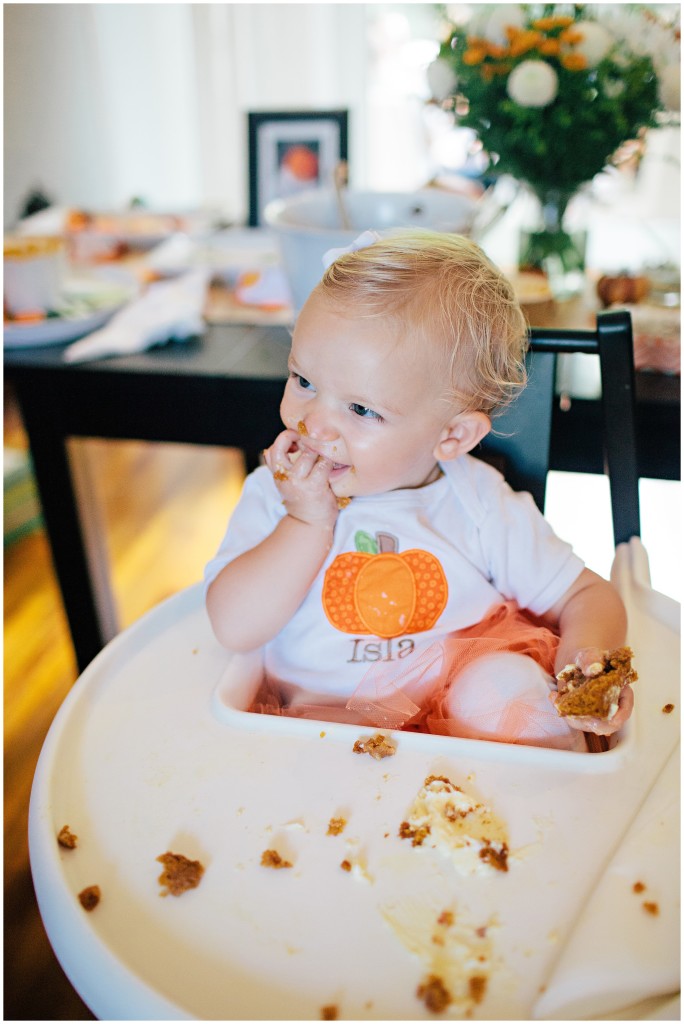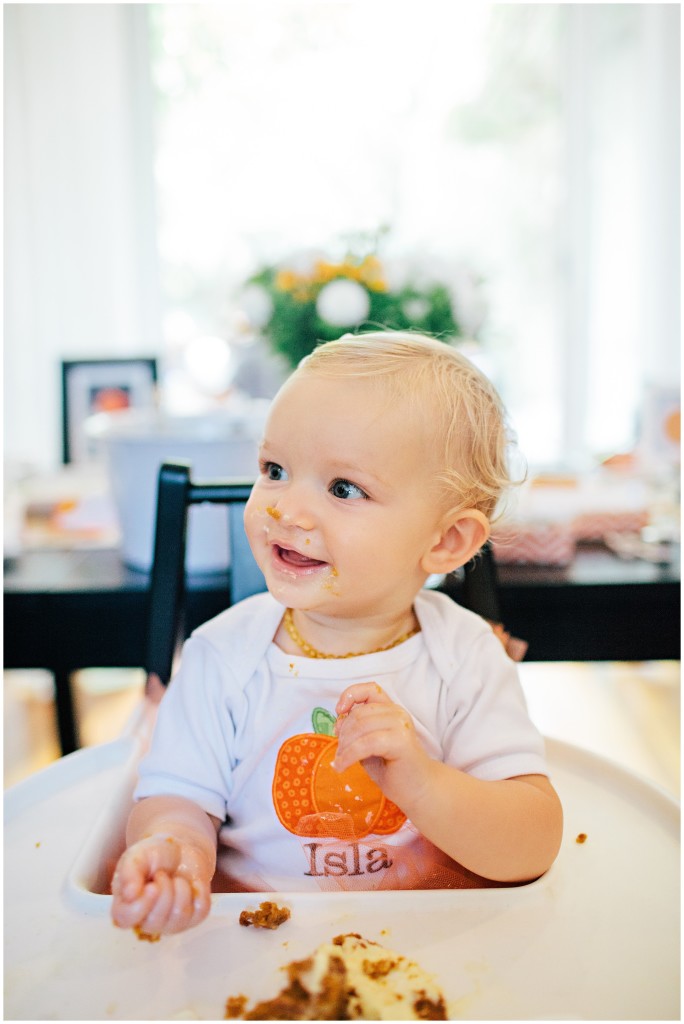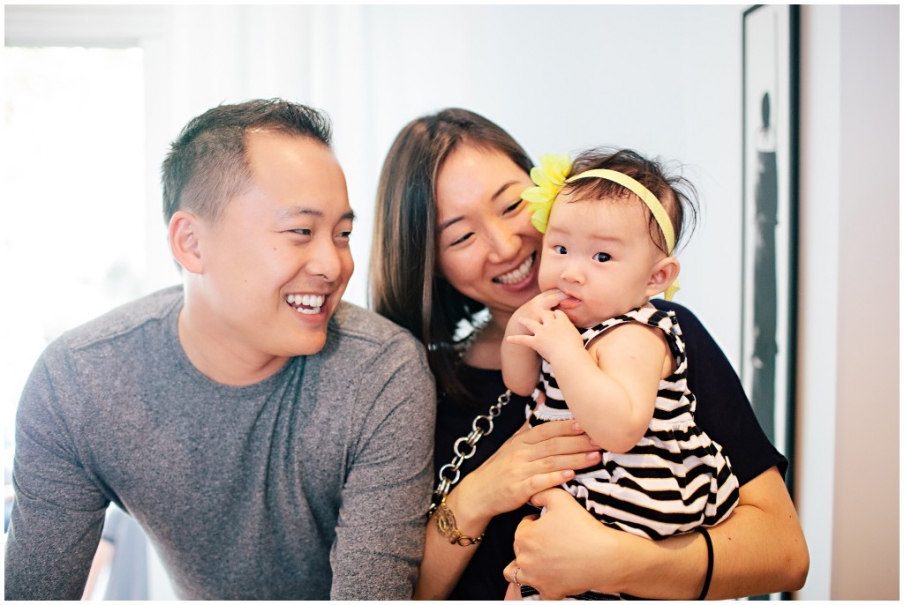 We were SO thankful to have so many of our dear Shanghai friends and family come celebrate Isla's birthday with us!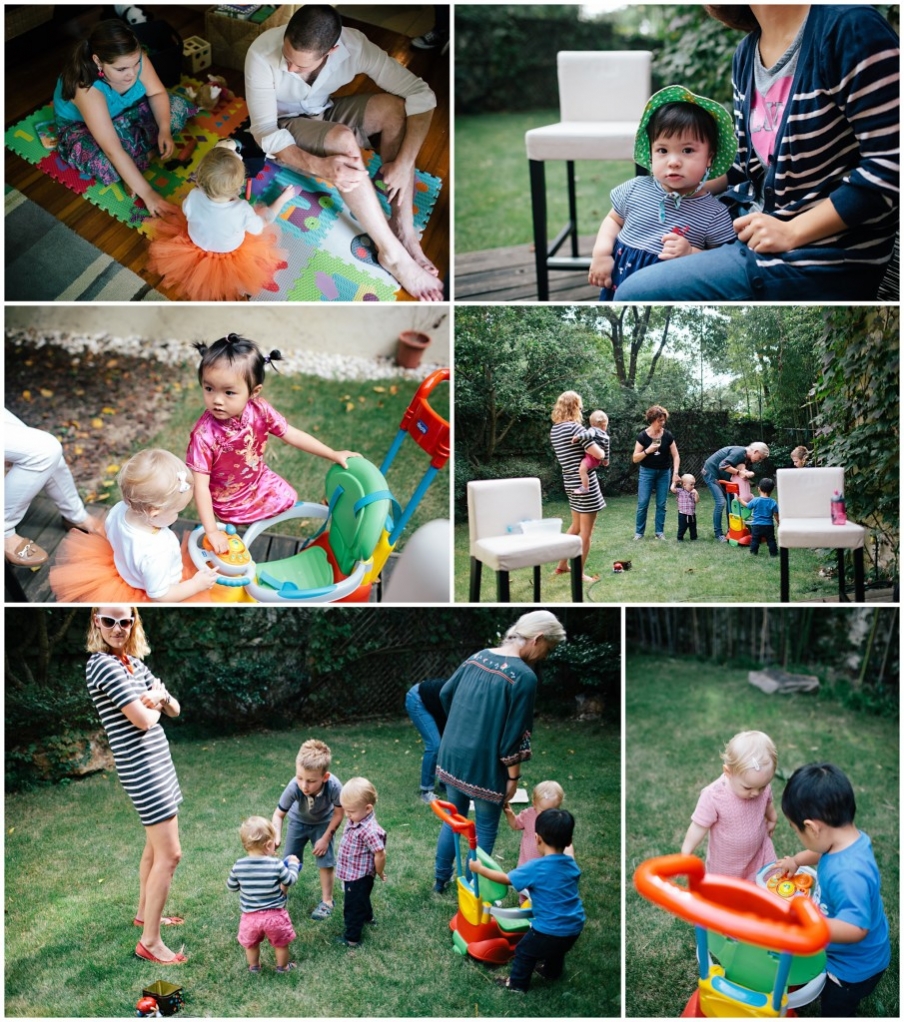 Isla was absolutely spoiled with such fun, sweet and thoughtful gifts!

Our buddies, Poppy and Oliver, taught Isla all about the joy of unwrapping presents. They were wonderfully enthusiastic helpers!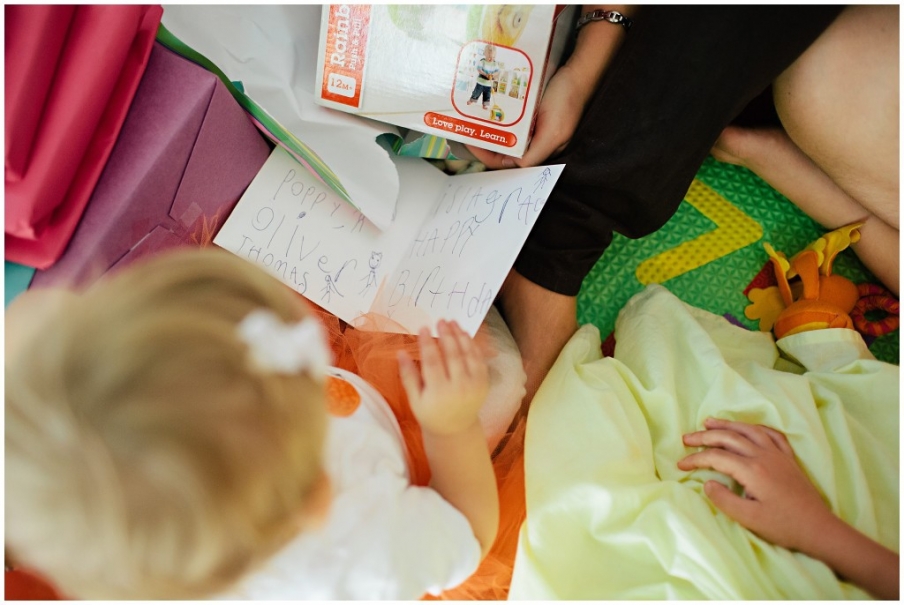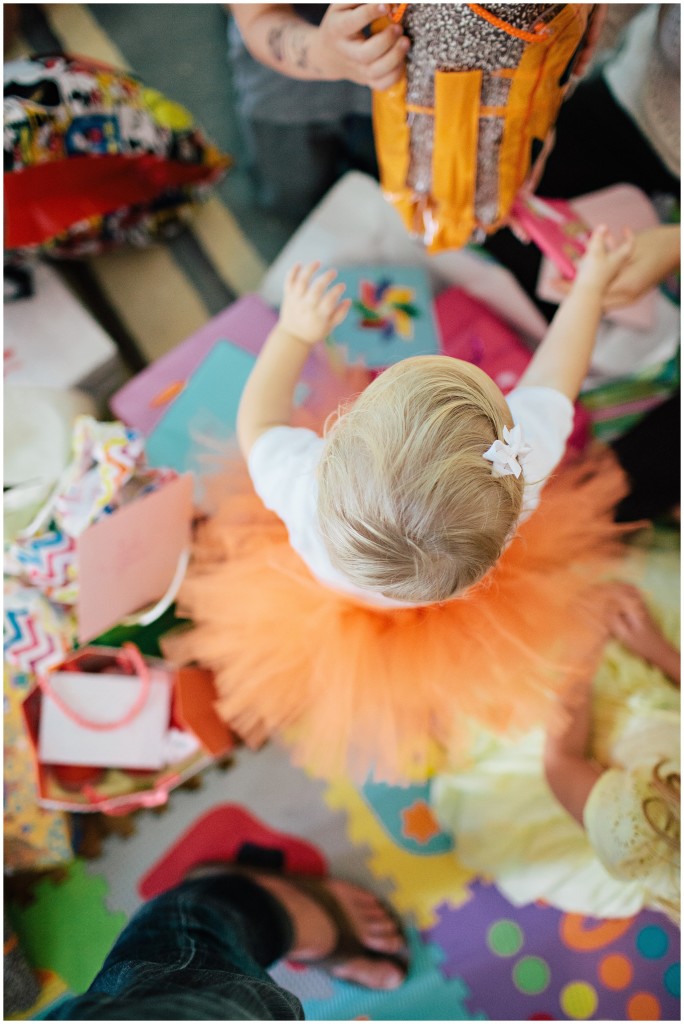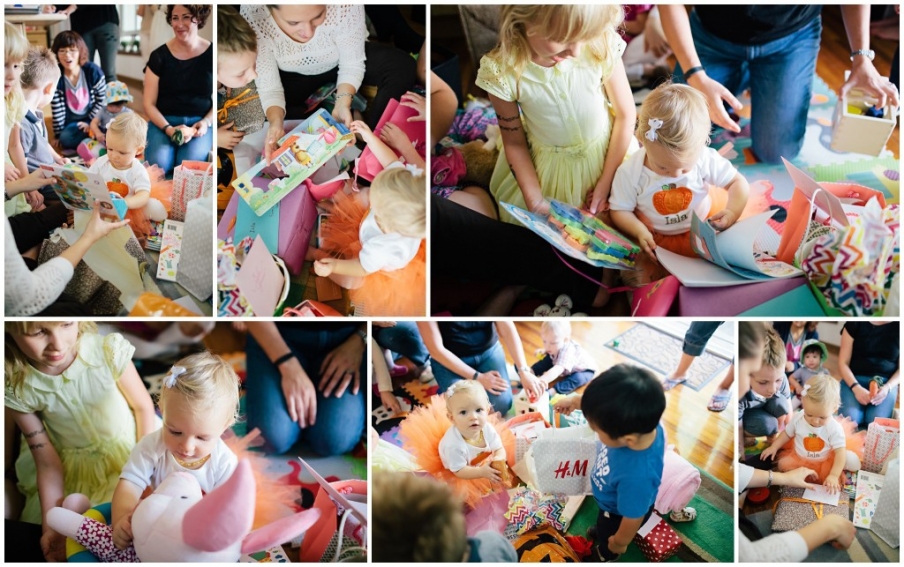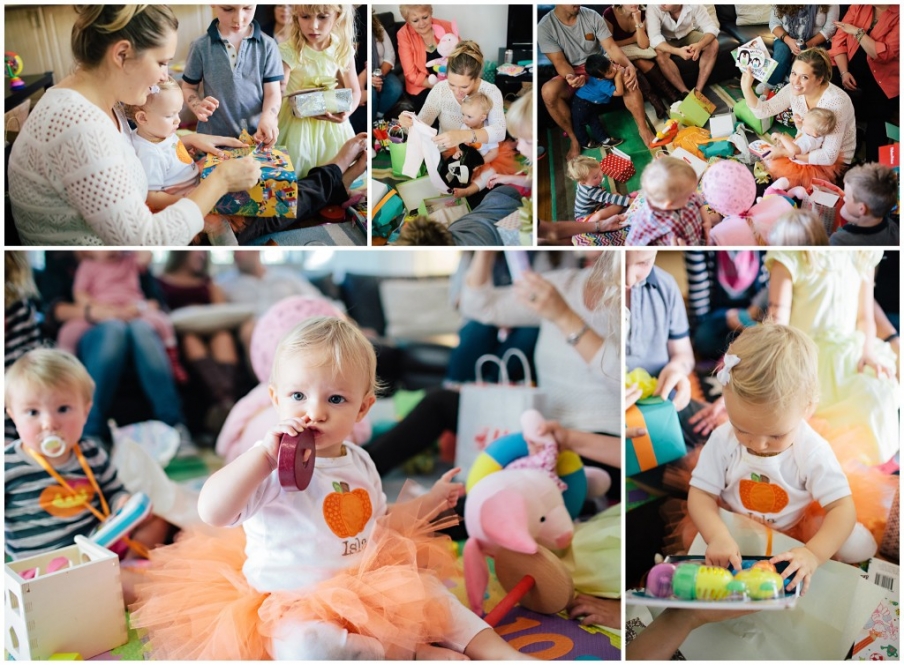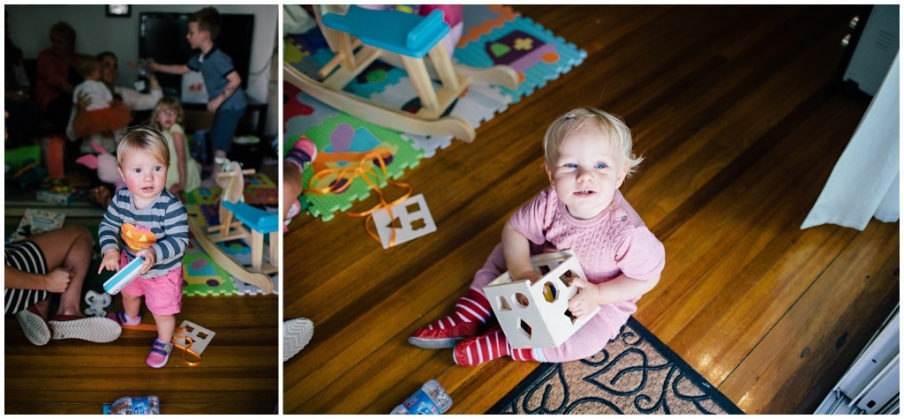 We created a thank you card from one of our favorites of the birthday girl, who is clearly SO proud to be one year old!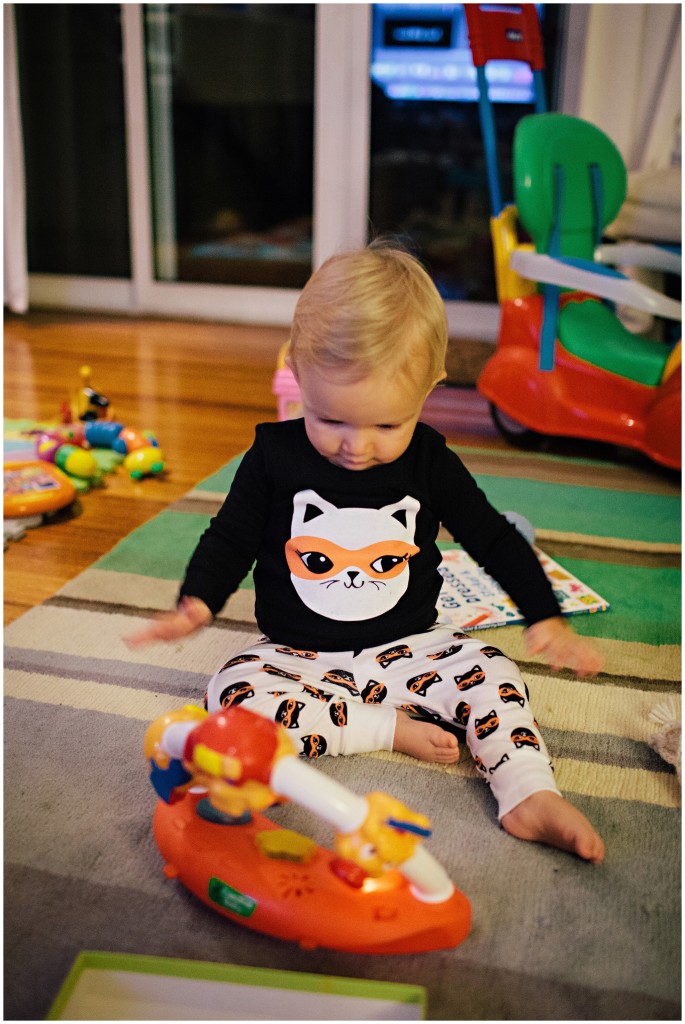 That evening, Isla wore her new kitty pajamas from her Nana and Papa while she played with her new toys and read her new books.
As promised, here is the AMAZING pumpkin soup we served at Isla's party that is fast becoming a fall favorite. I adapted the recipe slightly from this site.
Ingredients:
2 tablespoons unsalted butter
1 medium red onion, minced
3 medium garlic cloves, minced
1/2 teaspoon ground cumin (I use a rounded 1/2 teaspoon)
1/2 teaspoon ground coriander
1/4 teaspoon ground nutmeg
2 cans chicken broth
1 (15-oz) can pure pumpkin purée
1/4 – 1/3 cup maple syrup
1/2-3/4 cup heavy cream
Salt and ground black pepper to taste
Blue cheese crumbles
Toasted walnuts
Pumpkin seeds
Directions:
In a large pot melt the butter over medium heat. Add the onion and cook until softened, 5 to 7 minutes. Stir in the garlic, cumin, coriander and nutmeg and cook until fragrant, about 60 seconds.
Stir in the pumpkin, broth and maple syrup and bring to a boil. Reduce to a simmer and cook for 15 minutes.
Remove from heat and allow to cool slightly before working in batches to purée the soup in a blender until smooth, 1 to 2 minutes. Return the soup to a clean pot. Stir in the cream. Heat the soup gently over low heat until hot (do not boil). Season with salt and pepper to taste. Ladle soup into serving bowls and sprinkle with blue cheese crumbles, bacon and pumpkin seeds, if you wish.