Because I just can't bring myself to post current happenings without sharing some of our favorite 2017 moments…
Our annual strawberry picking outing, where the girls walk away with more berries in their bellies than in their buckets!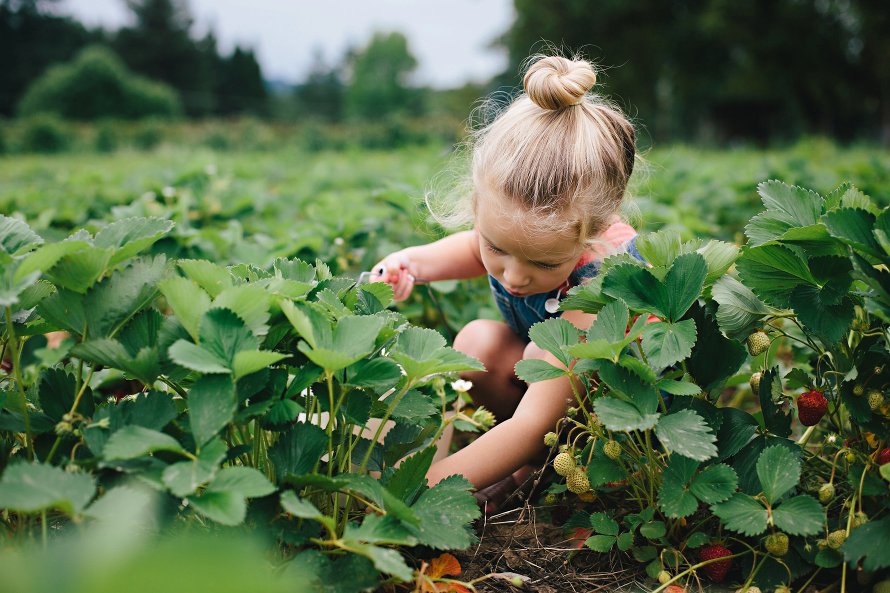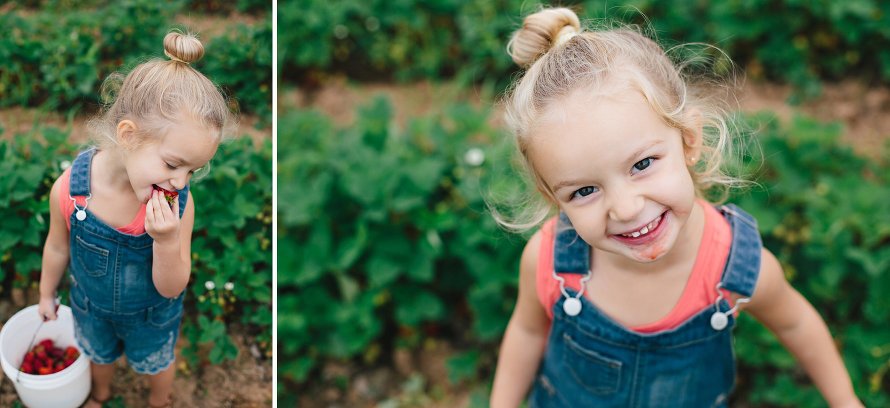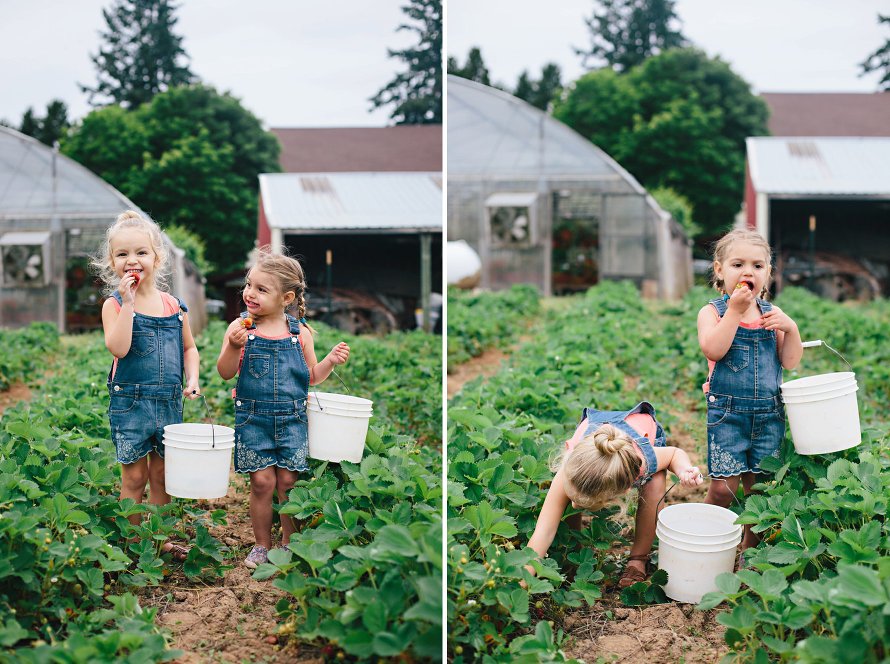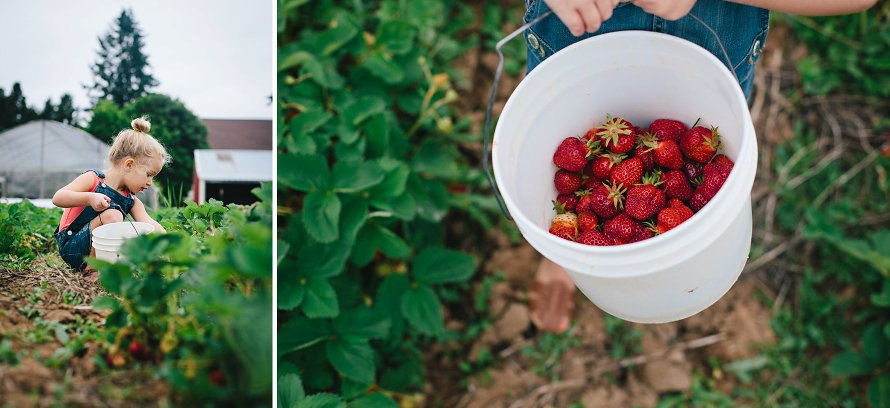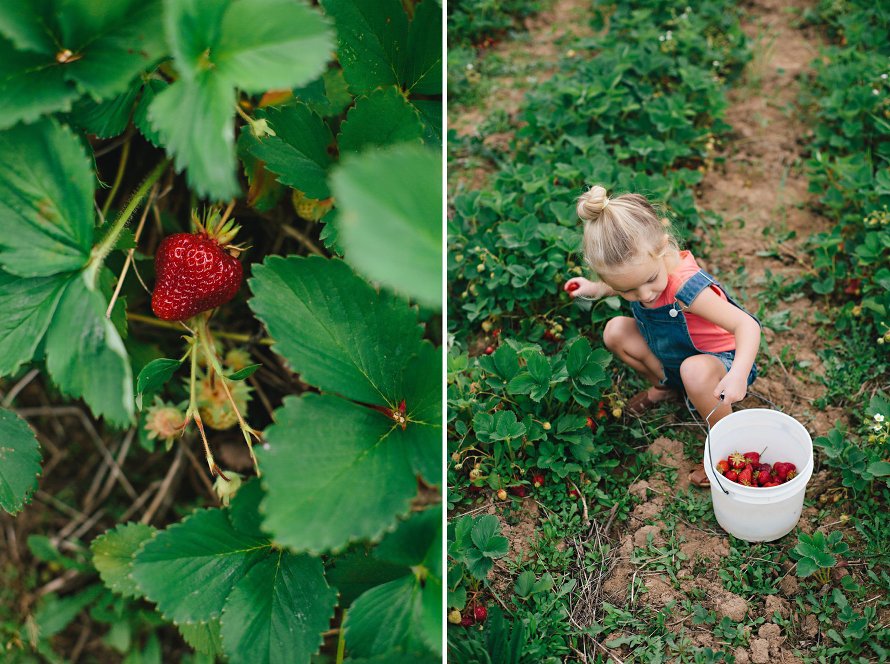 Several big girl milestones…
1. Isla moved into a big girl bed.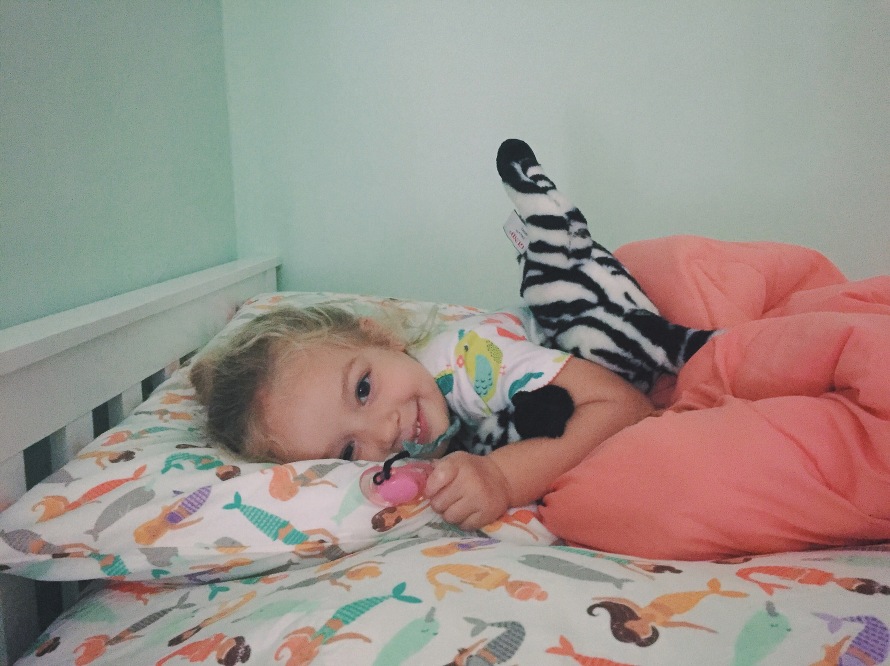 There was no ceremonious bed time that first night night because Isla fell asleep watching a movie, but it was certainly surreal for us to tuck our sweet girl into her new "big girl bed" for the first time. We sat in her dark room and just stared at her, so tiny in that sea of new "big girl bedding." Each milestone is so exciting, but knowing Isla is growing up so fast also makes me ache for those sweet baby and toddler moments with her. This morning she was all smiles as she excitedly told me she had the most comfortable sleep! Then she burrowed back under the covers and asked to stay in her bed longer.
2. Isla's last night with her ooh ooh.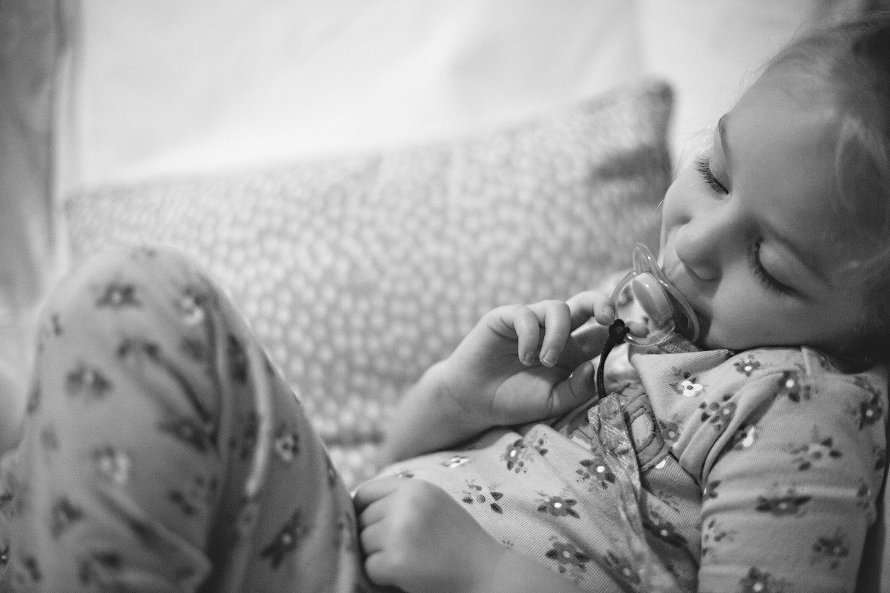 This is the night Isla made the decision to give up her beloved ooh ooh. For those who know Isla, she LOVES her pacifier. Like, Maggie Simpson-level attachment. Times a million. It has been such a treasured soothing device since the day after she was born, and I could not even begin to imagine our girl without it. For the last half of a year we had been slowly easing Isla into the idea of giving up her pacifier. We told countless stories of the magical Ooh Ooh Fairy who would bring wonderful presents in exchange for the pacifiers. She was slow to warm to the idea, but in a burst of confidence, decided this day was the day. She wrote a letter to the Ooh Ooh Fairy and left it, along with her one remaining ooh ooh, by the front door. She went to bed filled with pride and certainty, only to melt into a puddle of heart-wrenching tears just a few minutes later. I laid with her for the next hour, consoling her, explaining it was okay to feel sad, assuring her each day would get easier, refocusing her to thoughts that made her happy, and finally rubbing her back and arms until she drifted off to dreamland. In those final moments before she fell asleep she turned towards me, drowsily opened one eye and said, "I love you, Mom." And I just melted. I stayed with her while she slept and watched her angelic little face. I noticed how different she looked as she slept without her ooh ooh. So grown up. I breathed a heavy sigh of relief that she was able to sleep. The love I felt for her was all-consuming and I wanted nothing more than to preserve that moment in my mind forever. Then my heart just ached. It ached to know those baby years were really, truly gone. It ached to know I will never again hear those sweet little sucking sounds as she sleeps. It ached to know my sweet girl know had experienced the pain of loss. It ached knowing that she will continue to hurt as she adjusts to life without her ooh ooh. It seemed like such a little thing, but Isla's ooh ooh had been a big part of her life.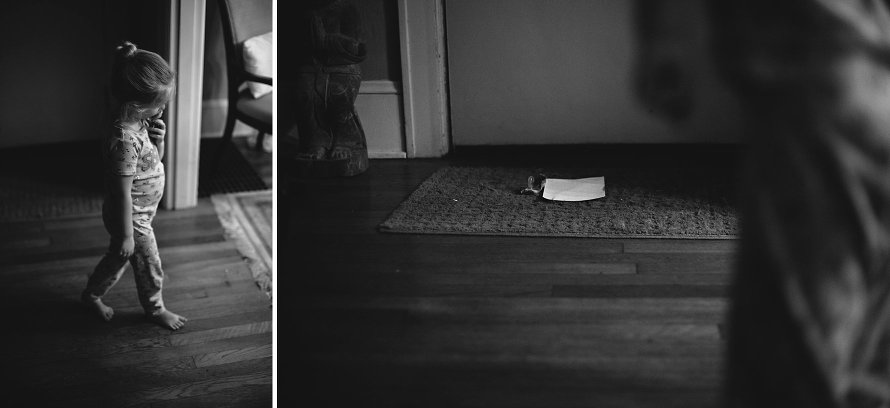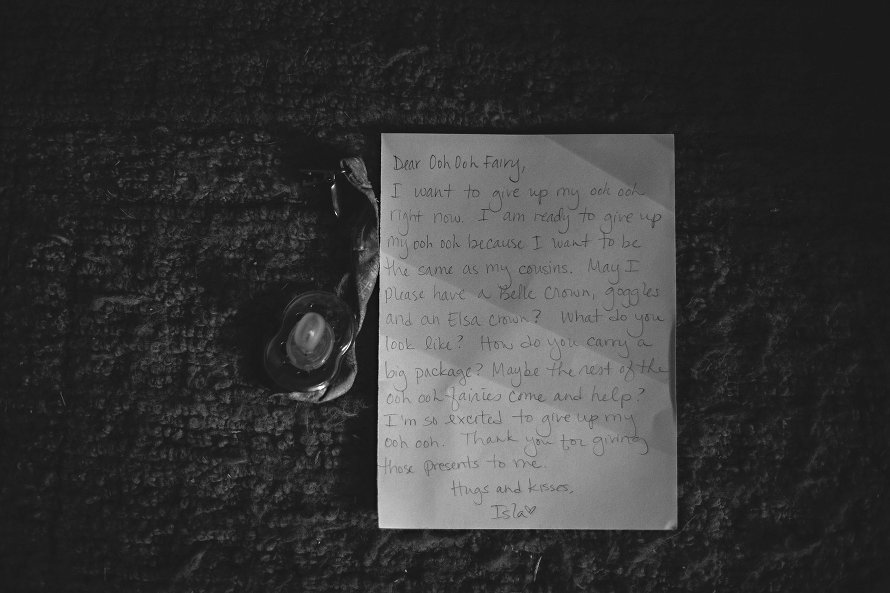 The ooh ooh fairy delivered!!!!!!!! Two crowns and a pair of goggles, and the teeniest, tiniest fairy-sized note responding to all of Isla's questions. Isla was thrilled and wore the goggles for days! These new goodies definitely eased the pain of giving up her ooh ooh.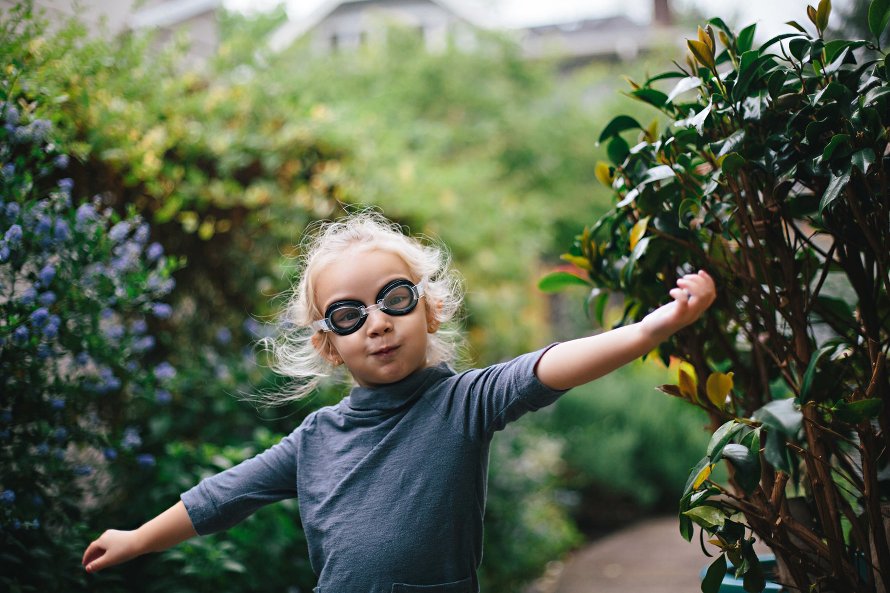 We were so grateful to enjoy lots of time at our beach cottage. Our days were filled beautiful weather, quality time together, and many long walks along the shoreline collecting treasures. Isla's Nana Sandy made her this fabulous collection bag and Isla could not love it more!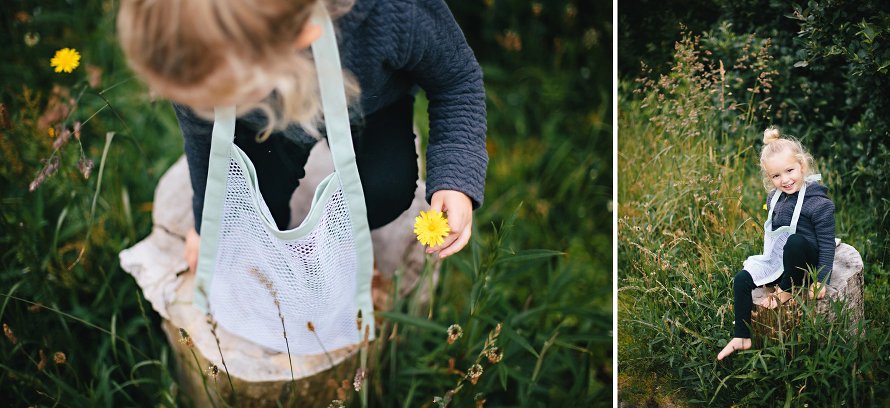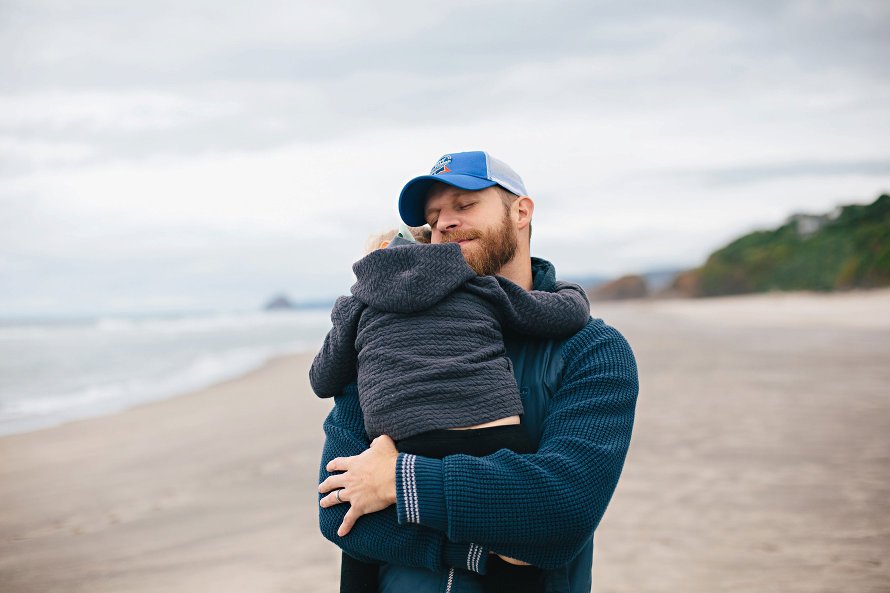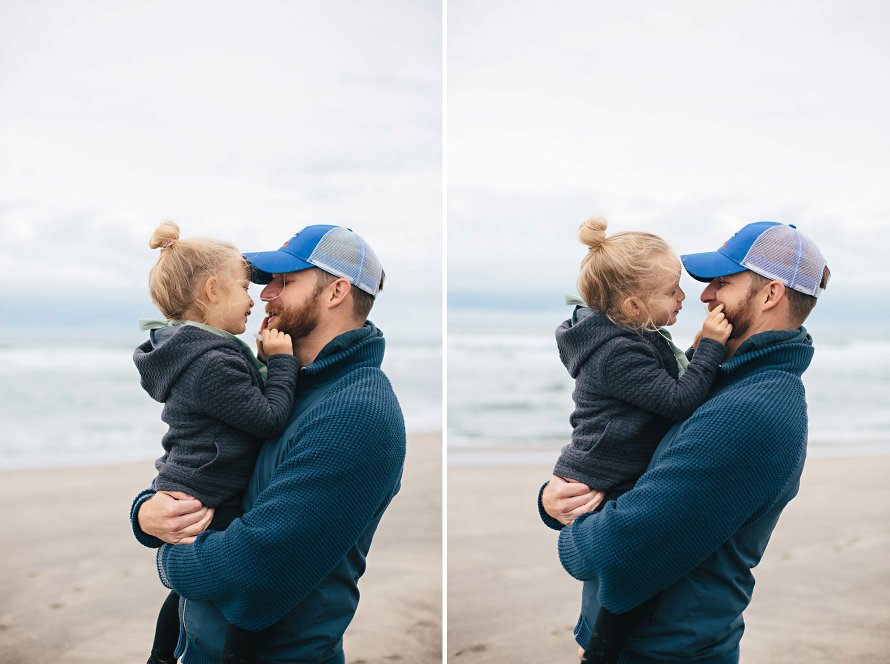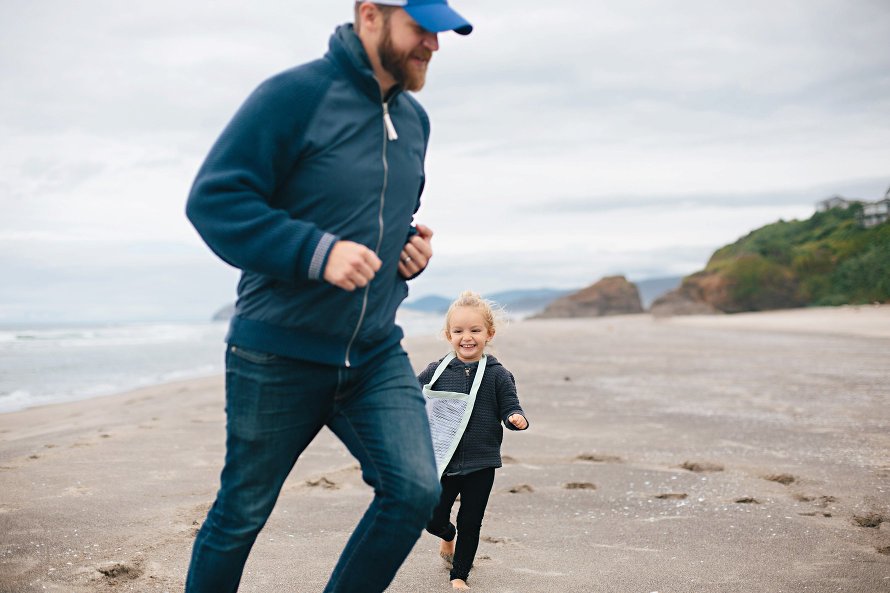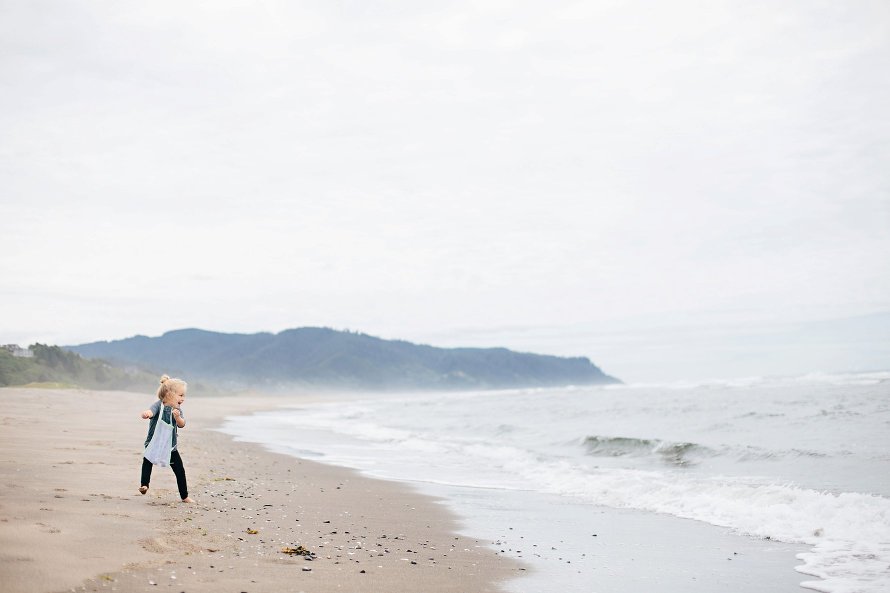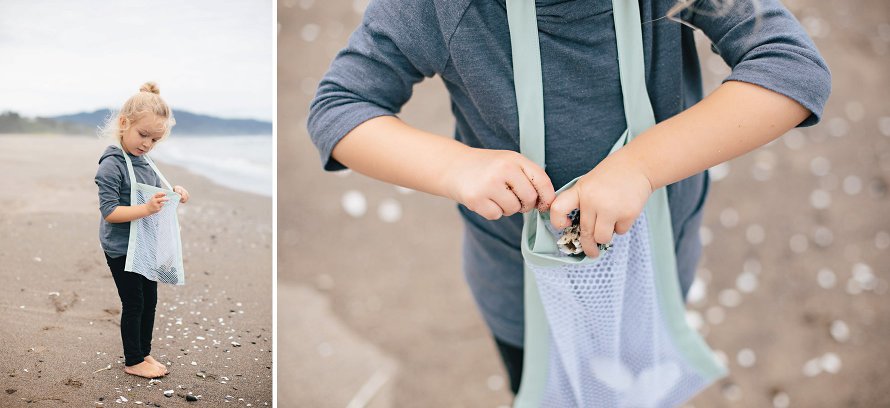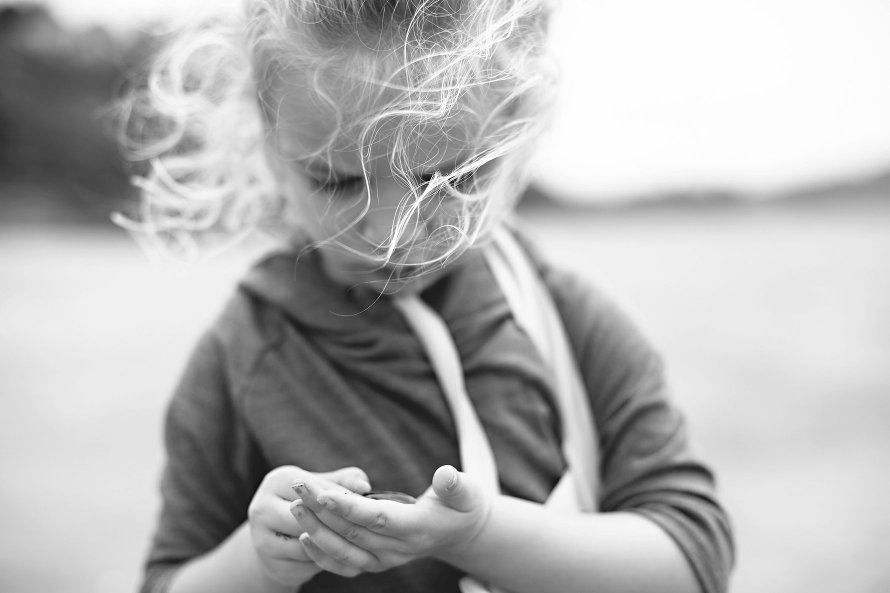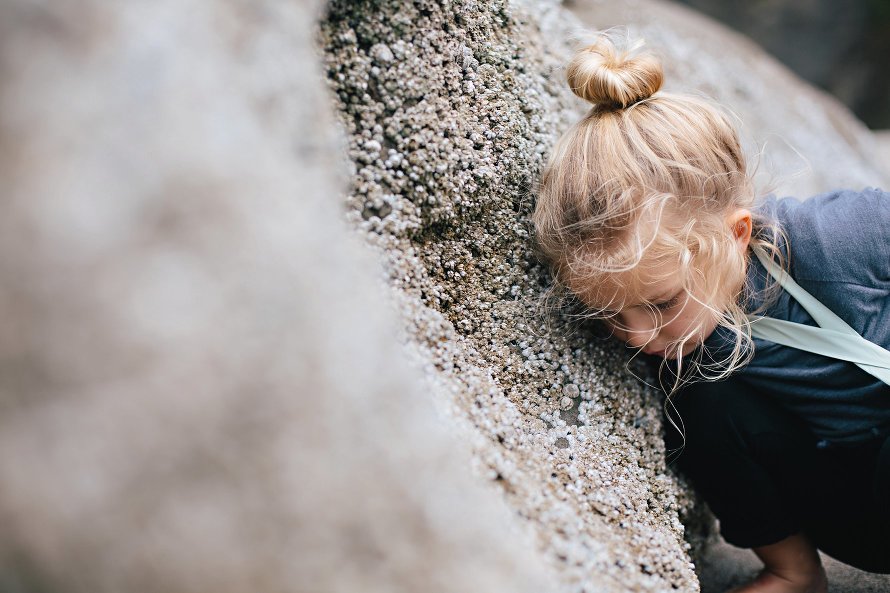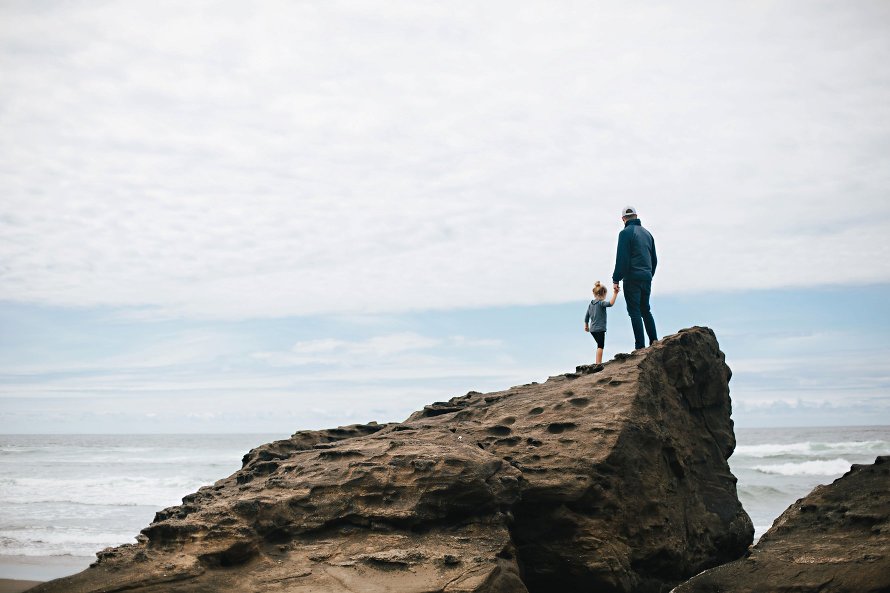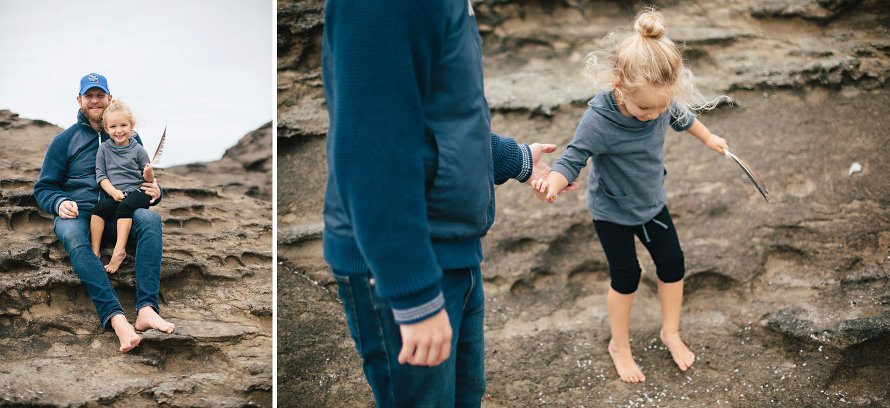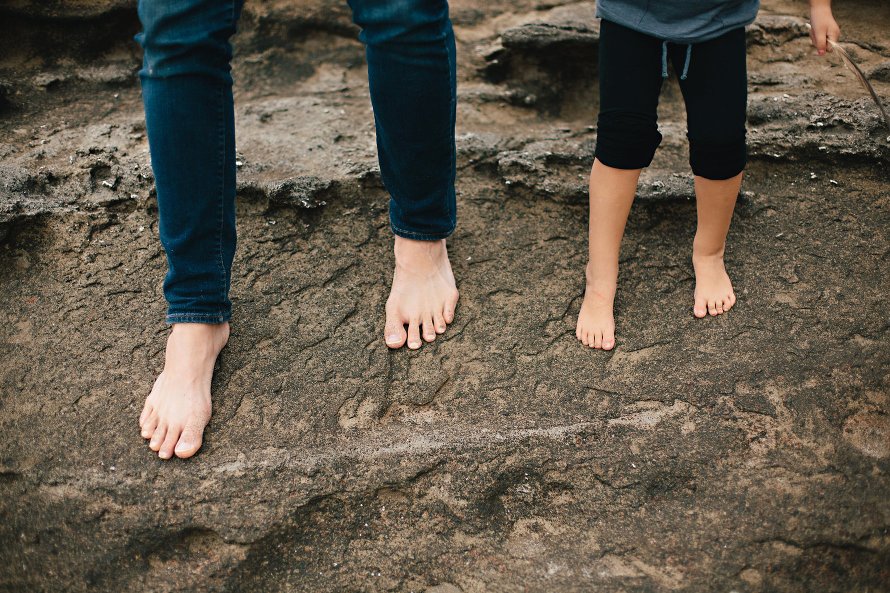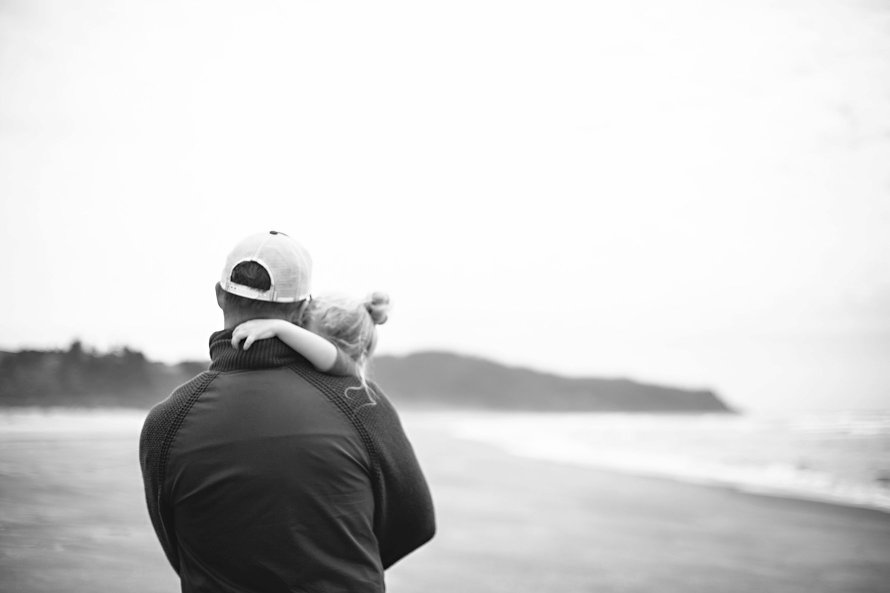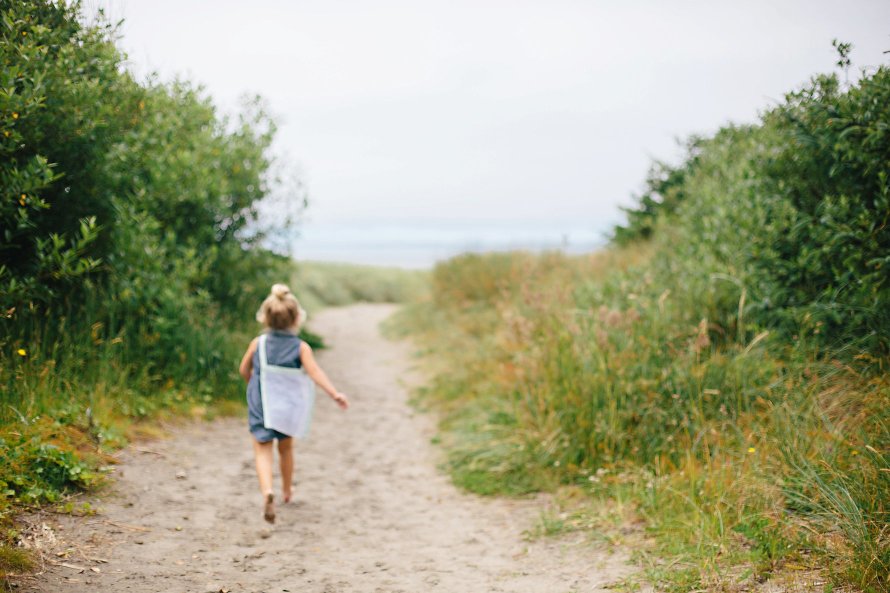 We spent Father's Day at the beach too!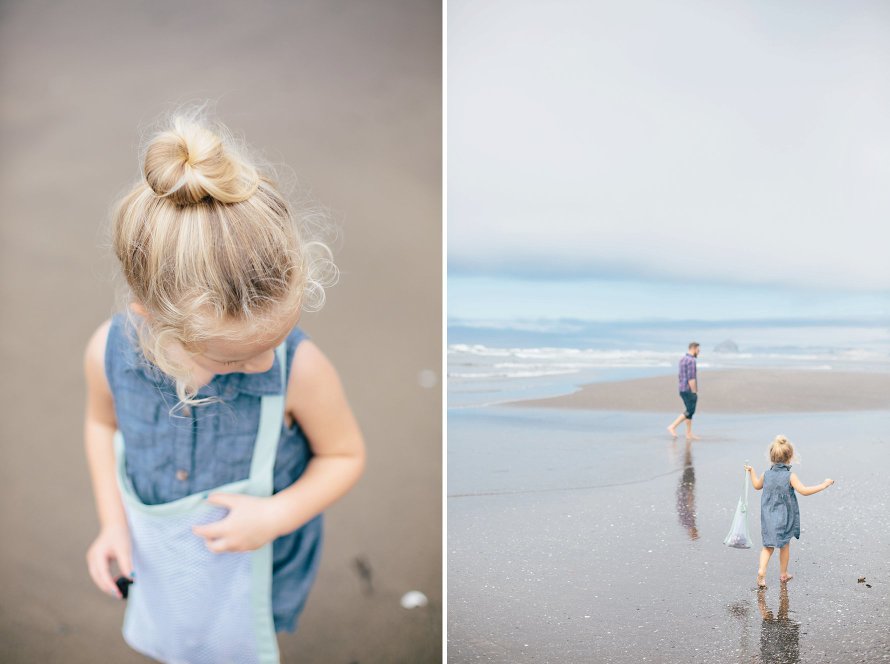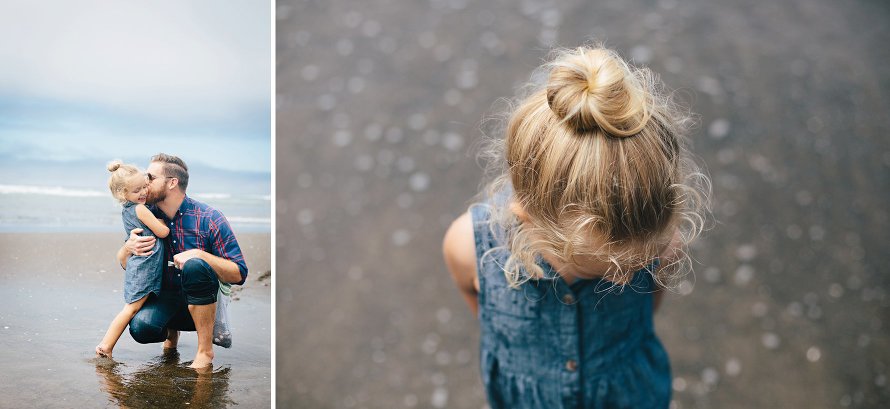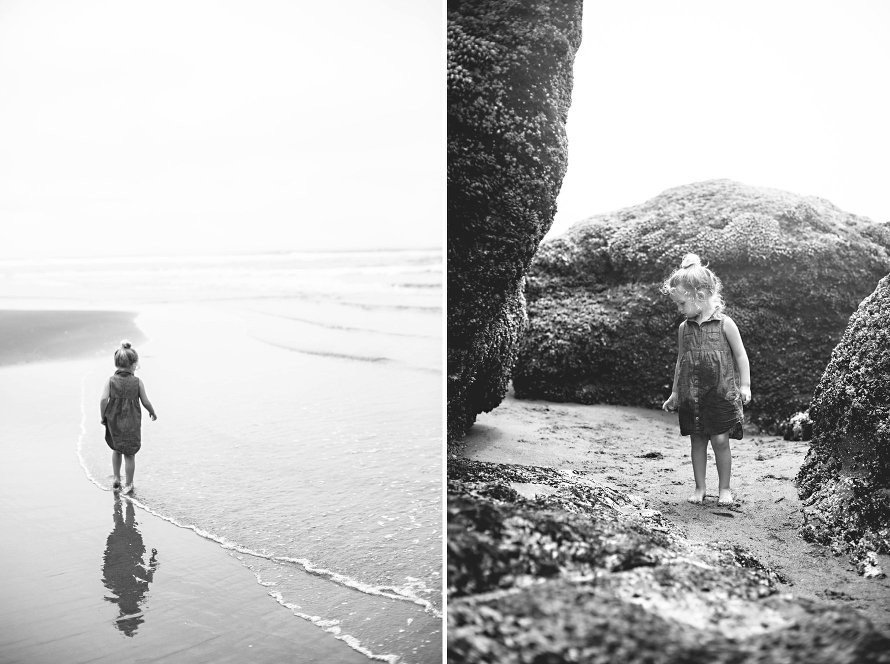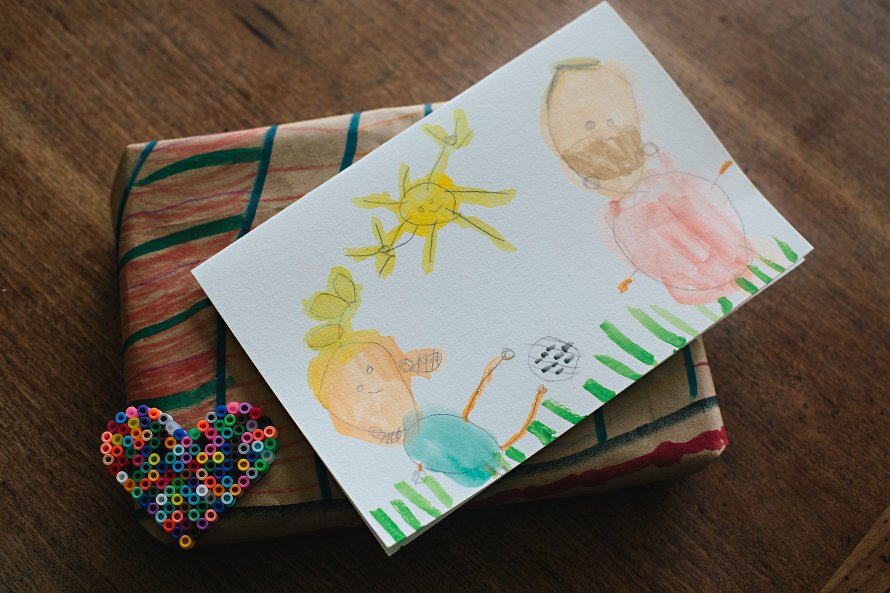 Isla painted this gorgeous card for her Daddo of the two of them playing soccer, one of their favorite pastimes. She made him a heart with her pearler bead set- a true labor of love, let me tell you. I helped her decorate a frame with many of the rocks she had collected on the beach for the "Daddo, you rock" art piece.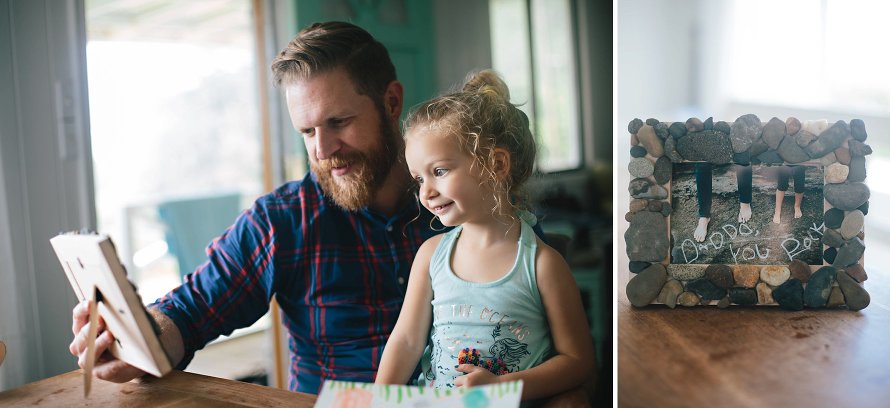 A few s'mores were consumed…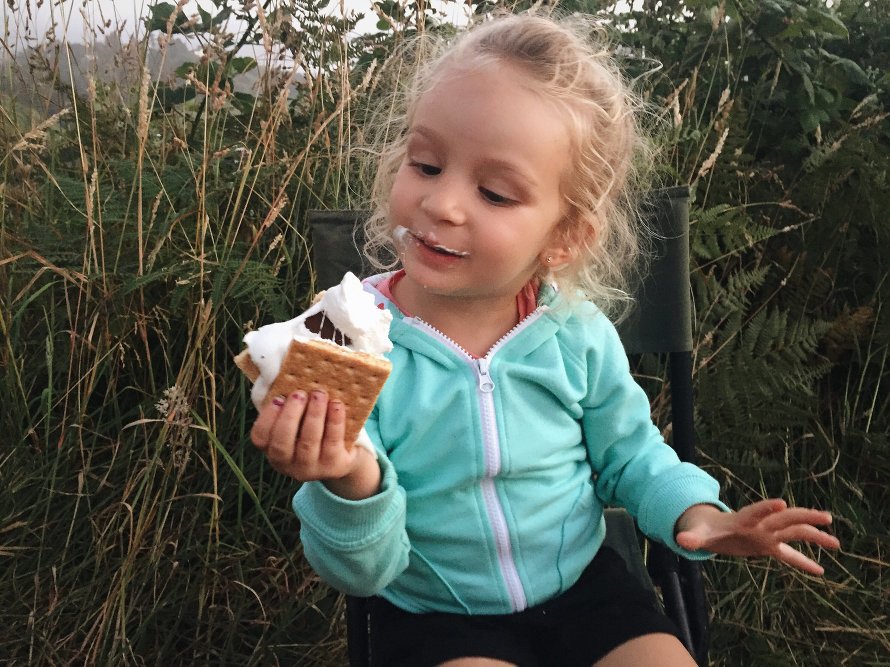 World's best daughter, right here! Isla had seen Isaac massage my swollen feet so often throughout my pregnancy that she started offering to help.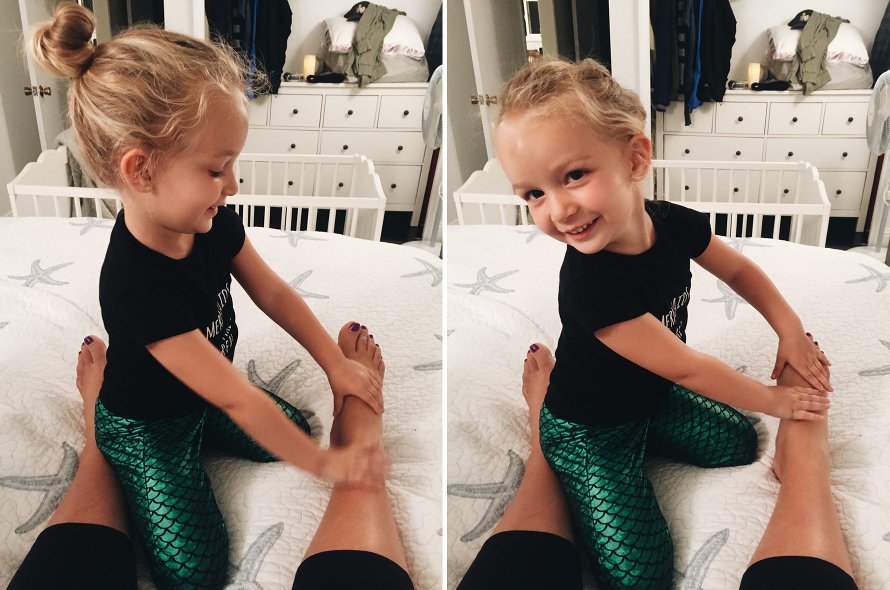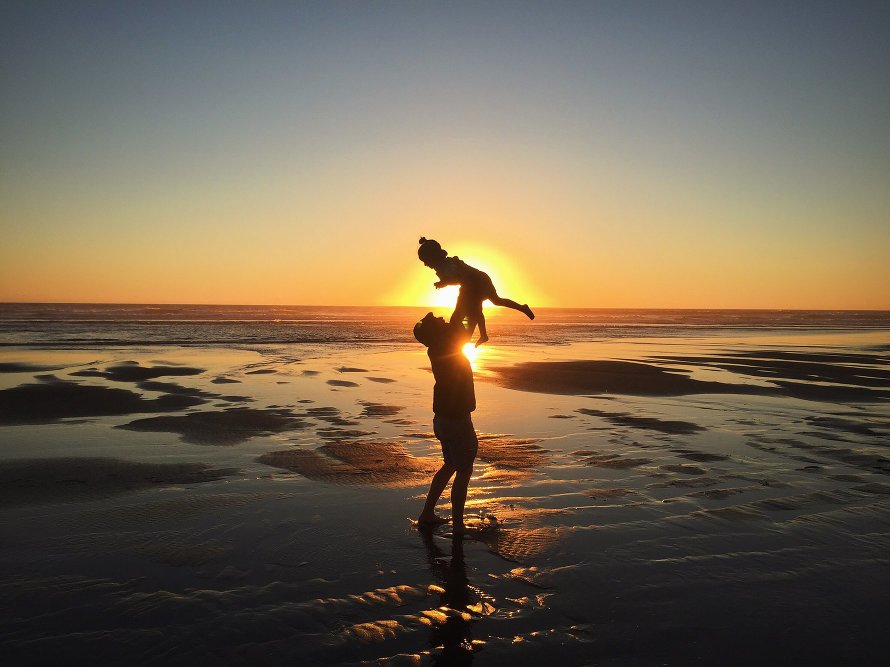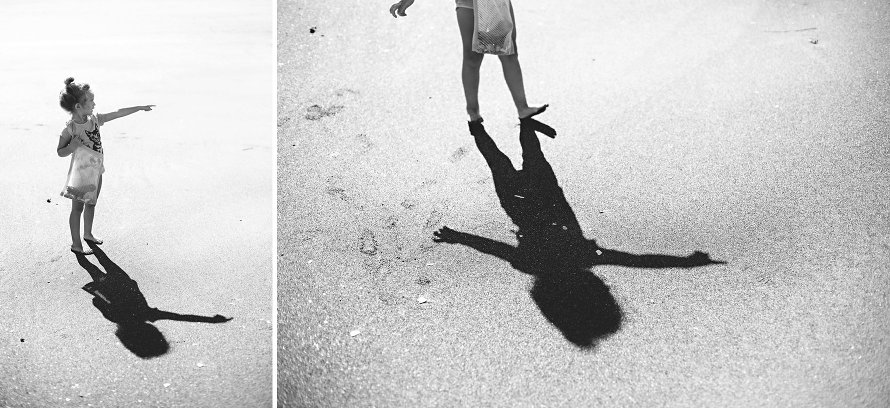 Isla had the honor of being Auntie Lizzie's flower girl, and it was, without a doubt, one of the greatest days of her life! This kiddo stole the show and loved every single moment in her beautiful flower girl attire. Lizzie and Chaz's celebration was gorgeous, joy-filled, and could not have been more wonderful! We are just thrilled to have had the opportunity to celebrate with them.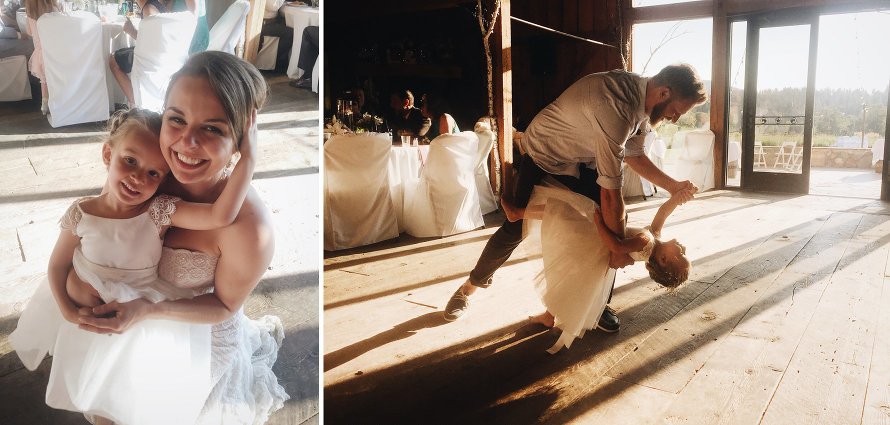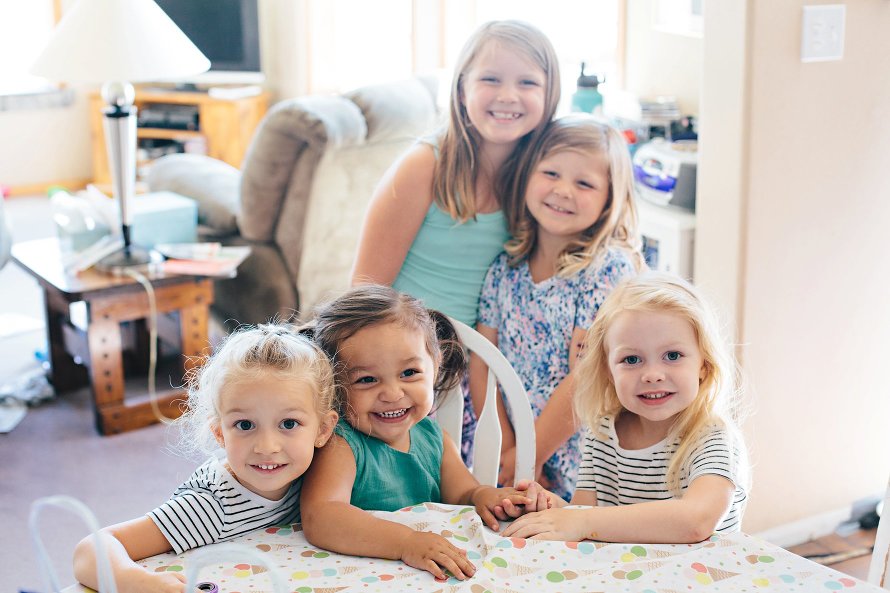 We got to celebrate sweet Cali's 2nd birthday at the beach with all the cousins. We sure love this spunky girl!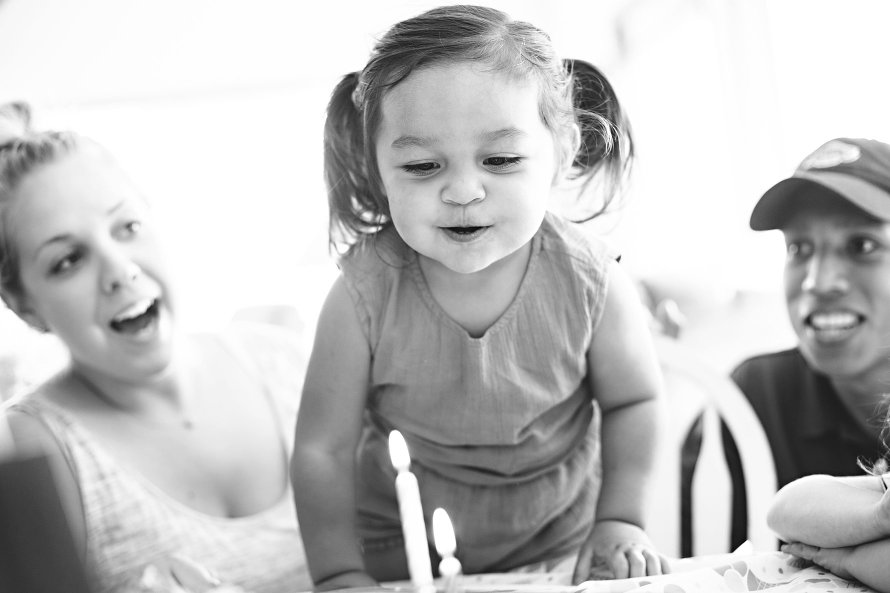 We began collaborating with our local neighborhood magazine and are now shooting their covers for them. We have had such a wonderful time getting to know more of the awesome people in our community through this venture. Our family was even featured in one of the issues!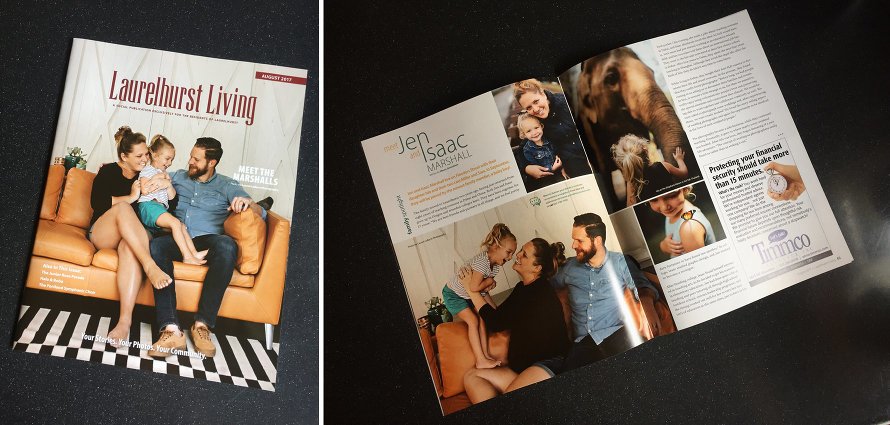 We were given two absolutely gorgeous baby showers for our sweet Cole. Each and every detail was perfect. My heart still overflows thinking about these celebrations!

We enjoyed our annual girls' getaway at the beach with our dear friends. It is so exciting to have three generations celebrating together. Our little mermaids had a ball painting, playing in the water, collecting, and snuggling in their mermaid tail blankets for movie time. We mommies and grandmothers maintained our usual girls' getaway routine: eat, play games, eat, laugh, eat, beach walk, eat… it was perfect!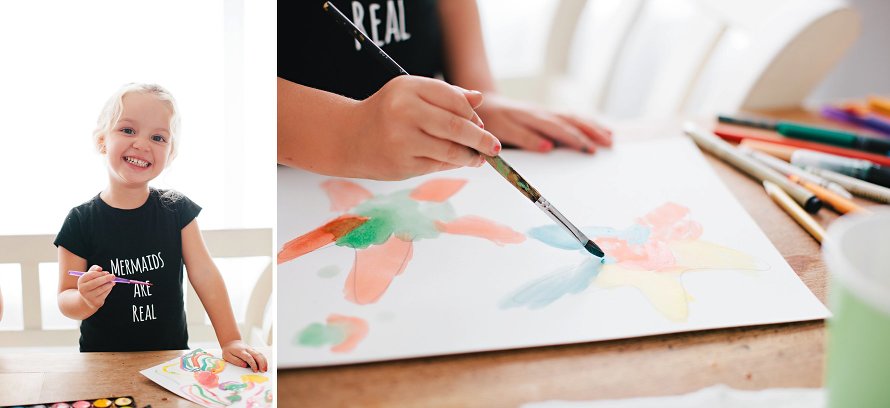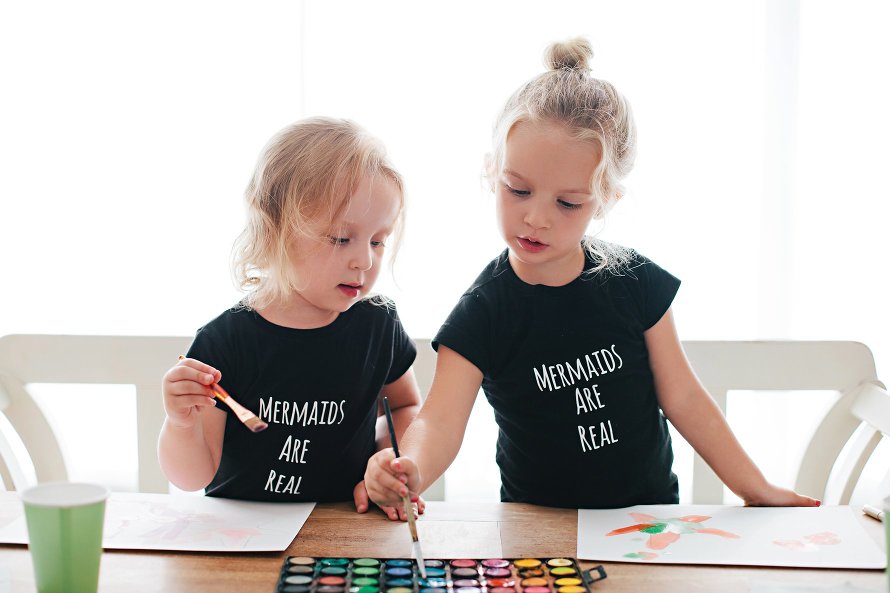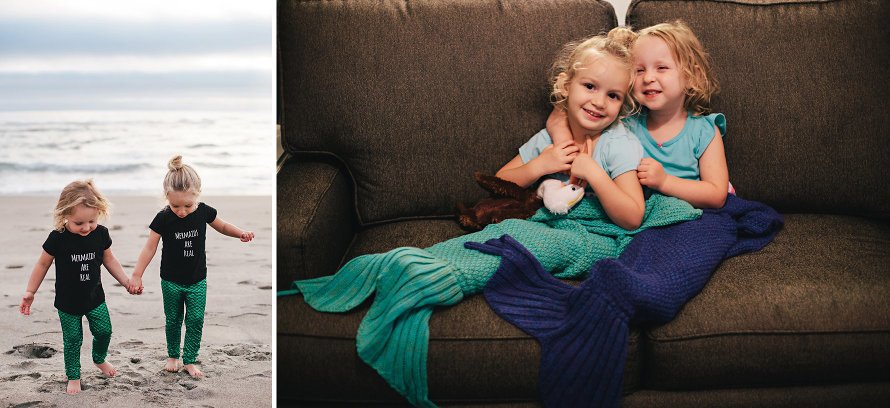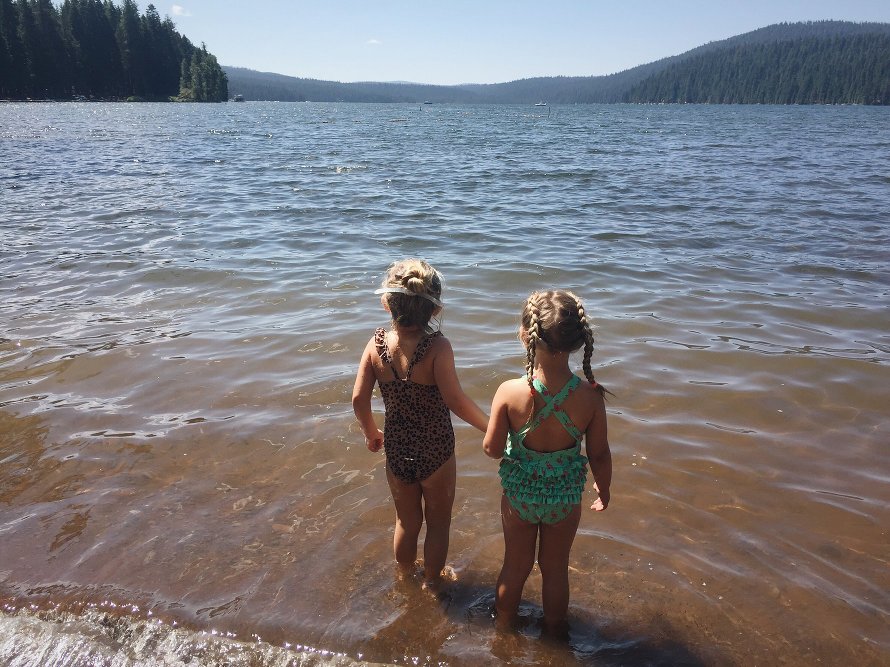 We also enjoyed our second annual getaway off the grid at our friends' remote cabin in Southern Oregon. Amazing food, lots of time outdoors, and endless laughter. You can't ask for more!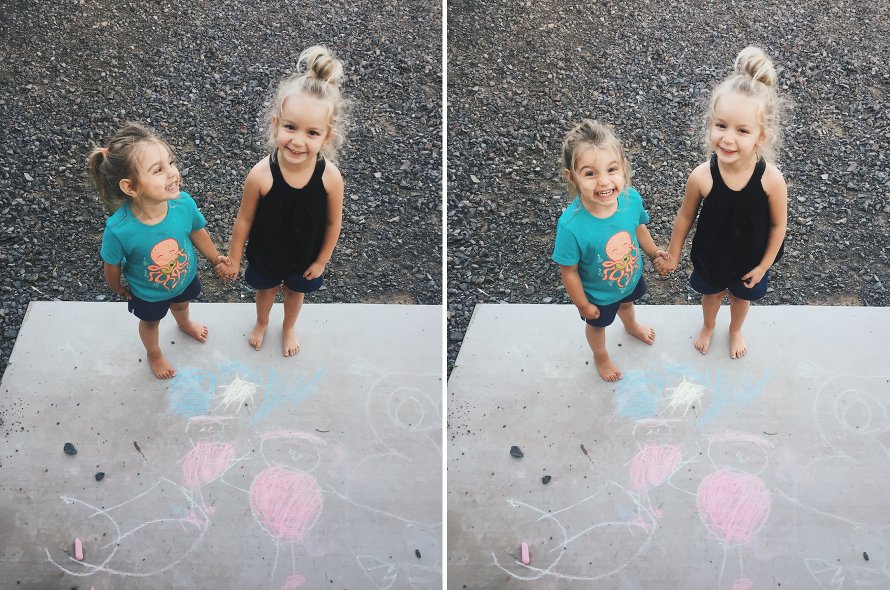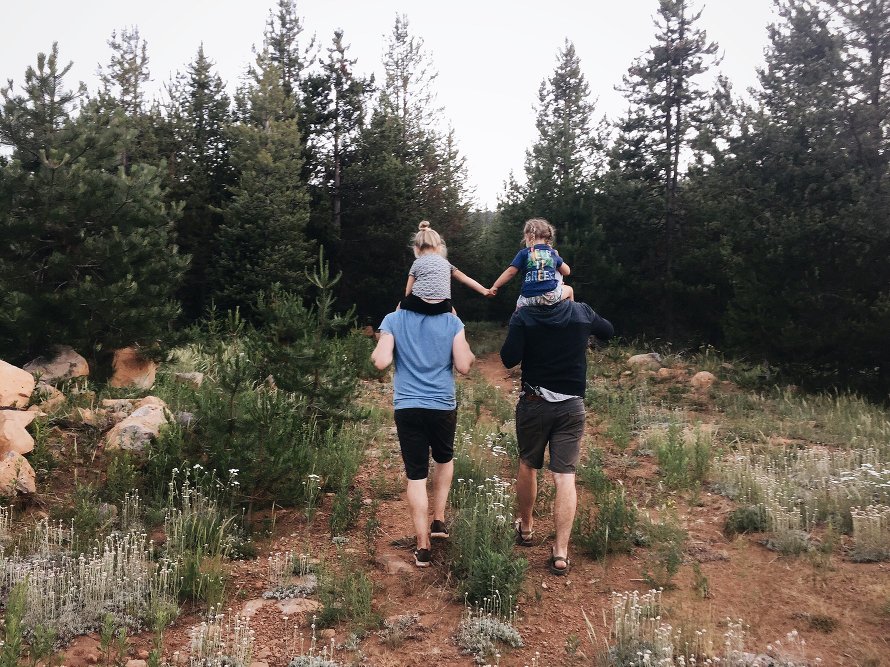 We headed back to the coast for the solar eclipse so that we could see it in totality- what an absolutely otherworldly experience! It was like someone flipped a switch and the sky went dark in an instant.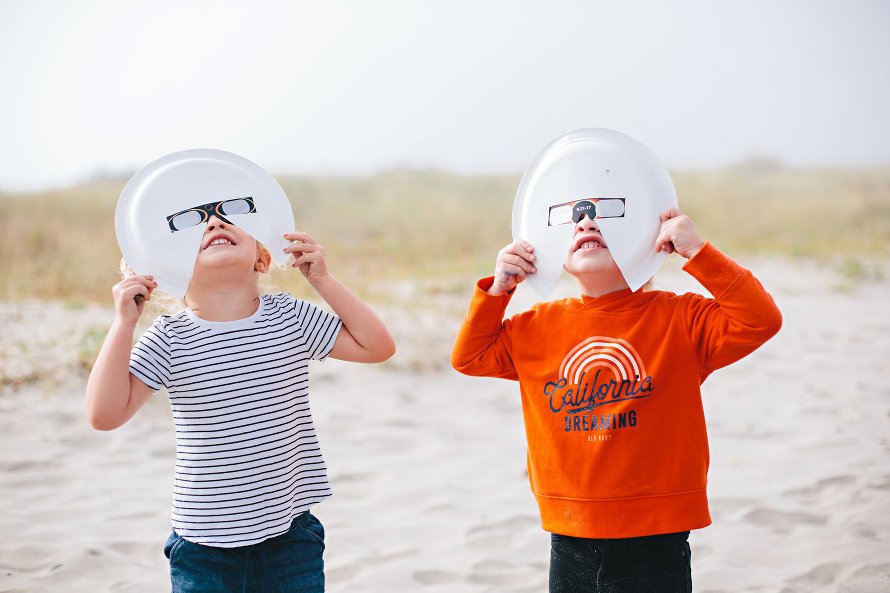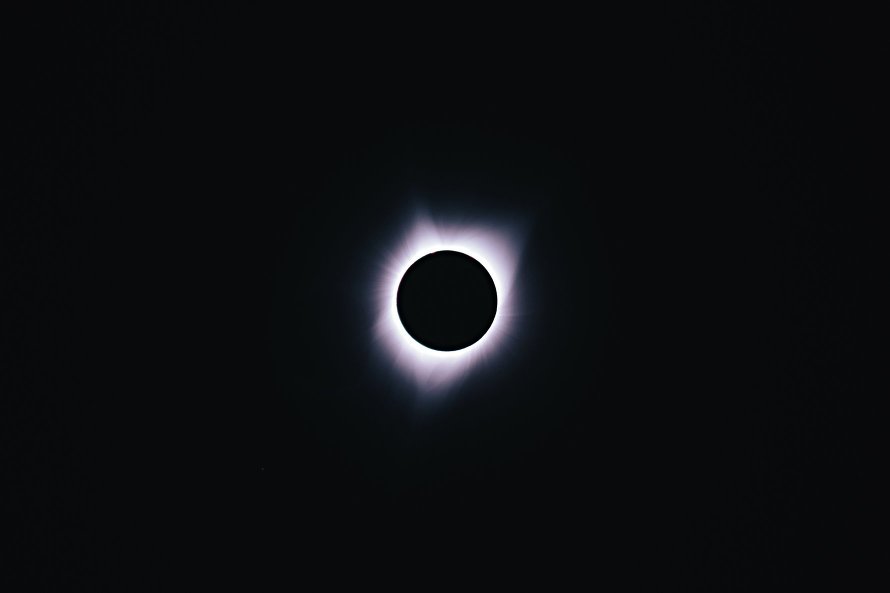 I found three fun art projects for Isla and her cousin, Waverly, to do during our eclipse beach getaway, and they were SO MUCH FUN! To make the moon we started by cutting out a circle from water color paper. We then created raised craters/cracks with Elmer's glue. Once the glue was dry the girls covered the moon with a grey water color wash and we sprinkled coarse salt over the wet paint for some added texture and interest. The eclipse picture was made by creating a reverse stencil- they placed a circular cut out on a piece of black construction paper and colored around it with white crayon. Then they added silver sequin stars, cause who doesn't love a little bling?! The sun was made by "squish painting" and it was a huge hit! We cut out a circle of sturdy water color paper. Then the girls selected different shades of red, orange and yellow paint. We squeezed strips and dots of the different paint all over the paper. Next we carefully slid the paper into a gallon ziplock bag, sealed the bag, and let the girls squish the paint around with their fingers until the paper was fully covered. All the mess was contained and the color combinations and textures they created were just gorgeous. Not only were the projects entertaining, but they provided us with opportunities to talk to the girls about space and the eclipse. This is what happens when 4 educators go on vacation with their kids- ha!
Isla worked diligently on building our friendship with Safa… there was lots of progress over the summer months!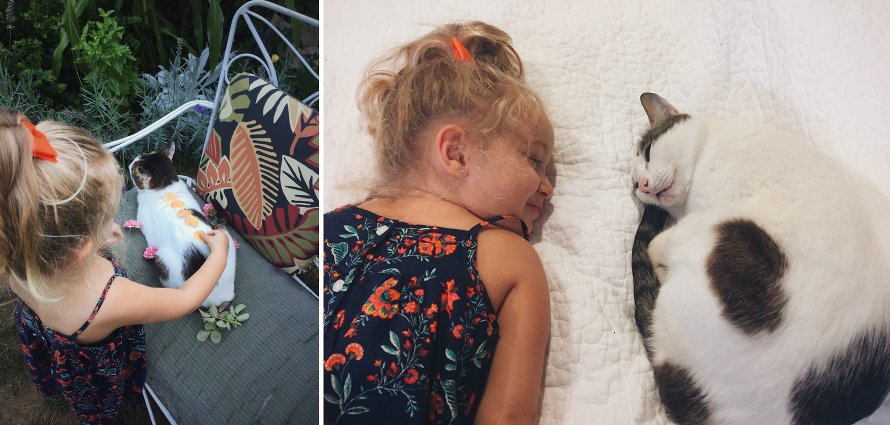 Isla started preschool! On the first morning she told me she was feeling a little sad, a little nervous, and excited. I felt the same way. These life changes are necessary, but hard. By the time we arrived at her school excitement had taken over and she was all smiles and ready to go! Watching her bravely march up the steps into the building and down to her classroom was simply incredible. I am so unbelievably proud of our sweet, sparkly, and incredibly adaptable little girl she has become.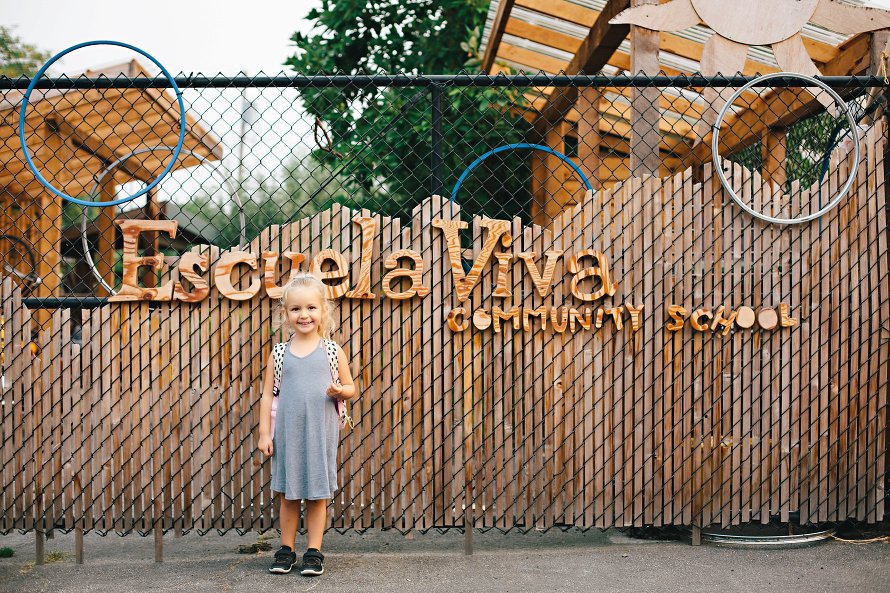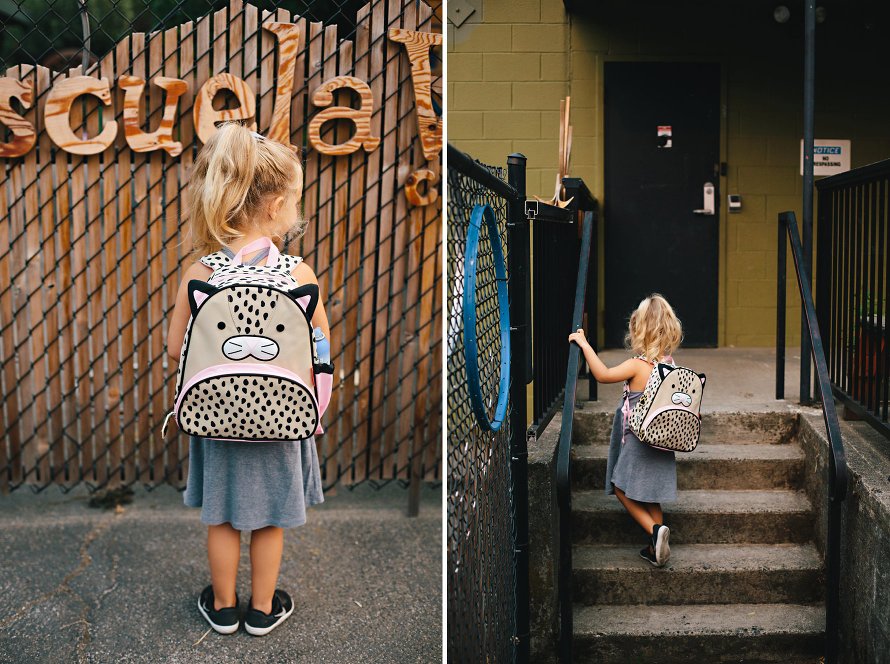 We wrapped up the summer preparing for baby Cole. I was beyond thrilled to figure out how to transfer one of Isla's drawings (Isla holding Cole) onto a onesie for her baby brother. It was the first onesie he ever wore!